Championship Singles 2010


Prelim Round (Winning player in red!)

Ian O Neill*

21

18

Graham Hair

Dougie Brown*







Peter Jack

M Stevenson*







Kenny McKinlay

J McCafferty







Jim McCready*

S McDonald*

21

14

J McFetrich

Alan Crighton

14

21

Terry Duffy*

David Quigley

21

20

Ian Brown*

Andy McCabe

21

19

John Bryan*

A Cunningham*

19

21

G Mac Farlane

Jim Crawford*

21

12

John Lamb

Hamish Ramsay

8

21

Rodger Lynn*

Robert Grant*

21

5

Patrick Watt

Joda Reid*

21

14

Andy Kearns(Snr)

J Lang

20

21

Alan Jack*

Jim Foster

8

21

Ian McSwan(Snr)*

S Ballentyne







John McCready*

I Creelman

3

21

Alex McIllravey(Jnr)*

Robert Harron*

21

7

A Creelman

Joe O Brian*







Hugh Wilson

John Gibson







George Twaddle*

H Kearns

16

21

John Kane*

K Wilson

15

21

Ian McSwan(Jnr)*

Dan Kelly

6

21

Ramsay Crawford*

D Stevenson

13

21

John Ellis*

Sam Blaikie*







B Shaw

John McMonagle

16

21

T Monkhouse*

1st Round

Ian O Neill*

21

14

Dougie Brown

M Stevenson

21

20

Jim McCready*

S Donald

21

13

Terry Duffy*

David Quigley*







Andy McCabe

Gordon MacFarlane

21

9

Jim Crawford*

Rodger Lynn*

21

9

Robert Grant

Joda Reid*







Alan Jack

Ian McSwan(Snr)







John McCready*

Alex McIllravey*

21

12

Robert Harron

Joe O Brian







John Gibson*

John Kane*







Ian McSwan(Jnr)

Ramsay Crawford

19

21

John Ellis*

Sam Blaikie*







Tommy Monkhouse

Andy Kearns (Jnr)







David Byrne*

S Horn







Jimmy Bradley*

Gary Bradley*

21

20

Barry McClafferty

2nd Round

Ian O Neill

18

21

Michael Stevenson

S Donald

13

21

David Quigley*

Gordon McFarlane*







Rodger Lynn

Alan Jack







Ian McSwan(Snr)*

Alex McIllravey*







John Gibson

John Kane*







John Ellis

Sam Blaikie*







David Byrne

S Horn







Gary Bradley*

Quarter-Finals

Michael Stevenson

21

6

David Quigley

Rodger Lynn

19

21

Ian McSwan(Snr)*

Alex McIllravey*

21

17

John Kane

Gary Bradley

19

21

Sam Blaikie*

Semi-Finals

Michael Stevenson

21

10

Ian McSwan(Snr)

Alex McIllravey*

21

12

Sam Blaikie




FINAL




Michael Stevenson*







Alex McIlravey
Michael Stevenson is the 2010 Gourock Park Singles Champion after he saw of the challenge of Alex McIlravey in a highly competitive, sporting and entertaining game, which was watched by around 80 spectators, on a warm August 13th evening.

Michael playing in his first ever  Championship Final, got off to a flyer and was well in command at 10 v 4 up after seven ends played. This included the first of three 'fours' we saw in the game.

                                     Michael increased this lead to 13 v 4 after nine and was playing with confidence as his opponent was finding out that Friday the 13th was indeed unlucky for some.

Alex fought back and despite his frustration showing a few times, proved that he can 'play at bit too', when he captured the next two ends to make the score 13 v 9, which he would have hoped would have put Michael under pressure, especially with him on that dreaded 13 shot mark.

Michael was not for letting superstitious nonsense spoil this occasion and he regained the upper hand with his second four of the game in the very next end to take a 17 v 9 lead.

The next two ends saw Michael grab two singles to make the score 19 v 9 before Alex kept any hopes he had alive with a double at end number fifteen, but his hopes were to be well and truly destroyed as Michael claimed the next two ends with singles, to claim victory.

Too sum the game up, this was a game that Michael always looked in control, he was playing confidently and was quickest to adapt to the tricky rink. His drawing skills on the night were just more consistent than his opponent and was a worthy winner.

Alex, who has now endured the agony of losing in the final twice, did not play badly, in fact he too played some inch perfect bowls, but sadly for him, he did not perform at his best and on several occasions throughout the game was rather unlucky.

Alex however, the sporting Gentleman that he is, made an impromptu speech on the green, thanking the people watching for their attendance and congratulating Michael on an excellent game and becoming a worthy Champion.  A nice touch indeed!

More pictures of higher resolution can be found on our Facebook Page and on our Flickr Page, both of which can be viewed without need to sign-up.
Also the majority of the last end was recorded in high definition and can be viewed by clicking here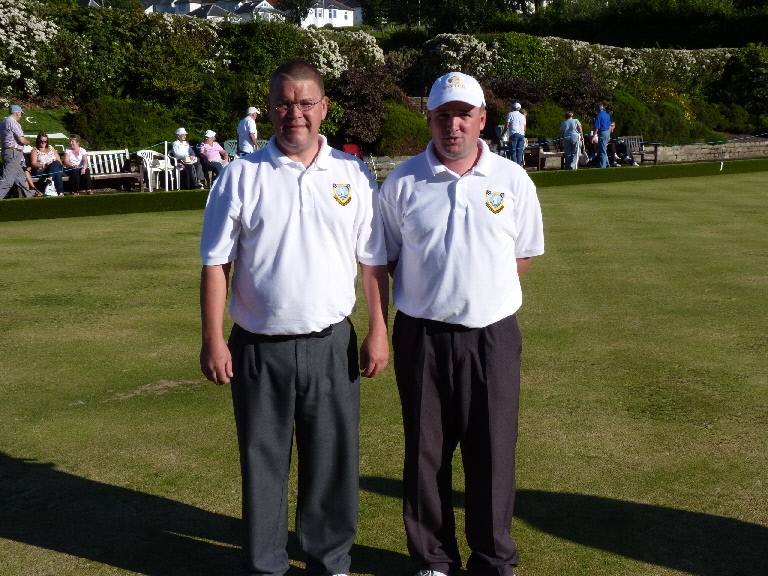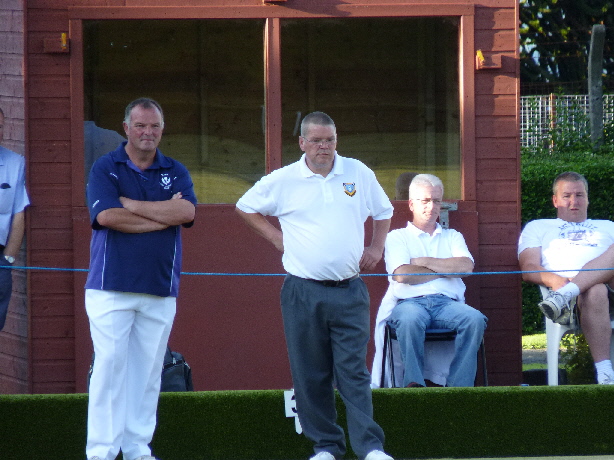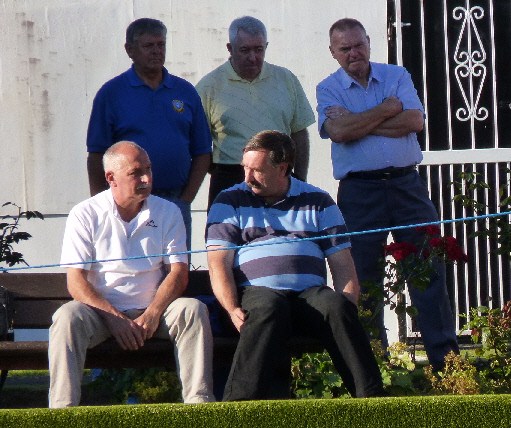 Alex McIlravey & Michael Stevenson

Alex and Ian Brown, who was the Marker,  survey the scene!      

Some former 'Park' champs and wannabe's watch with great interest!

L to R- Iain McSwan, John Kane, Robert Harron, Jim Foster and Sam Blaikie.