1st September 2009

The Council Cup Ladies Pairs Open was won by V. Simpson and M. Gilmour of Kilmacolm BC. The Runners up were G. Cameron and M. McNeill  of Fort Matilda BC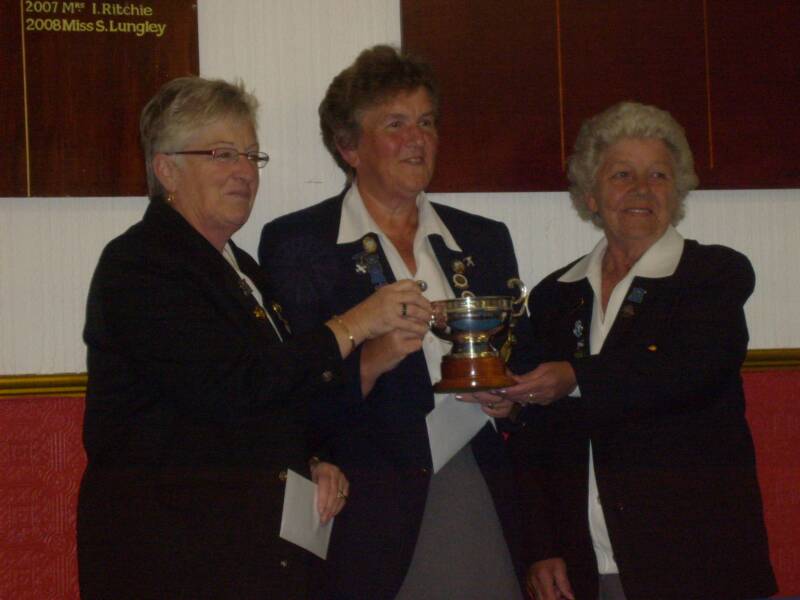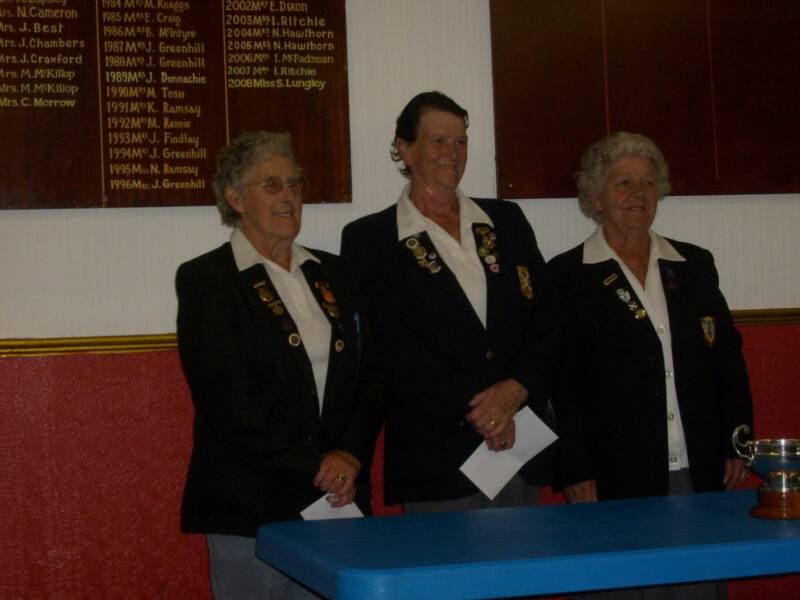 Council Cup Winners 2009

V Simpson & M Gilmour are presented with the trophy by Gourock Park Lady President, Cathy Morrow (right)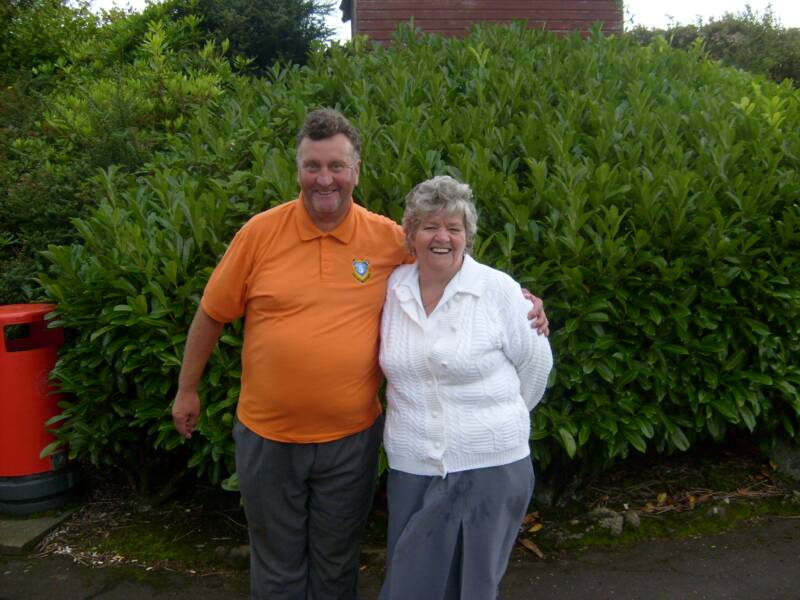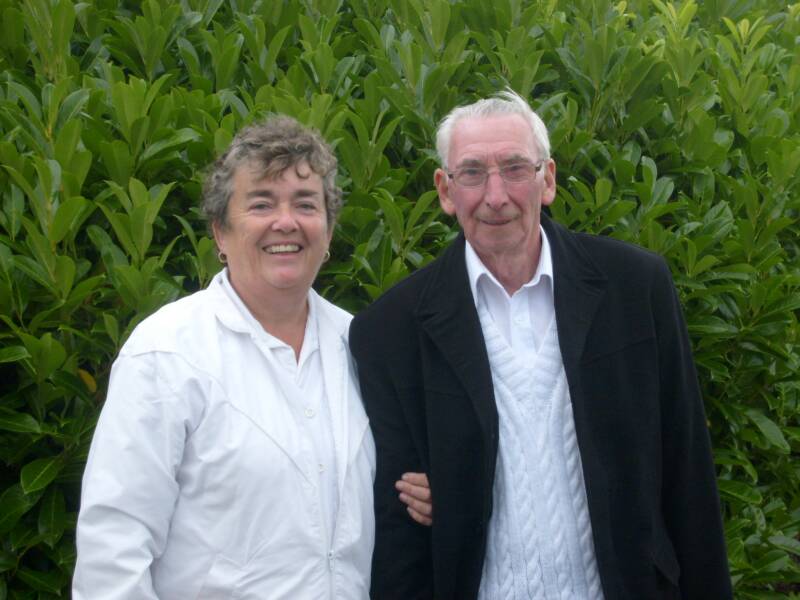 The Willie Spence Trophy was played on Saturday 29th August at Gourock Park and the Final was contested by John Hagen and Cathie McFetrich versus Andy McCabe and Carol McMonagle and it was John and Cathie who emerged as the victors.

Willie Spence Winners 2009

John Hagen & Cathie McFetrich

Willie Spence Runners up 2009

John Hagen & Cathie McFetrich

The Final of the Gourock Park 2 Bowl Singles was played on Tuesday 1st September and it was a long hard fought game for the winner, Michael Stevenson against Sanny Ballentyne.  In a game that had around 35 ends, Michael won by 21 shots to 18

Also played on Tuesday evening were two nominated pairs games. In a quarter-final, Joda Reid & Rodger Lynn finished strongly to knock out Graham Hair and Gary Bradley by 18 v 10 and in a Semi-final Gordon McFarlane and Robert Harron reached the final by defeating Terry Duffy and John Kane. Meanwhile in a 2 Bowl Semi-final, Kenny

McKinlay and Jimmy Bradley knocked out Ian O'Neill and John Campbell.

Saturday 5th September 2009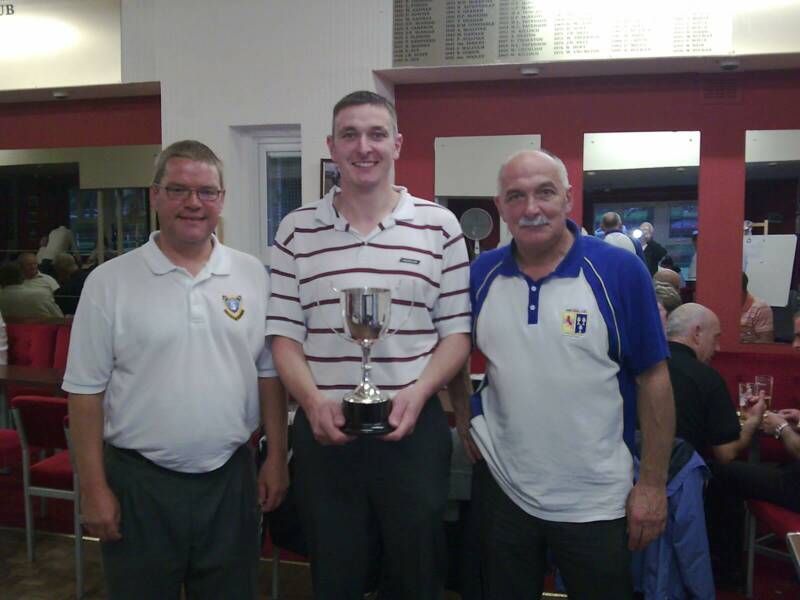 Lady Alice Open Triples Winners

Alex McIlravey, Ian McSwan(Jnr) and Ian McSwan(Snr)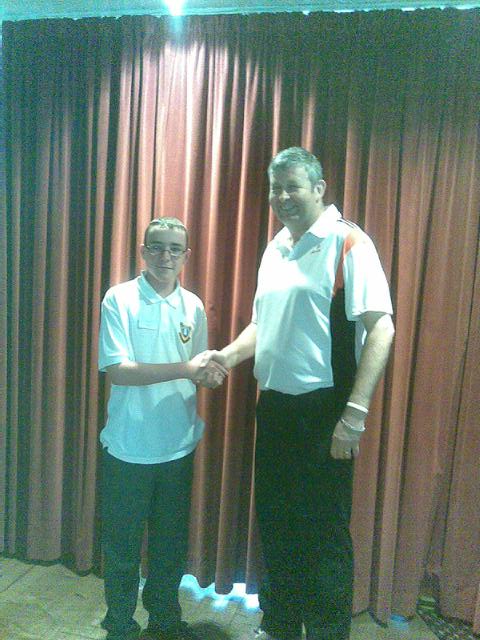 6th September 2009

Gourock Park's John Reid was the overall winner at the Coaching Event at Gourock Bowling Club today and this qualifies him for a trial for the Scotland Under 25's Team. John is pictured below with Graham Robertson

The Mathie Pairs took place on Thursday night at Gourock Park. John Ellis and Sanny Ballantyne won it despite losing a seven half way through the game to their opponents, Joe O'Brian and Alex McIlravey

On Friday afternoon Ian Brown and Jim Cameron defeated Alistair Creelman and Barry McClafferty by 13 shots to 12. Ian and Jim reached same stage last year, but lost in the Final. What a difference a year makes.

8th September 2009

A few more results to tell you. Ian O Neill beat Ian McSwan in the Non-Prizewinners by 21 v 7 and in the Senior Pairs, George Twaddle and Alistair Creelman beat A Kearns and Hugh Wilson

11th September 2009

The Senior Singles was won by George Twaddle, who defeated 3 in a row seniors winner, Jimmy Bradley.

The Triples was won by George Twaddle, Robert Harron and Ian Brown. They defeated Alex Cunningham, Robert Grant and Jim Crawford.

Stephen McLellan has restarted a website for Wellington Park and it can be accessed by
clicking here
Very soon my main work for 2009 will be complete. I hope you have enjoyed my coverage and look forward to 2010 where I will celebrate the tenth anniversary of Gourock Park Online. Over the course of the close season I will take a well earned rest from updating but remember still to visit the site often as the Site Forum is beginning to take off and several topics are under discussion. If you hav'nt joined it yet I suggest you do so and make your voice heard.

13th September 2009

The Gourock Park Mixed Pairs was won by Norma Ramsay and Michael Stevenson. They defeated Cathy Millar and Alistair Creelman by 16 v 9 on Saturday the 12th. Thanks to Eck for sending in the picture.

19th September 2009

The Monday Night Wapinshaw held their prizegiving recently. This open mixed event has been quite successfull since it was started in 2008. Players get points for taking part and can win more by being on the winning side and over the course of the season, these points are all added up to produce a winner. This year the competition was sponsored by 'Stevies Foodstore' and he was on hand to present the prizes. The players then sat down to a spread of sandwiches, scones, cakes, homemade soup, teas and coffee. Robert Grant also had a special 1st birthday cake made to mark the 1st anniversary of this competition being played. Terry Duffy took first place for thesecond year running, Robert Grant was runner-up and Alex McIlravey took 3rd place.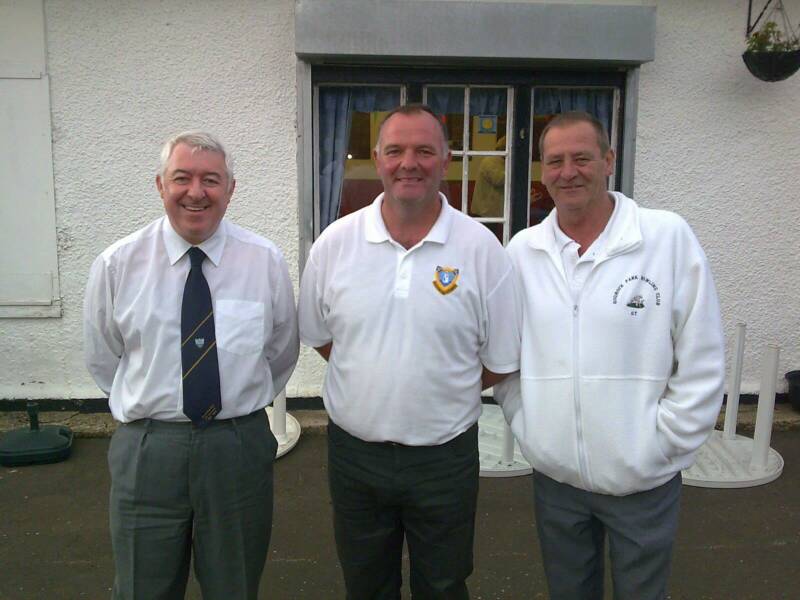 Gourock Park Fyfe Triples Winners 2009

Robert Harron, Ian Brown and George Twaddle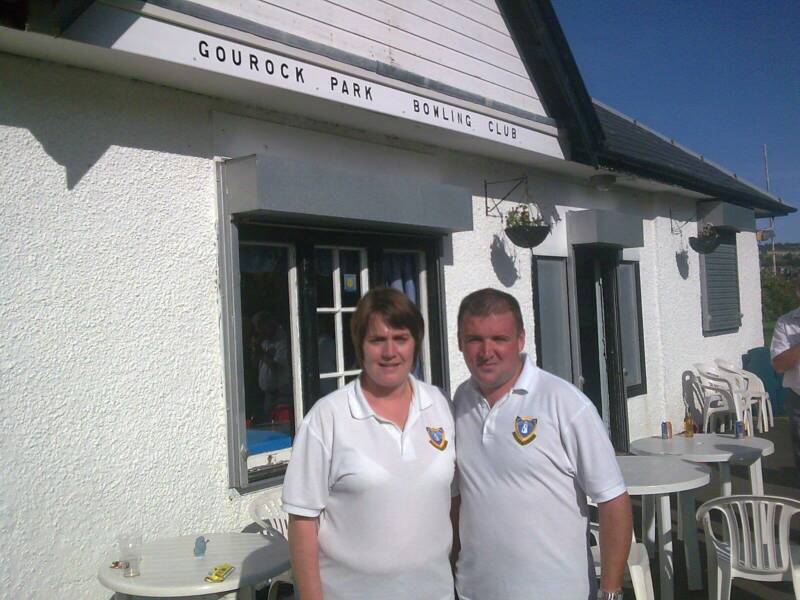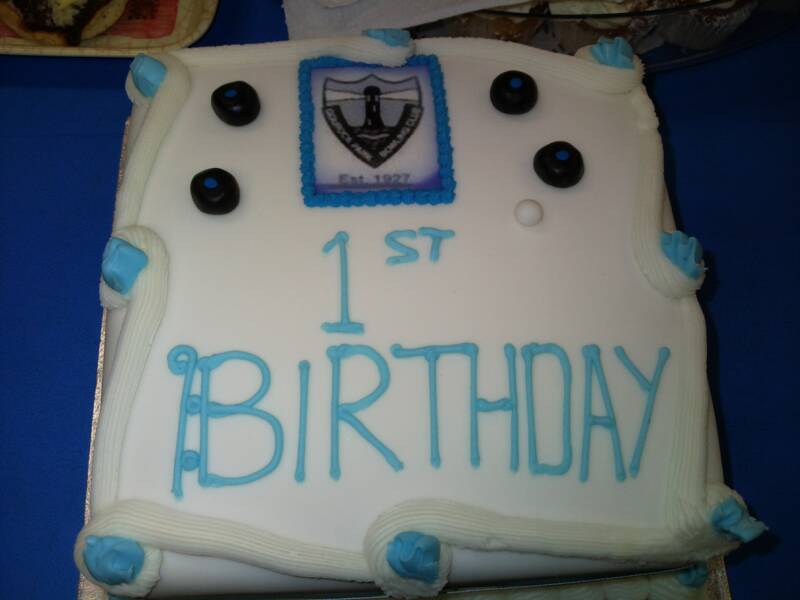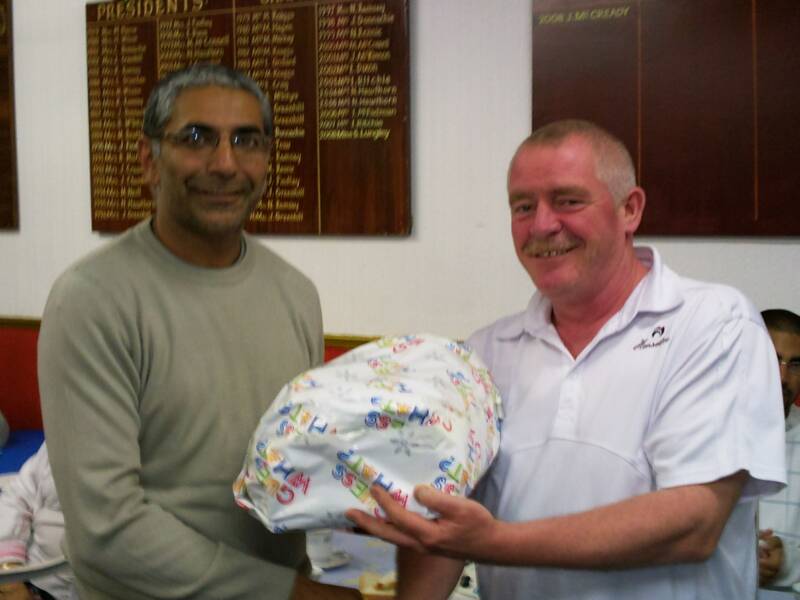 Monday Wapinschaw winner Terry Duffy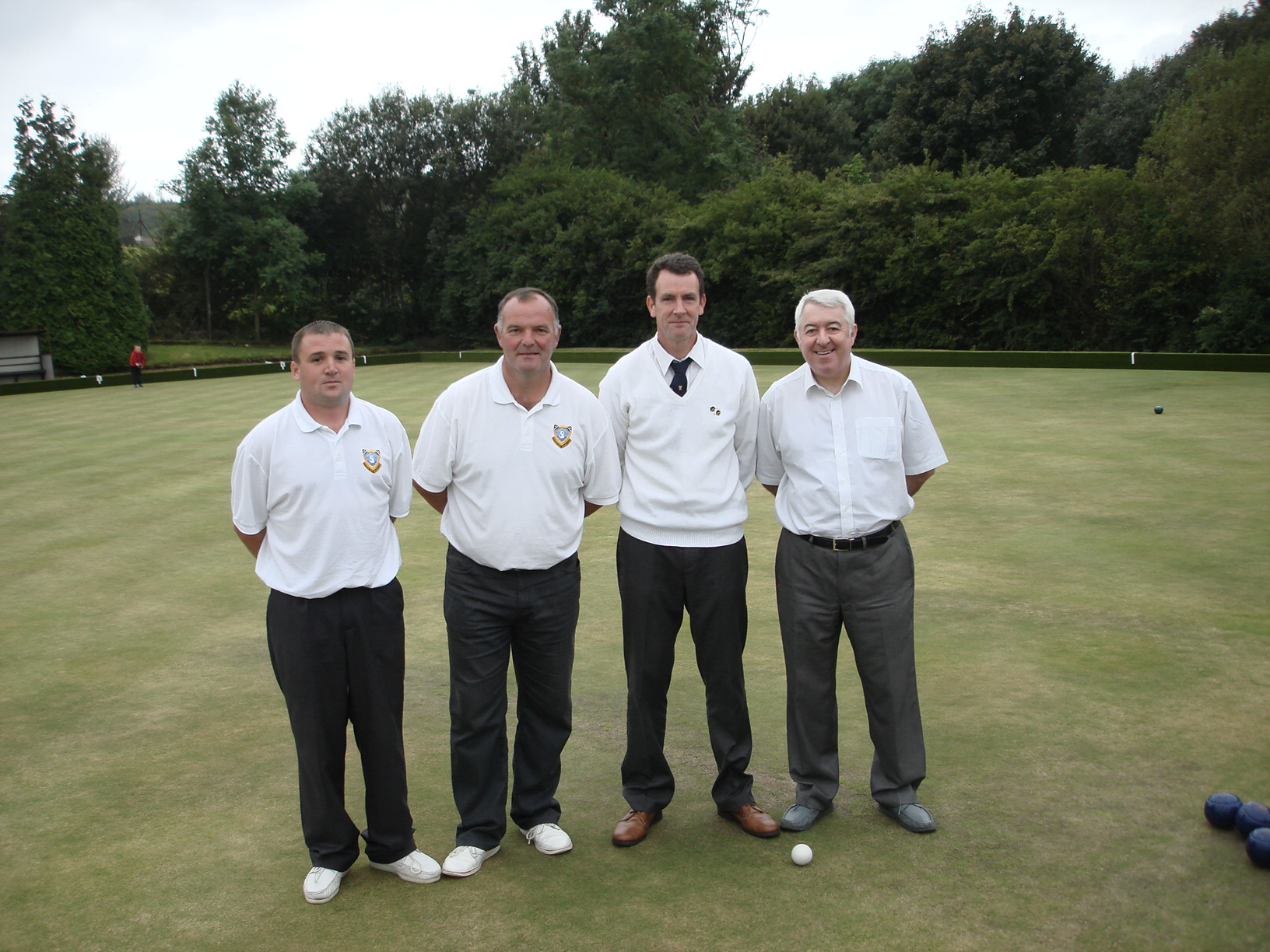 24th September 2009

The Final of the Nominated Pairs was played on Friday 18th September at Gourock Park. It was won by Michael Stevenson and Ian Brown, who won well against Gordon MacFarlane and Robert Harron. The score was 24 v 8 after 16 ends.

Nominated Pairs Finalists 2009

Michael, Ian, Gordon & Robert