4th September 2008

The Final of this years RBA Top Ten will be contested by Ardgowan and Port Glasgow. It is due to be played on Sunday 6th at Grosvenor.  Well done to both clubs for reaching this stage and best of luck to both for the final.

Port Glasgow's Sandy Wotherspoon, the current British Singles Champion, is doing brilliantly at the World Champion event in Aberdeen. At time of this report Sandy is top of section one and has won eight out of the ten games he has played in so far, which should see him qualify for the next stage.  Not bad for a guy that the Scotland selectors think is not good enough!  Well done Sandy.

8th September 2008

As most of you will know by now, Sandy Wotherspoon lost at the quarter-final stage of the World Bowl Champion of Champions at Aberdeen.  This is still a tremendous achievement by Inverclyde's finest Singles player and he did the district proud throughout this championship year.

Willie Spence Trophy

The Willie Spence mixed pairs competition was held recently . After 6 games

in the Round Robin format the semi finals were played between Isabel

McFadzean and John Lamb verus  Jean Crawford and Joda Reid and Margaret

Lapsley and Jim Crawford against Louise Watt and John Ellis.The winners and

playing in the Final were McFadzean and Lamb against Lapsley and

Crawford.The final score of 12 shots to 2 shots gave victory to Margaret

Lapsley and Jim Crawford over Isabel McFadzean and John Lamb.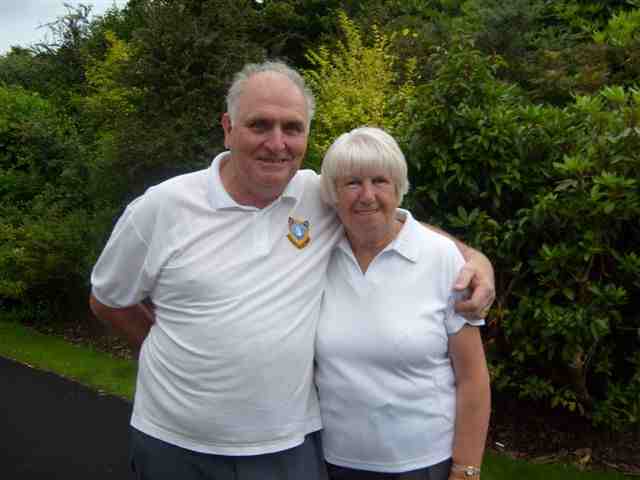 Jim Crawford & Margaret Lapsey

Willie Spence Trophy

The Robbie Robinson Trophy

Gourock Park rounded of a great season of bowling by retaining the above trophy, which is played for on an annual basis between Gourock Park and Gourock. This years game was played at Gourock recently. Thirteen ends were played and Gourock Park won by 8pts to 4pts.

RBA TOP TEN

Port Glasgow won this year's RBA Top Ten after victory over Ardgowan n the Final, which was held at Grosvenor BC.   Port Glasgow won in the fours and pairs, the triples match was tied and Sandy Wotherspoon lost to Douglas Barr in the singles. Overall the points score was 5 v 3 in Port Glasgow's favour.

14th September 2008

The Nancy Rennie Triples Competition took place at Gourock Park recently. It was won by  Maureen Mc Killop, Gavin Gordon and Ramsay Crawford who defeated  Margaret Lapsley, Maryka Cain and Joe O'Brian in the 7 end final.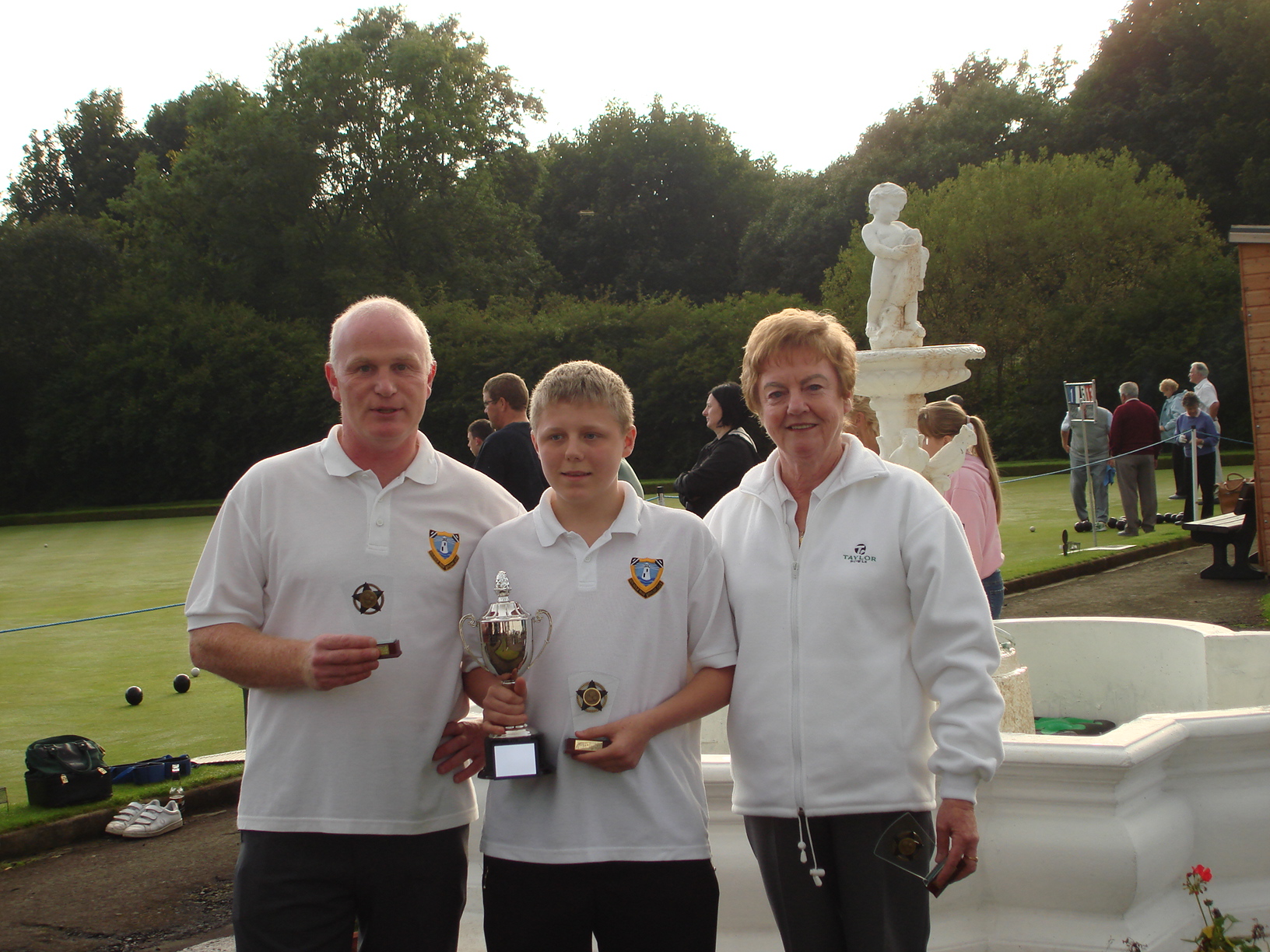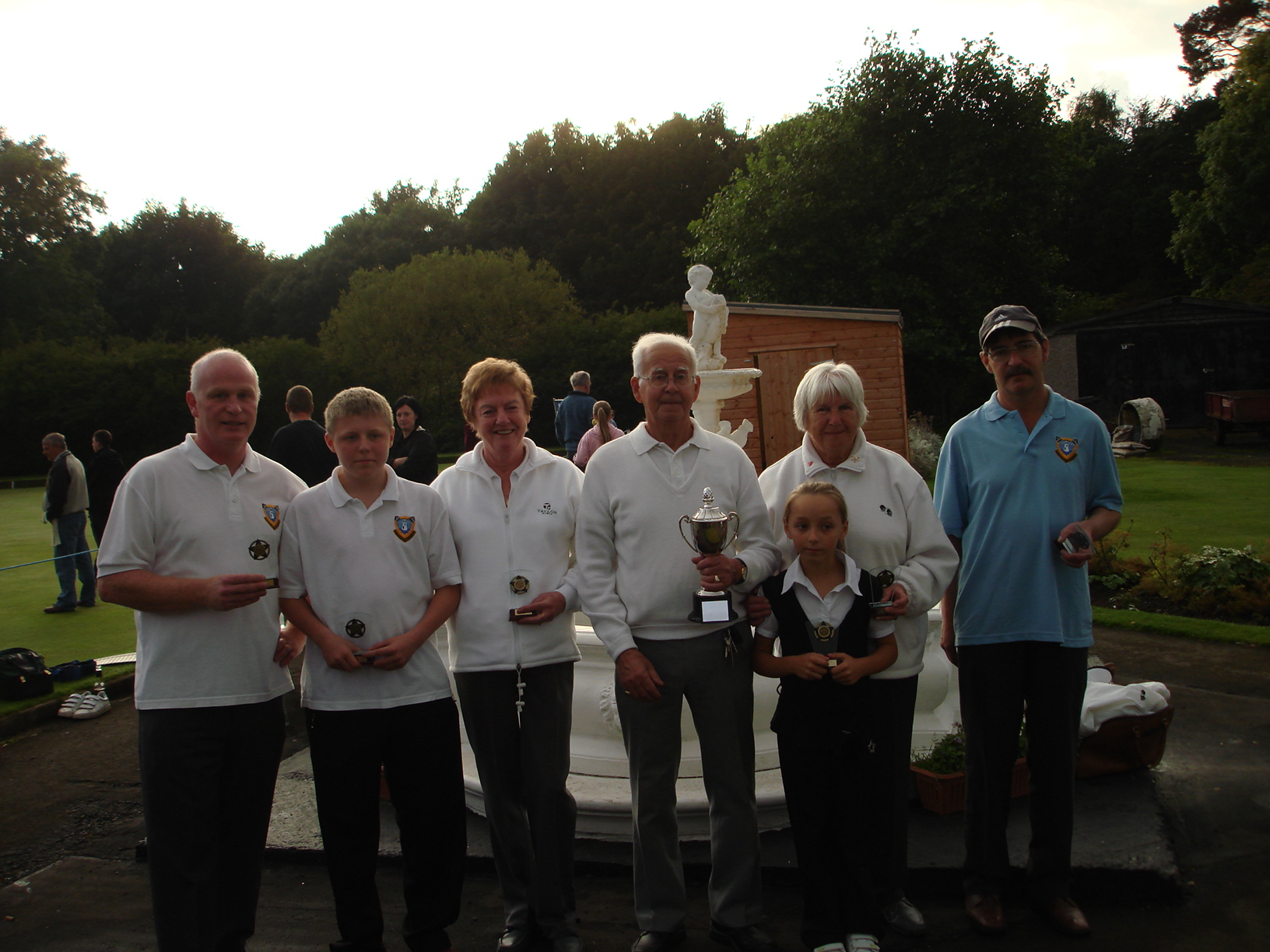 Nancy Rennie Triples Winners 2008

Ramsay Crawford, Gavin Gordon & Maureen Mc Killop

Joining all the finalists this photo is Arthur Rennie (centre) , who donated the trophy in honour of his late wife, Nancy ,who was a member of Gourock Park.

The Final of the Non-Prizewinner Singles was played recently at Gourock Park.  It was won by Barry Mc Clafferty with a 21 v 18 shots victory over Ian O Neil.

Several club competitions have still to come to a conclusion before the close of season in around 3 weeks time. The Senior Singles, Mathie Pairs, Rosebowl Pairs, Nominated Pairs, Triples and Mixed Nominated Pairs, have all yet to be decided and with the poor recent weather and fading light, its going to be a busy end of season for those still involved.

Wellington Park .

I wish to lend my support to the members of Wellington Park on securing the future of the club following the recent fire at the club.  I have not seen the damage, but I sincerely hope that it can be repaired to ensure that 'Bowling at the Welly' will continue for years to come.

16th September 2008.

Found an interesting and funny Website recently that I think may be of interest to you all.  Its the first Bowling Blog site that I have ever come across on the web and is well worth a read.  The Blog starts in July and has been updated regularly with interesting stories, jokes and other bowling trivia. Only downside I found on the site was that the first couple of months are quite difficult to read as the text goes all the way across the screen, but is fine from september onwards. Take a peek at
www.fromgreentoscreen.co.uk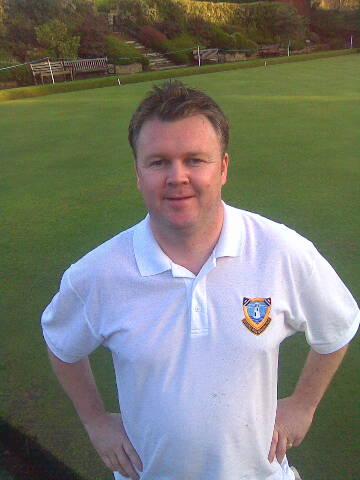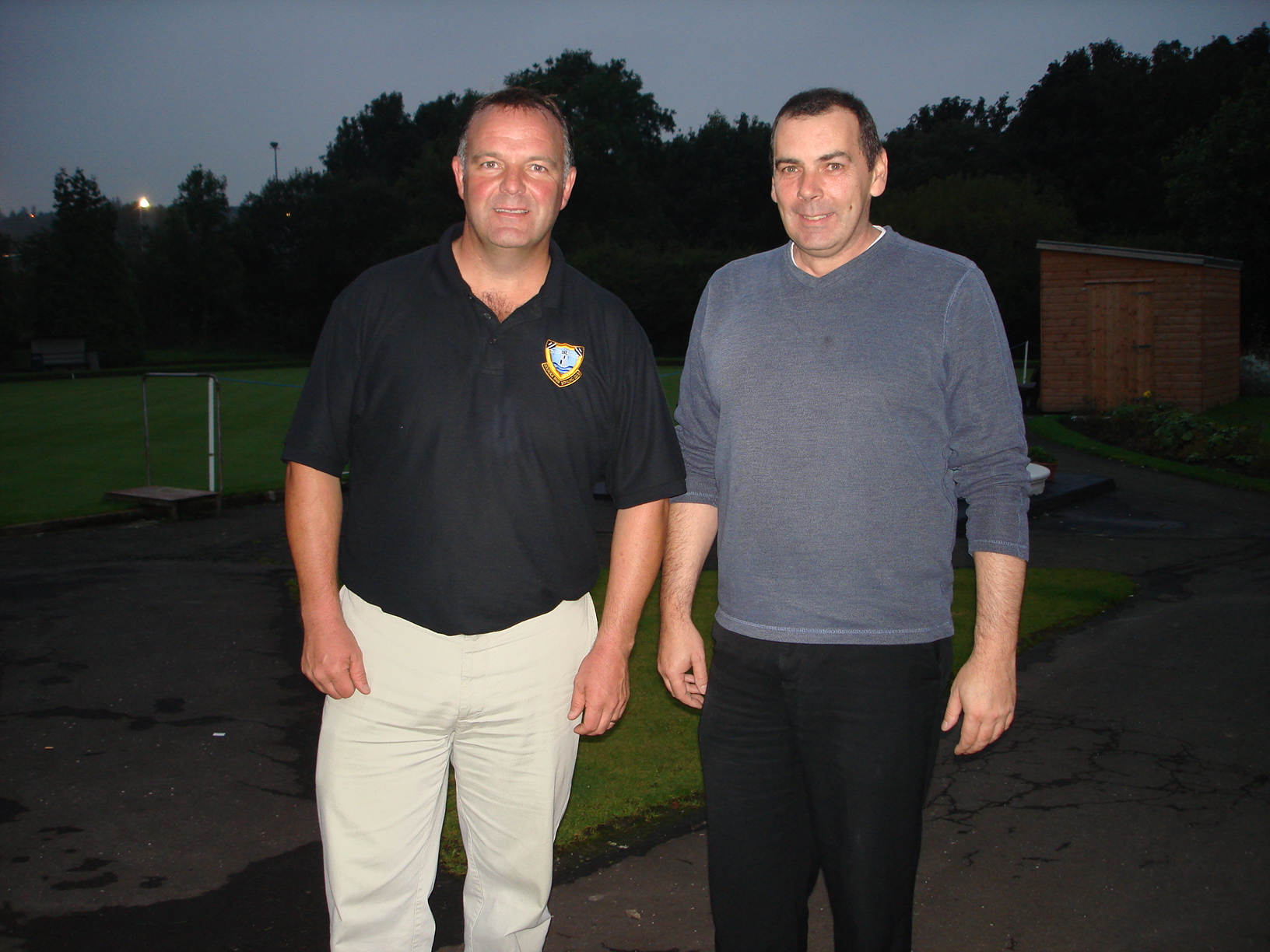 18th September 2008

The Two Bowl Pairs was won by Ian Brown and Andy Kearns (Jnr). They had a convincing victory over Michael Stevenson and Jack Lang in last nights final.

Ian Brown & Andy Kearns (Jnr).

Another Final that took place recently was the Two Bowl Singles. Robert Harron and Michael Stevenson were the contenders and it was Robert Harron that claimed the title by 21 v 20 with Robert winning the final shot of the game in a close measure.

The Gourock Park Juniors held their Finals day last Sunday. 16 Juniors took part in a round-robin pairs with the over 12's taking on the skips position and under 12's the lead. The initial stages consisted of two sections of four teams playing each other once.

The winners on the day were Gavin Gordon(sk) and Amy Brown who finished 8 shots up versus Jordan Crawford and Hannah Spencer.

A full article on the progress of Juniors throughout the district and the success they have had will appear on this site over the next few weeks.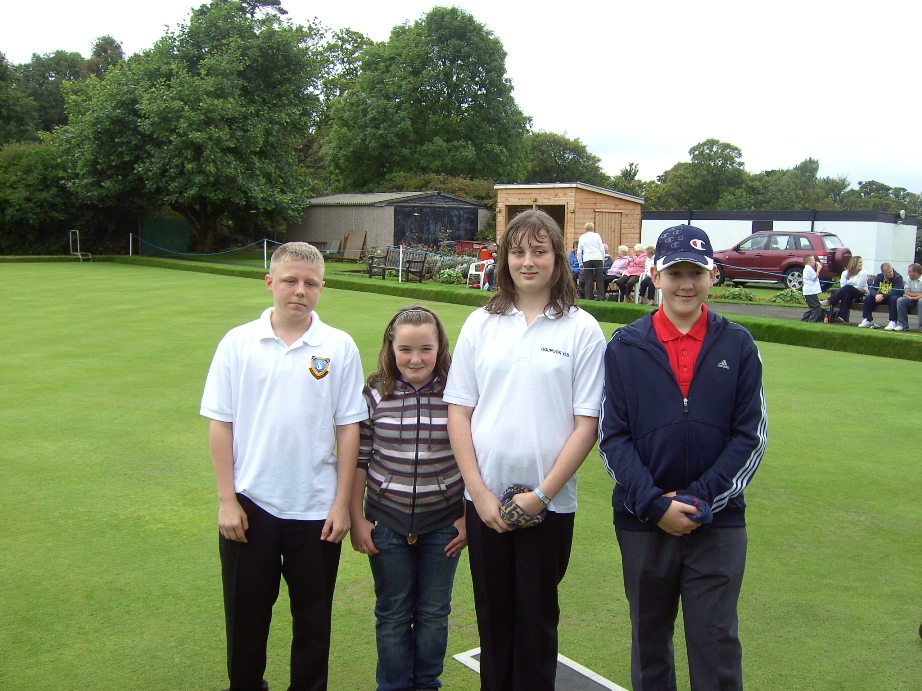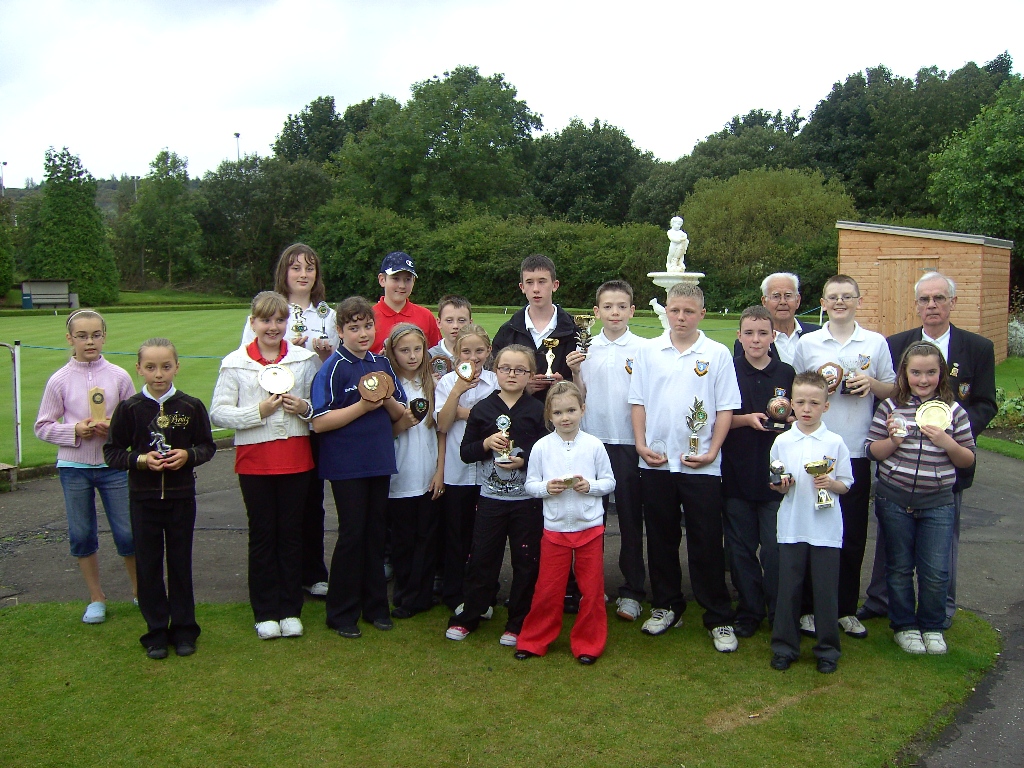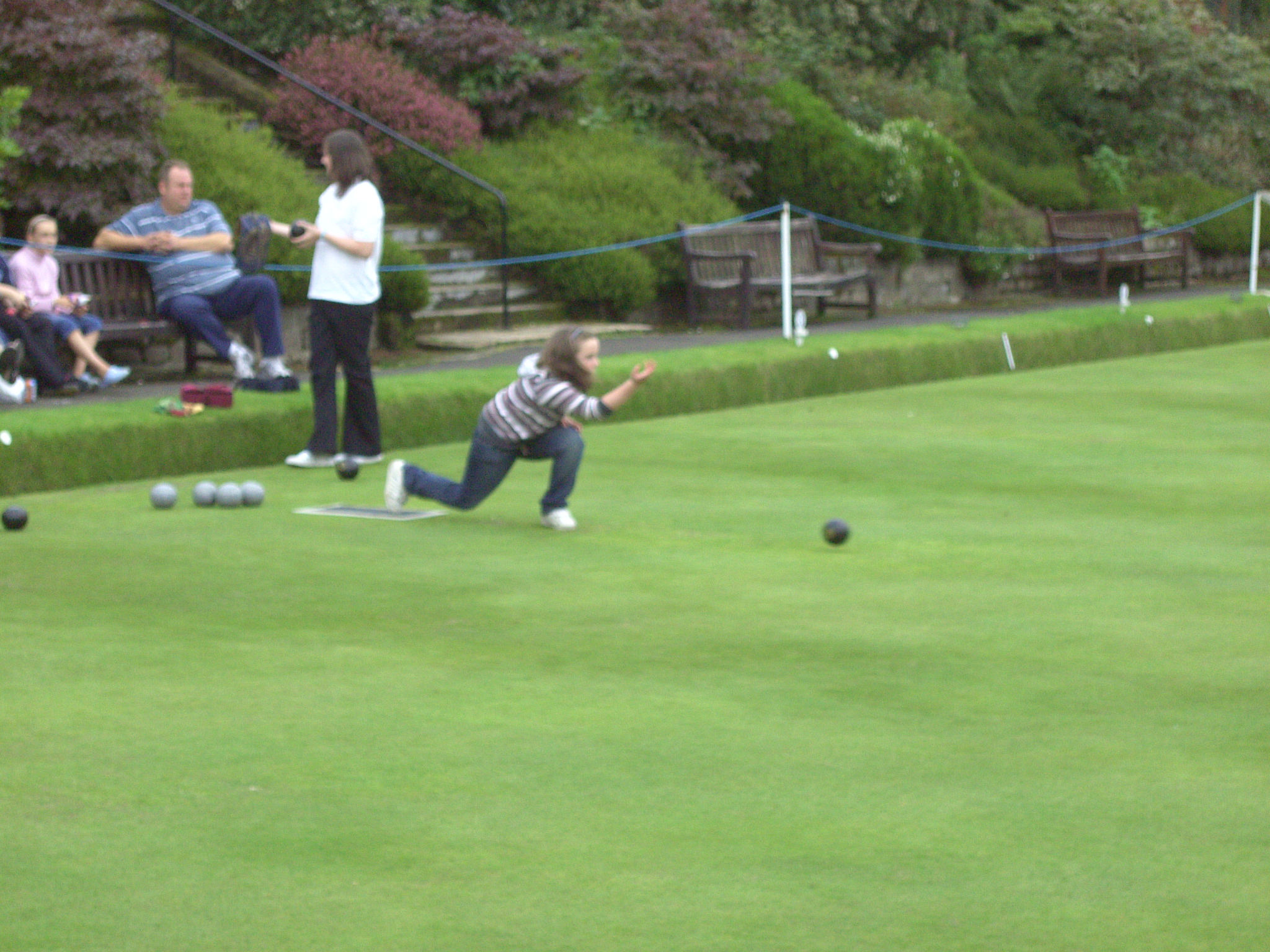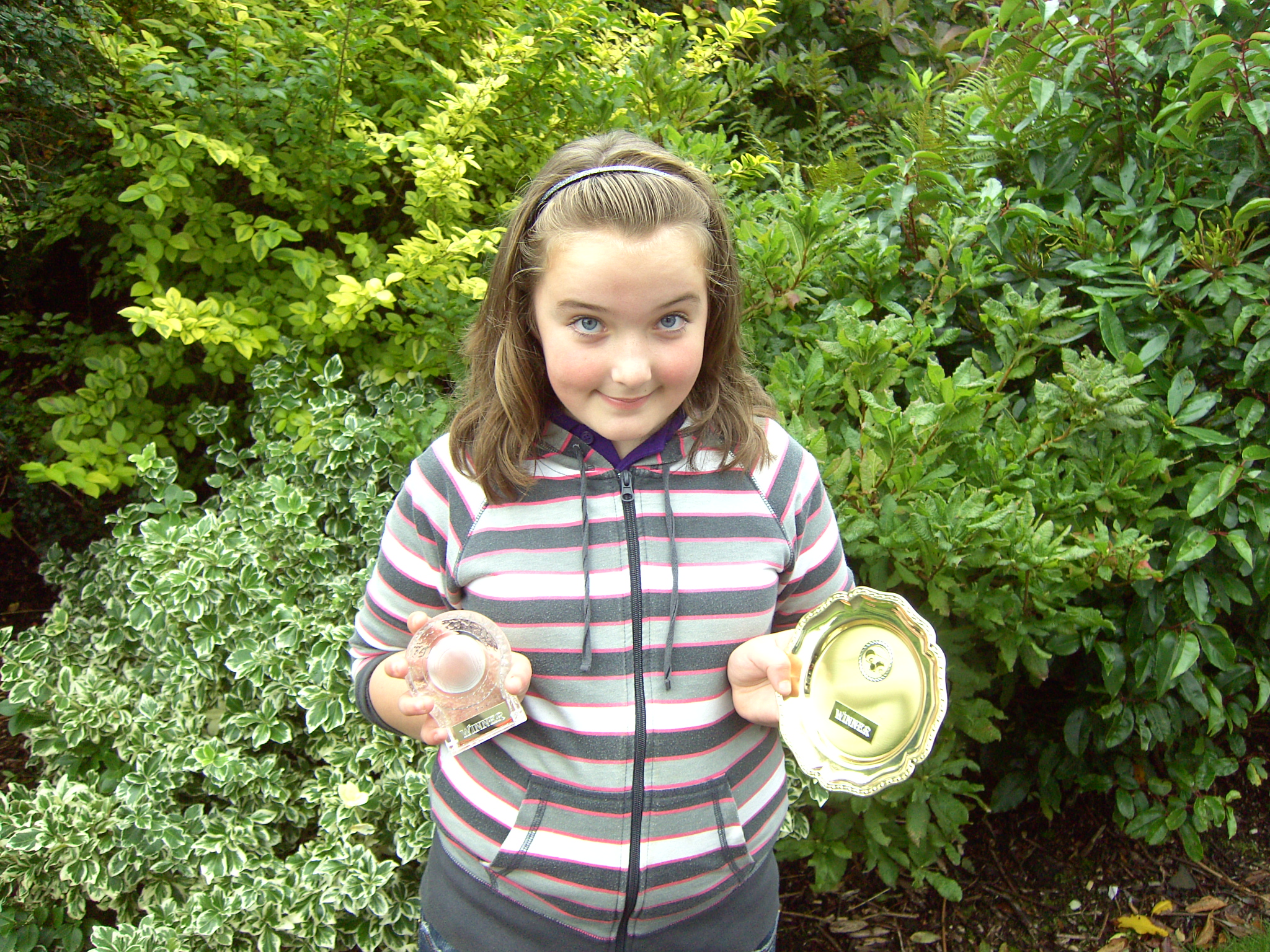 The Finalists- Gavin Gordon, Amy Brown, Hannah Spencer and Jordan Crawford

The Juniors show off their trophies. Also in the picture are Arthur Rennie and Andy Kearns who are part of the coaching team for the kids

Amy Brown, Her Dad, Ian is a Scottish Champion, but I bet this trophy is one of the most treasured in the Brown family display cabinet

Scotland versus England

Stacey Lungley helped Scotland's under-17s beat England at the weekend.

Stacey was in Carlisle with nine other under 17s from Scotland playing in a test series against the best young bowlers representing England

Scotland won the test 18pts to 16pts over four game on Saturday and Sunday.

Stacy (far right) with her fellow scotland team mates and the England players

Picture supplied by Alex McIlravey

22nd September 2008

Jimmy Bradley performed excellently on Sunday afternoon to see off the challenge of Rodger Lynn to win his third Senior Singles title in a row at Gourock Park. He got off to a great start and was leading by 7 shots to 1 in the early stages of the game. After this it was a lot closer as Rodger fought to get back in the game. The game was tied at 13 and 14 with both players delivering some fantastic bowls.

Rodger was first to get within striking distance gaining the advantage to lead by 17 shots to 14, but any hopes he had of claiming the Seniors title quickly disappeared as Jimmy soon fought back to level the tie and then go onto take the game by 21 shots to 17.

To win any title 3 years running is a marvelous acheivement and in doing so, Jimmy Bradley has proved that he is still one of the best singles players at Gourock Park.

Also played on Sunday was the Mathie Pairs Final. This was won by Alistair Creelman and George Twaddle, who defeated Jim Cameron and John Lamb by 20 shots to 8.

This evening at Gourock Park the Final of the Rosebowl Pairs took place and this was won by Barry Mc Clafferty and Alex Cunningham. They defeated Jim Cameron and Ian Brown in a mainly one sided game.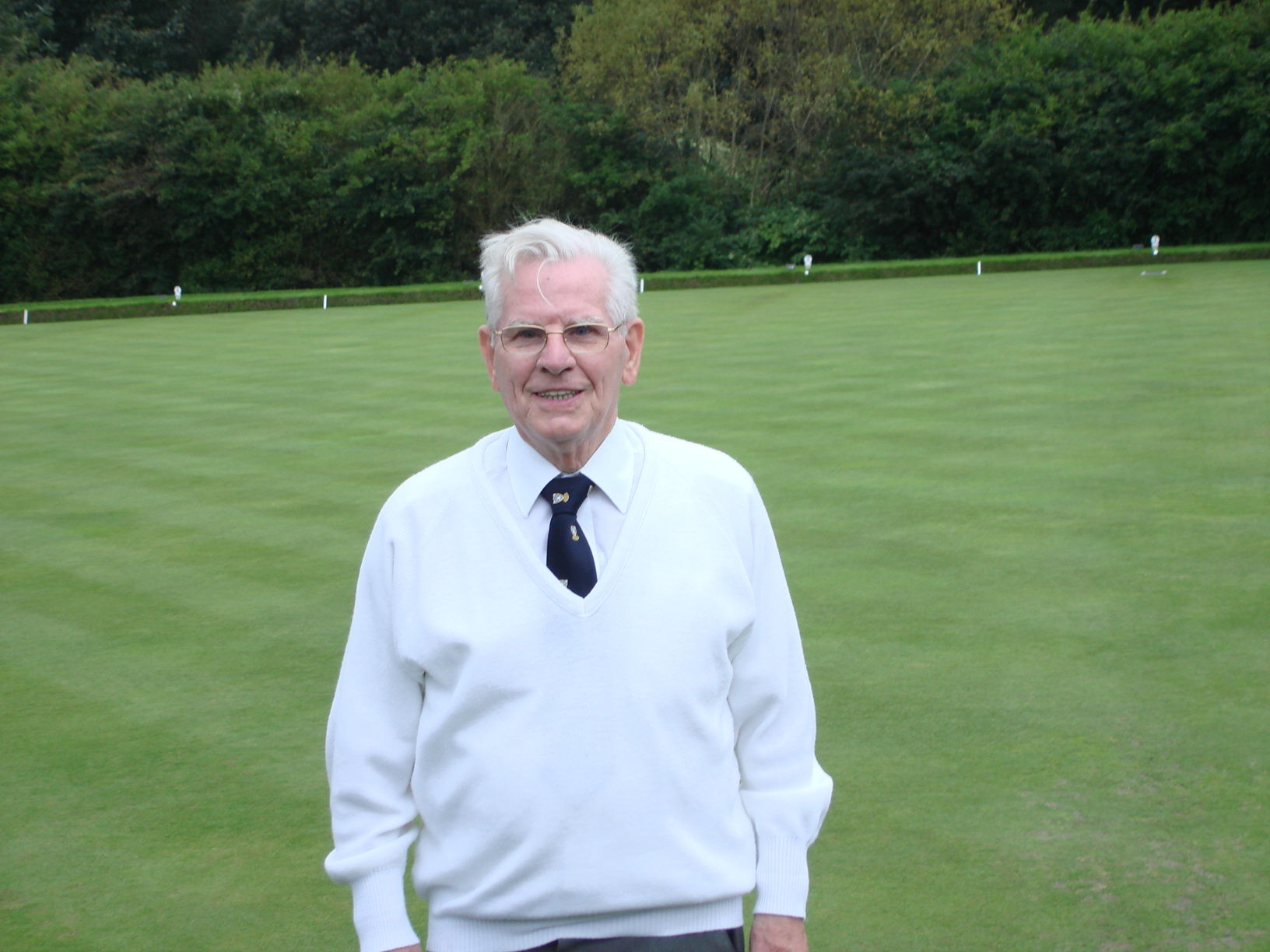 3 in row! 

Gourock Park Seniors Champion 2008

Jimmy Bradley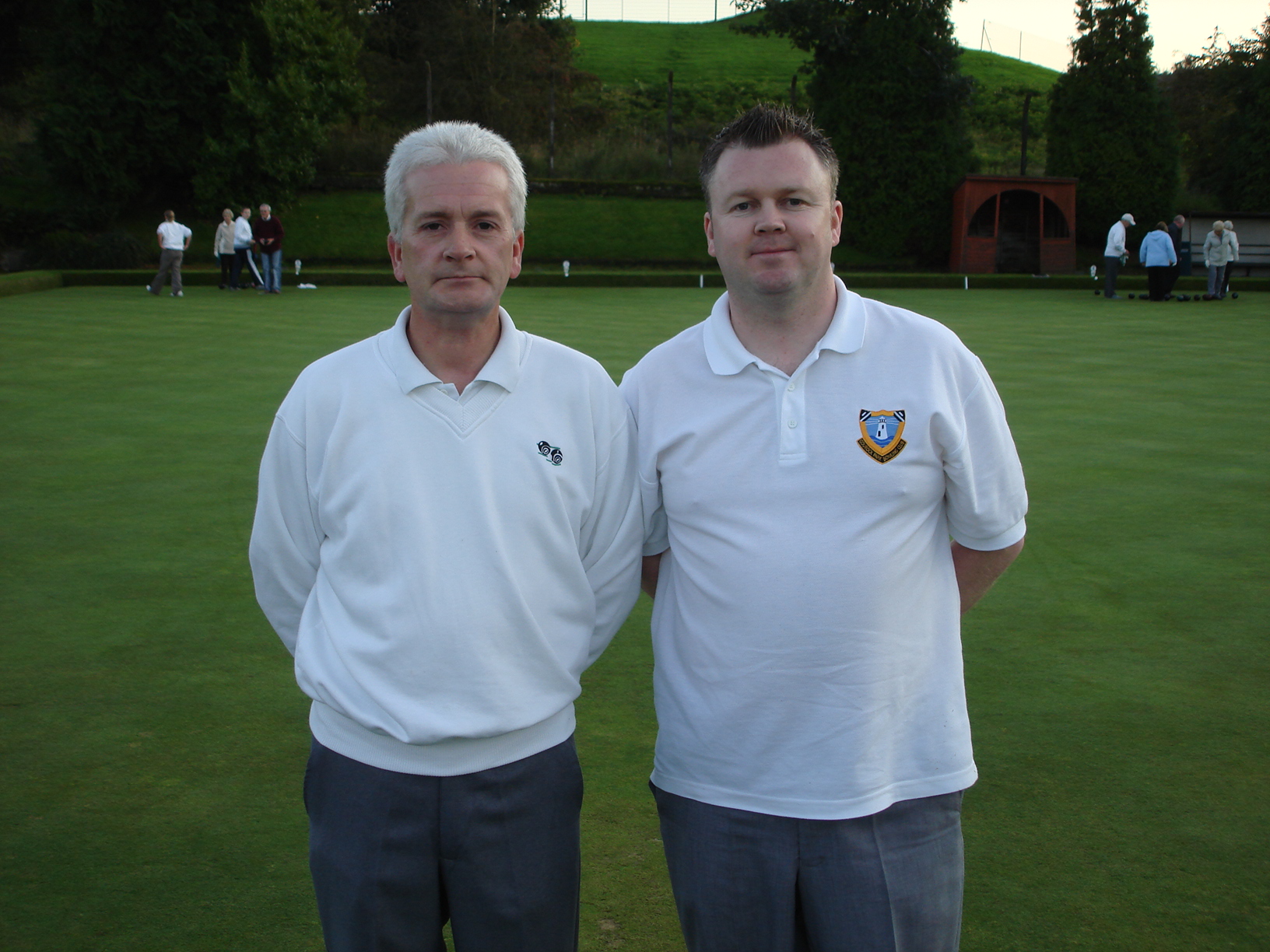 Gourock Park Rosebowl Champions 2008

Alex Cunningham & Barry McClafferty

The Winner of the Monday night wapinschaw was Terry Duffy, second placed was John Mc Cartney and John Gibson claimed 3rd place. The Monday night event was a great success and sure to be a regular on the calendar for years to come.

Gourock Park took part in the celebrations to mark the 150th Anniversary of Gourock becoming a Burgh, by competing in a fun event of bowling with neighbours, Gourock.  The day was a great success and enjoyed by all who attended.  Its hoped that this game may be arranged on an annual basis. Although normal bowling was the basis of this game, the rules were changed slightly to bring a fun element. For example part of the game included having to play with the opposite playing hand, playing jokers that doubled the score and by throwing bowls that belonged to a team mate.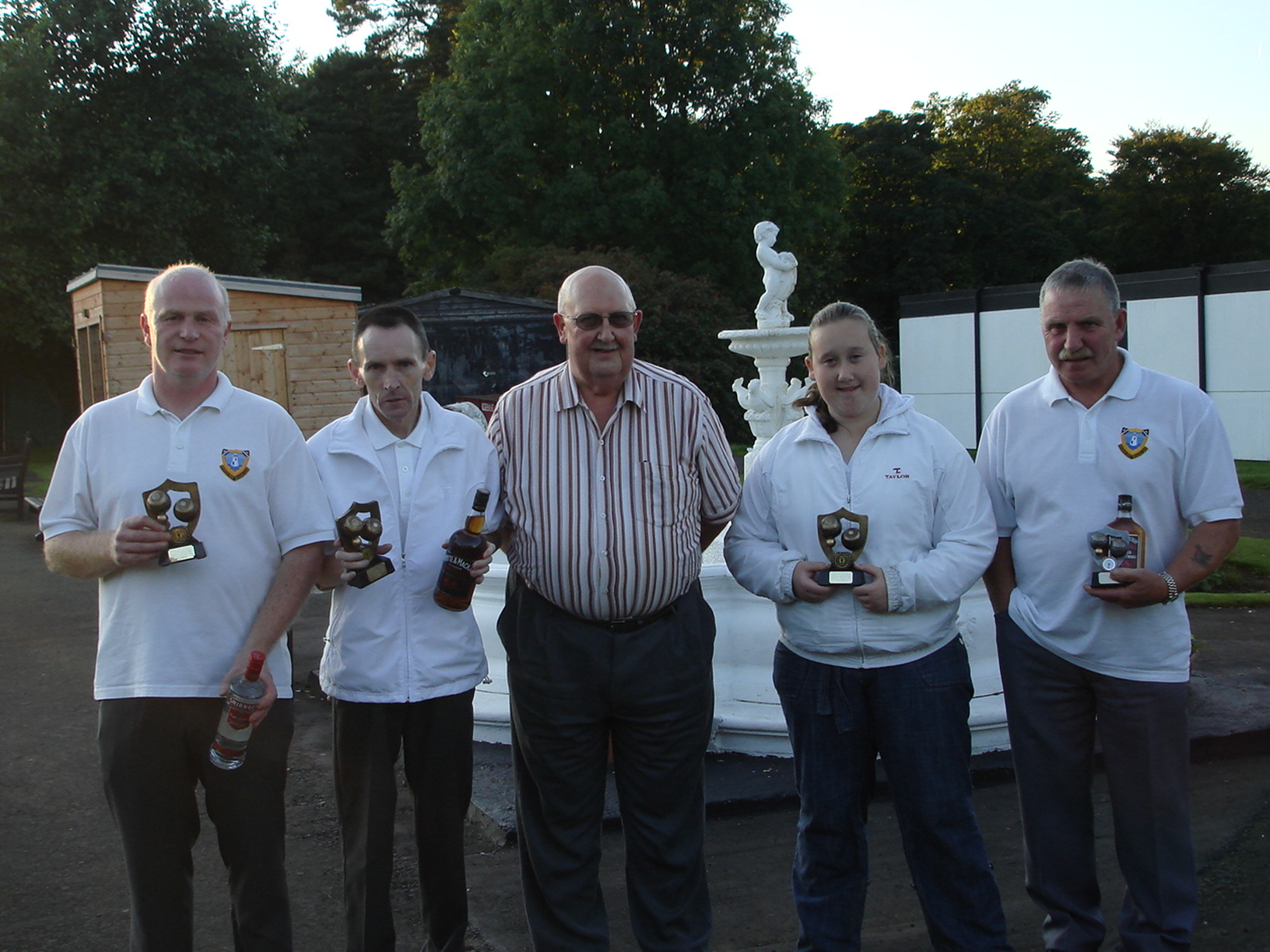 Ramsay Crawford, Jim McCready, Louise Watt (part of the winning rink) and Neil McKechnie (a runner up) with George Irvine(centre) who presented the trophies tonight at Gourock Park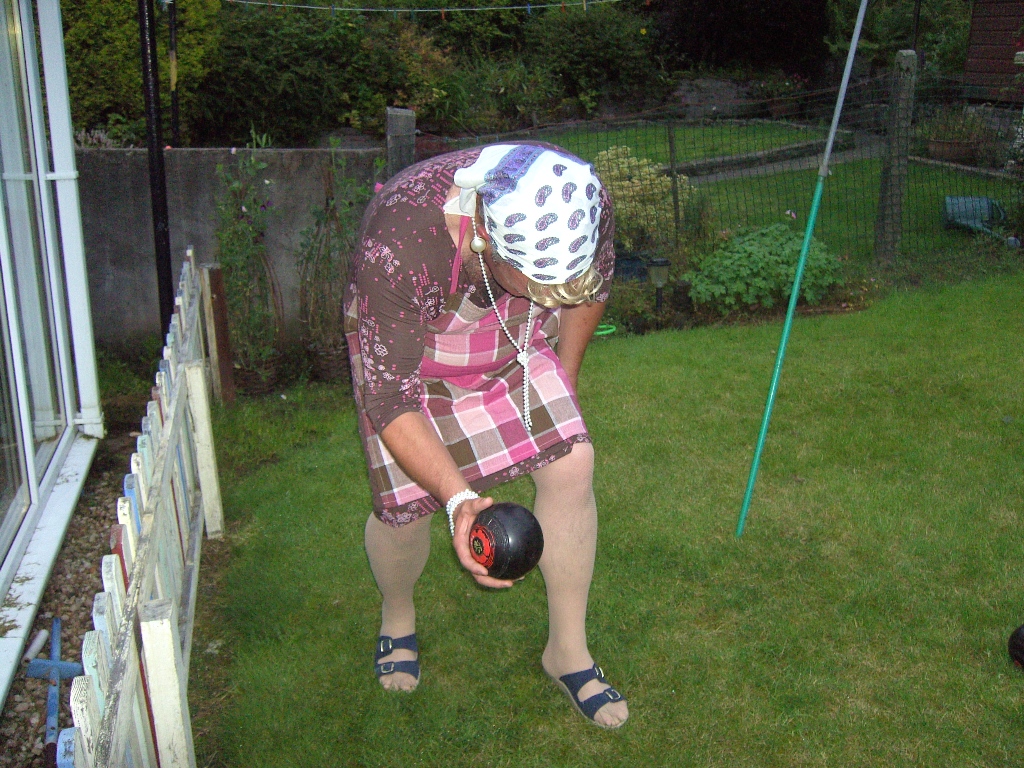 Gourock Park has a Scottish Champion joining the Ladies section!  Can you guess who it is?  

Can you guess who 'she' is yet?

24th September 2008

John Ellis and Jimmy Bradley won this year's Nominated Pairs this evening at Gourock Park defeating Joda Reid and Rodger Lynn in an excellent hard fought final. It was a close game until the 14th end when John and Jimmy scored a six to take the lead in the game for the first time at 15 shots to 10. They followed this up with another four shots at the next and with Joda and Rodger looking down and out, sealed the match with another three in the sixteenth end to claim a worthy victory over their highly talented opponents.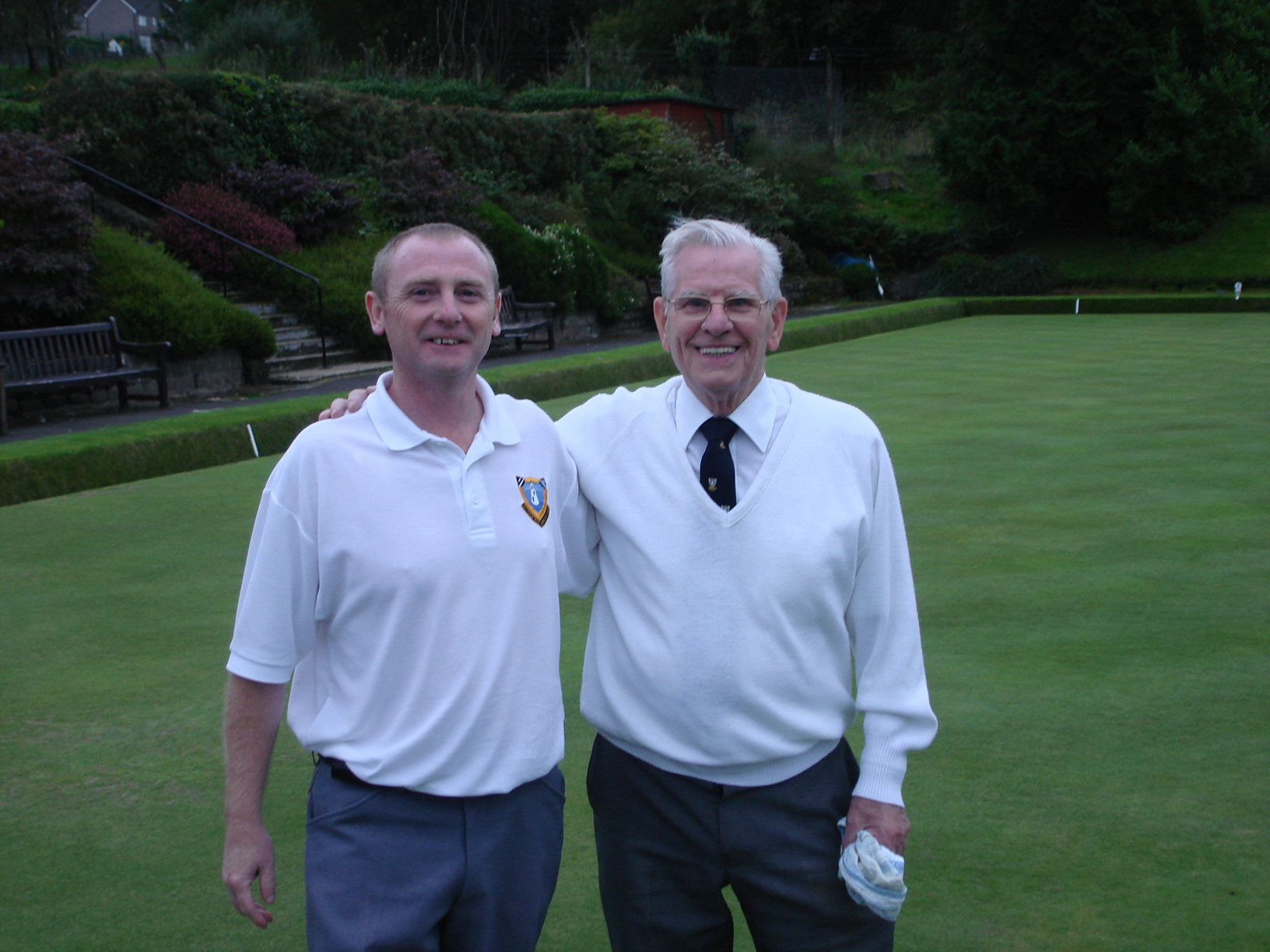 John Ellis & Jimmy Bradley

Nominated Pairs Champions 2008

26th September 2008

Maureen McKillop and John Kane had no answer to the skills of Stacy Lungley and Robert Grant in this year's Nominated Mixed Pairs Final played at Gourock Park yesterday evening.  With the evening light disappearing fast they gave up after 15 ends as their on-form opponents lead by 24 shots to 8.

Not even John Kane's explosive driving shots (of which there were many on the night) could stop Stacy and Robert in their tracks as they drew their way to a well deserved victory. Robert could even afford the ms-fortune of throwing a wrong bias in the 7th end, which brought cheers from the small crowd of spectators.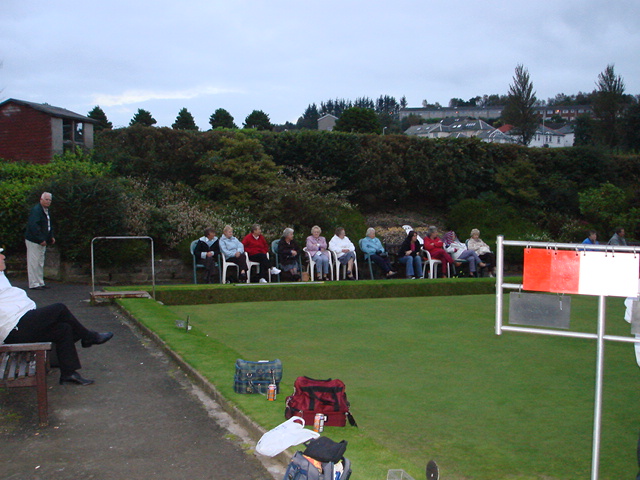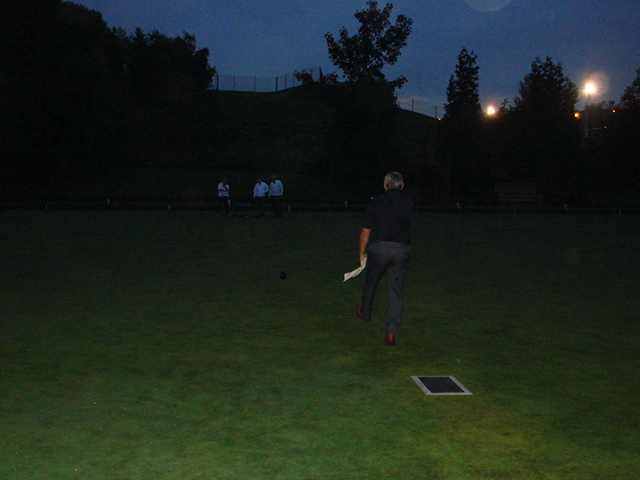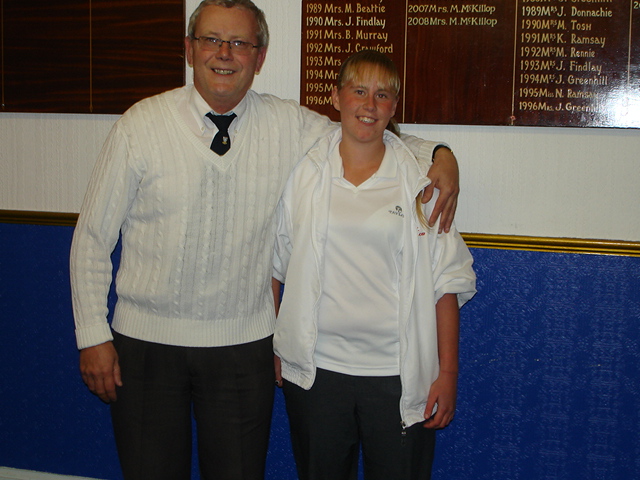 Its almost dark as the 14th end is underway

Nominated Mixed Pairs Champions 2008

Robert Grant & Stacy Lungley

30th September 2008

Hamish Ramsay & John Mc Cartney defeated George Dyer & John McFetrich to win the Senior Pairs Final.

This is the last Final to be played in season 2008 and a full list of all this year's winners will be posted on site soon. The Final of Triples will be held over till early next season.

Mystery SBA Player!

So far nobody has sent in the answer to who the mystery SBA Champion who could be joining the Ladies next year!  Hopefully the picture below will help you identify her!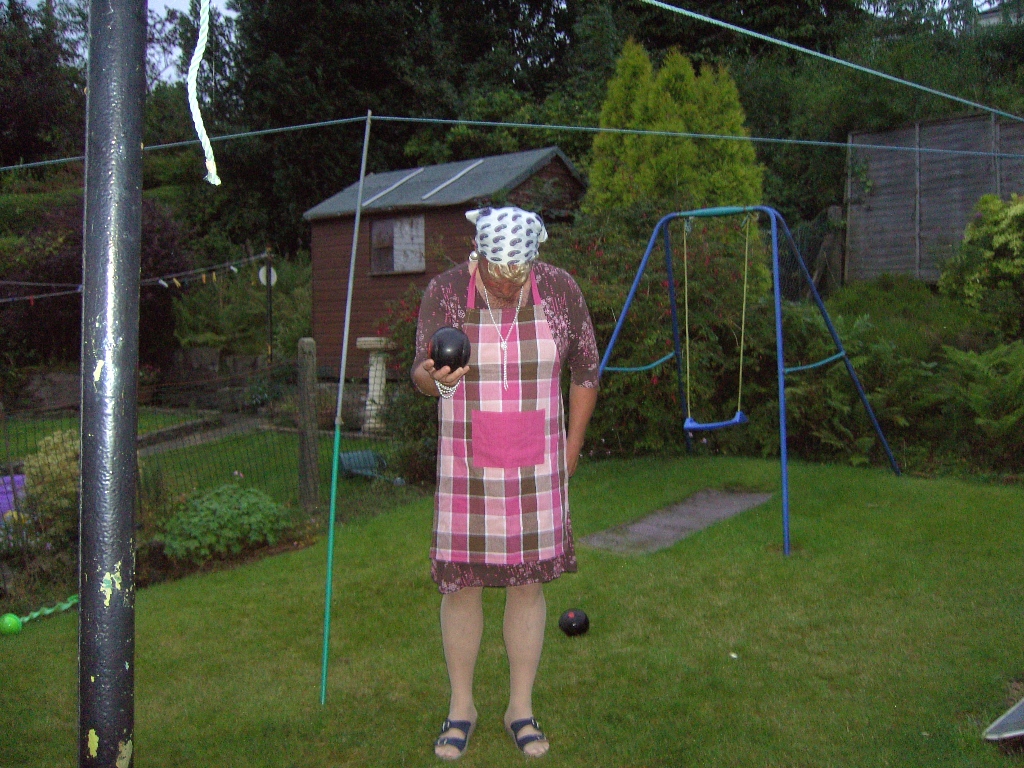 1st October 2008

Well done to Michael Stevenson & Ian Broadfoot for correctly identifying the mystery bowler. It was Gourock Park's Bruno all dressed up to go to a fancy dress night.