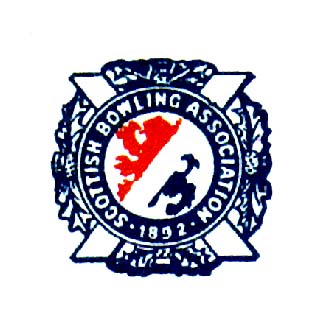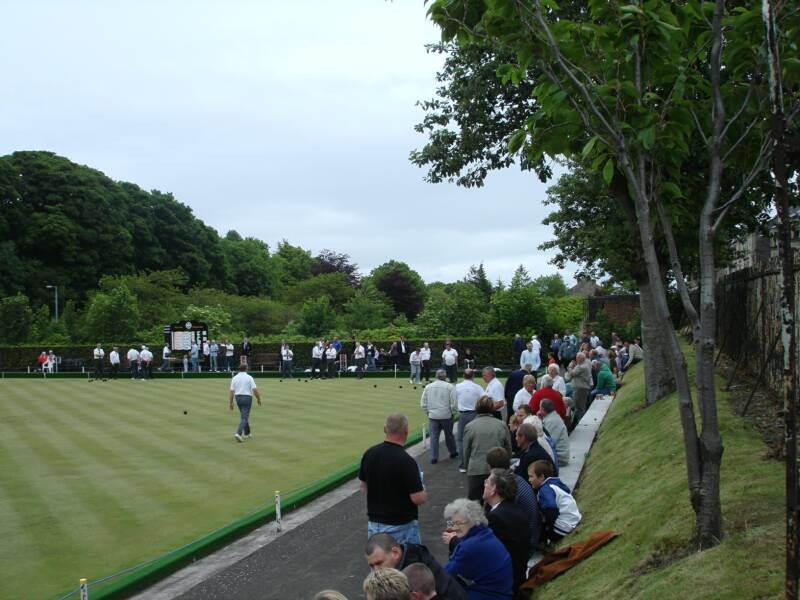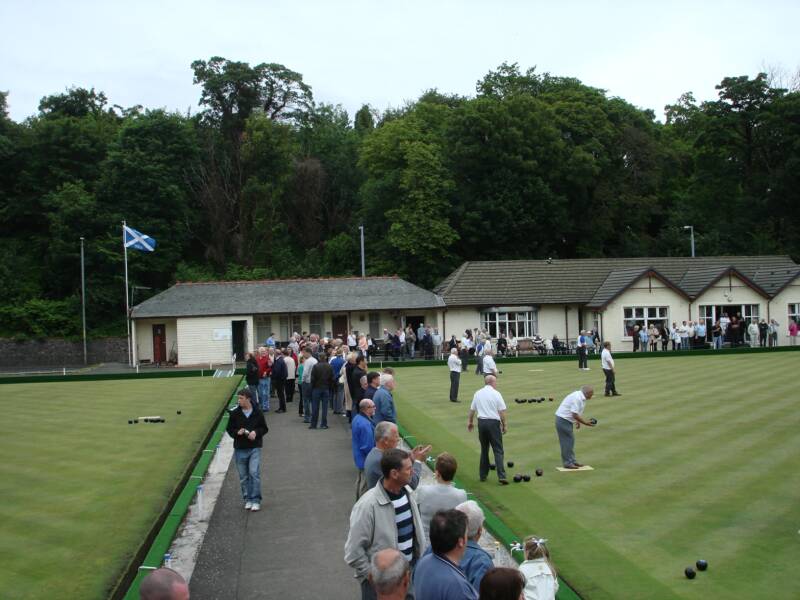 This year's SBA District Finals took place at Lady Alice BC in Greenock and as usual was well supported by fellow bowlers and supporters.Weather for the event was not perfect but at least there was no sign of the rain to spoil the spectacle.

As usual I concentrated on the Singles. This year it was Alan Bradley of Grosvenor versus

Peter Boyle of Lady Alice, which was promising to be a classic display of bowling talent. Before the game I had a poll on the site asking who people thought would win (As I always do!) and the hot favourite based on that poll was Grosvenor's Alan Bradley, and when the match started he soon showed why!

In the first end Alan trailed the jack around a foot to lie shot with his second bowl and then followed this up with his third delivery of the end to lie a double. Peter tried in vain to move either of these, including his last of the end, that became stuck on one of his own bowls.

Alan gained another shot in the second end and once again trailed the jack brilliantly away from Peter's shot bowl, to give himself another 2 shots to lead by five nil after three played.

Ends four and five belonged to Peter, as he scored two great doubles to reduce the lead to just one shot at 5 v 4 in Alan's favour.

Peter was again lying in the next, but Alan's last bowl of the end just clipped the jack enough, to send it to a bowl of his own to gain his sixth shot of the game. The seventh end saw Alan in great form as he extended his lead with a fantastic treble to make the score now 9 v 4 to Alan.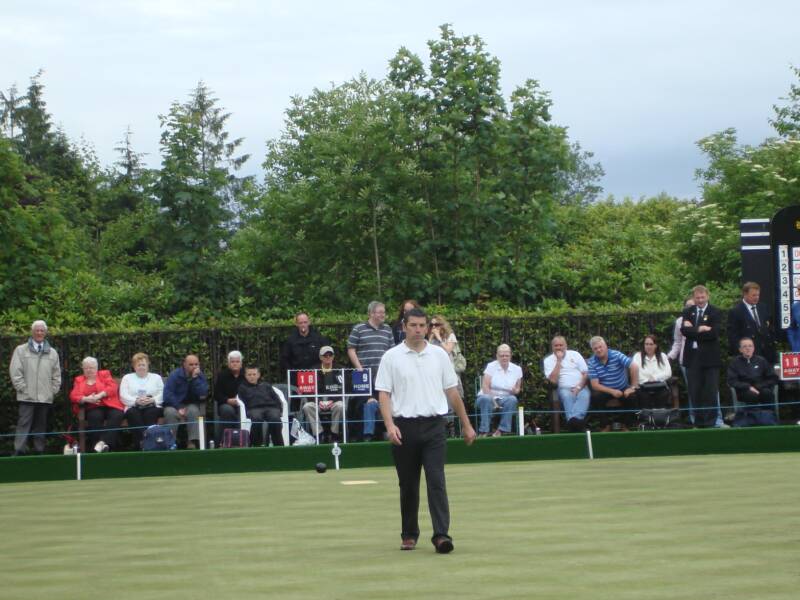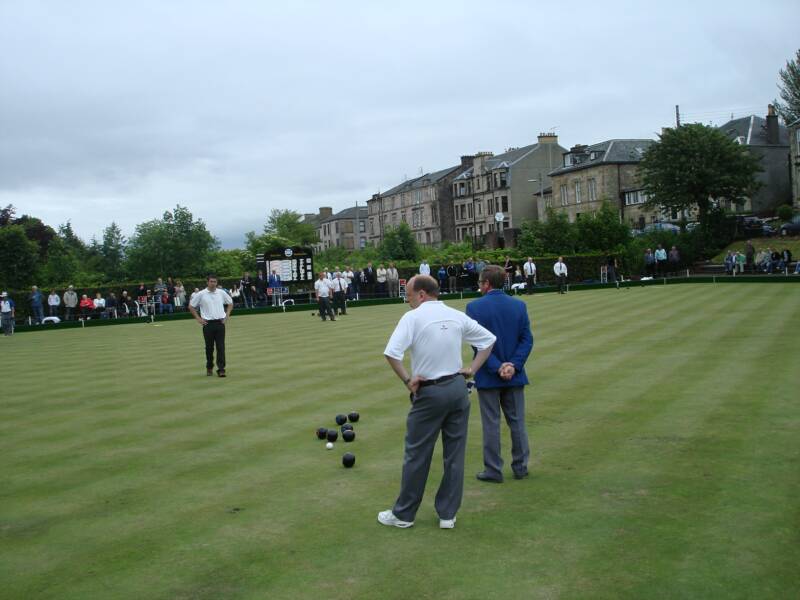 At this stage of the game my impression of the game was that Alan was playing more confidently on what was a tough rink to play on and that Peter, although never outclassed, was simply not playing as good as we all know he can.

Anyway! End number eight saw Peter expertly turn in one of his own bowls to gain a single, only for Alan to again increase the lead with two singles in ends nine and ten which made the score now 11 v 5 to 'The Scud' as he is known by his Grosvenor teammates.

Peter fought on and gained a single at the next end, but once again his opponent got the better of him, and over the next four ends, took the score to 17 v 6 after 15 ends

A single shot at the next brought it to 17 v 7 after 16 ends. Peter took the mat well out at the 17th, but unfortunately he failed to deliver the jack to a suitable distance He did not let this put him off and won the end with an excellent heavy draw, to clip the jack over in the direction of two of his own bowls to take a double and reduce Alan's lead to 17 v 9.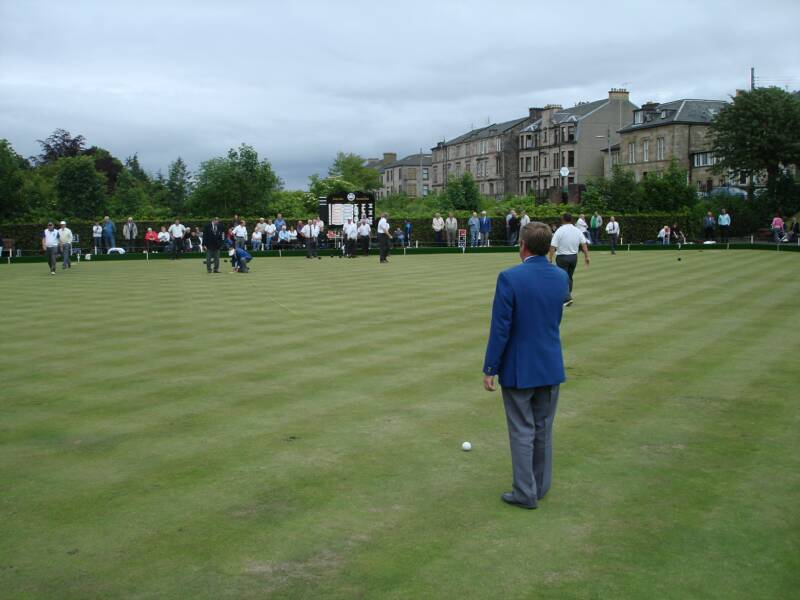 The next end, the 18th was a cracker. With Alan lying two shots, Peter brilliantly trailed that jack away towards the ditch to take shot, but not to be outdone, Alan did likewise with his last bowl to knock Peter's shot bowl into the ditch to lie in its place.  An excellent demonstration of precision bowling by both players, which was enjoyed by those keeping a keen eye of this game.

So it was into the 19th end and with Alan playing with so confidently, it was only a matter of time before he claimed the match and he did so in some style. He had delivered two great bowls to within around 6 inches of the jack, with Peter's nearest being just an inch or so further away. He then added a third shot with his last bowl of the end, to really put Peter under pressure. (as can be seen in the attached video)

Peter studied the head for a few moments before delivering his last bowl in the hope of at least cutting his opponents shot count and hopefully stay in the game, unfortunately his bowl missed its intended target (also available to view as short video clip) and Alan raised his hands in the air in jubilation of becoming District 23's Singles Champion for 2009.

To sum up the game, I think it was simply that Alan mastered a tricky rink first. This along with a good start, which built up his confidence, ensured that Alan was always able to dig in and bring out that extra special shot when it was needed. Peter I am sure will agree that he did not play as well as we all know he can,  and that on the day, Alan simply played the better bowls.

Video Clips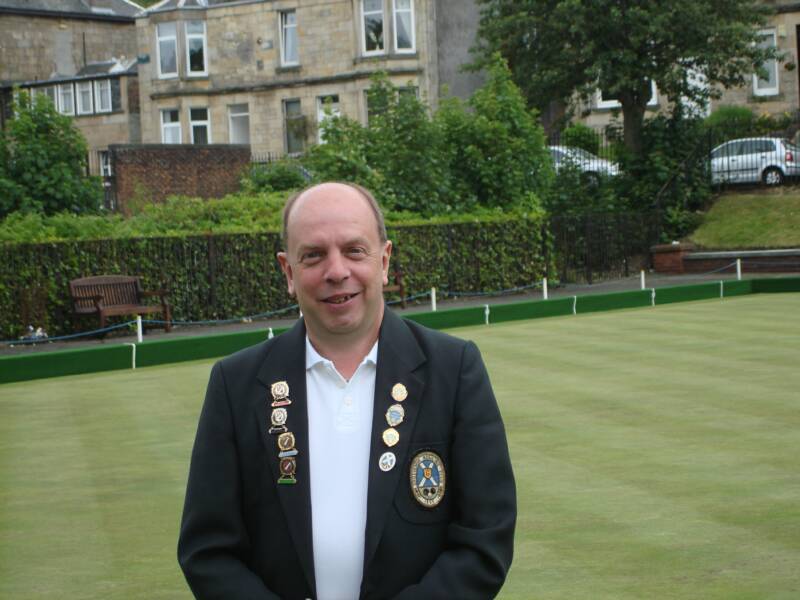 The Crowds enjoy the feast of Bowling at Lady Alice

Peter walking up to study the head

The umpires check the distance carefully

Alan is close to victory as his 3 bowls sit next to the jack

SBA District 23 Champion 2009

Alan Bradley

Grosvenor BC

This year's Finals took place on 'Fathers Day' and the two young players on display are certainly 'following in their father's footsteps. Mark McAlees is the Son of the Legendry, Tom McAlees, while John Reid's Dad is one of the infamous 'Gourock Park Four' which won the SBA Fours title last year.

I was not report directly from this match, due to my involvement in reporting the other Singles, but from what I saw both players can be very proud of their acheivements to reach this stage and I am sure they made their 'old man' a very proud Dad.

The game was won by Mark with a 21 v 9 score but despite losing, young John I am sure can be a certainty to reach this stage once again in the near future.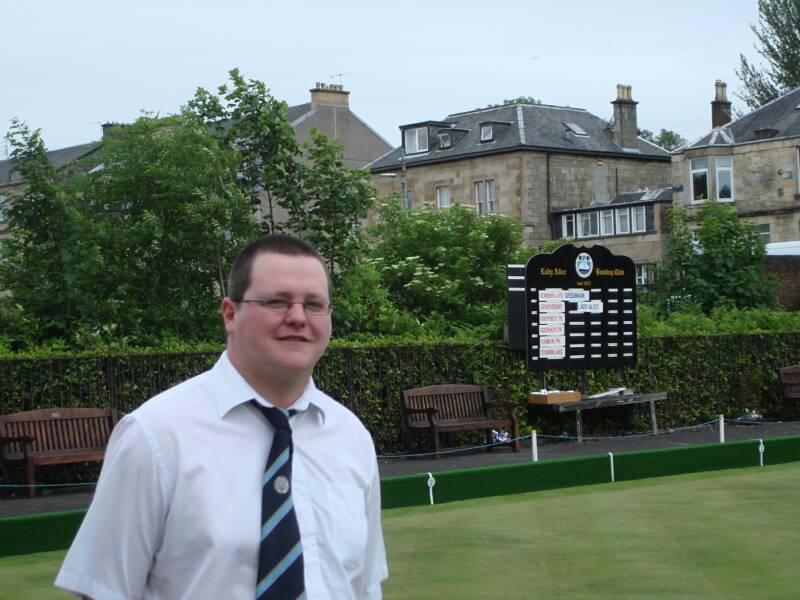 SBA District 23 Junior Champion 2009

Mark McAlees

Kilmacolm BC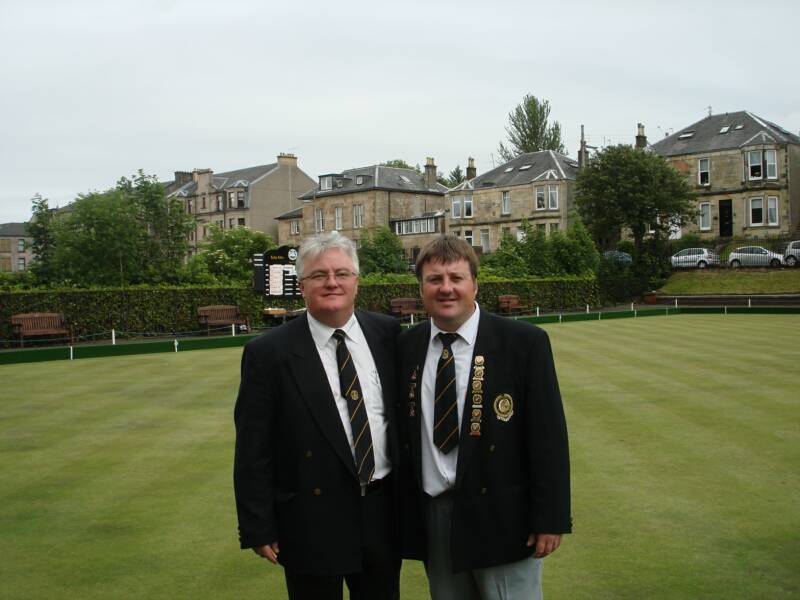 The Pairs was won by Victoria's Charlie Docherty and Brian McAlees with a good strong victory over Kevin Smart and Colin Smith of Dunoon Arygll.

The score was 15 v 6

SBA District 23 Pairs Champions 2009

Charlie Docherty & Brian McAlees

Victoria BC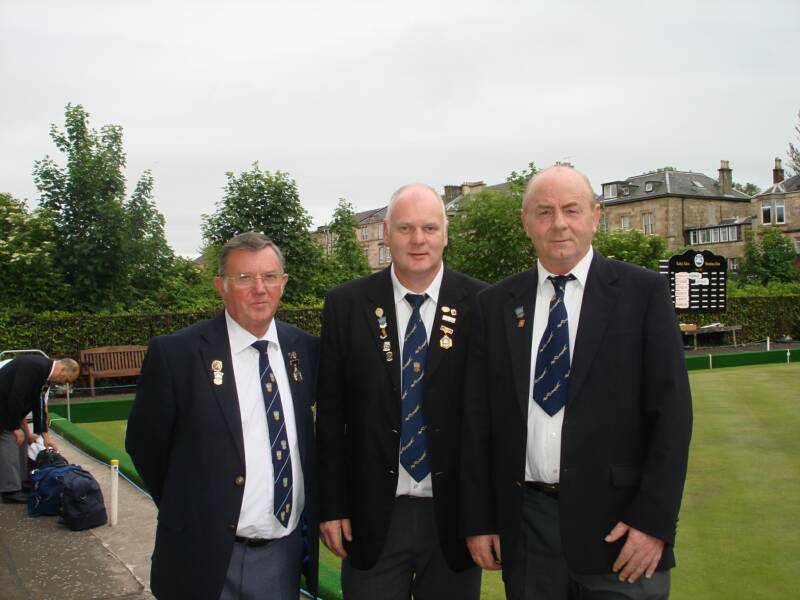 Rankin Park won the Triples, Willie Shaw, Ricky Johnston & Jim McElwee. They defeated Wellington Park's Joe Hendry, Robert Cummings & Alex Best.

The score was 16 v 10

SBA District 23 Triples Champions 2009

Willie Shaw, Jim McElwee & Ricky Johnston

Rankin Park BC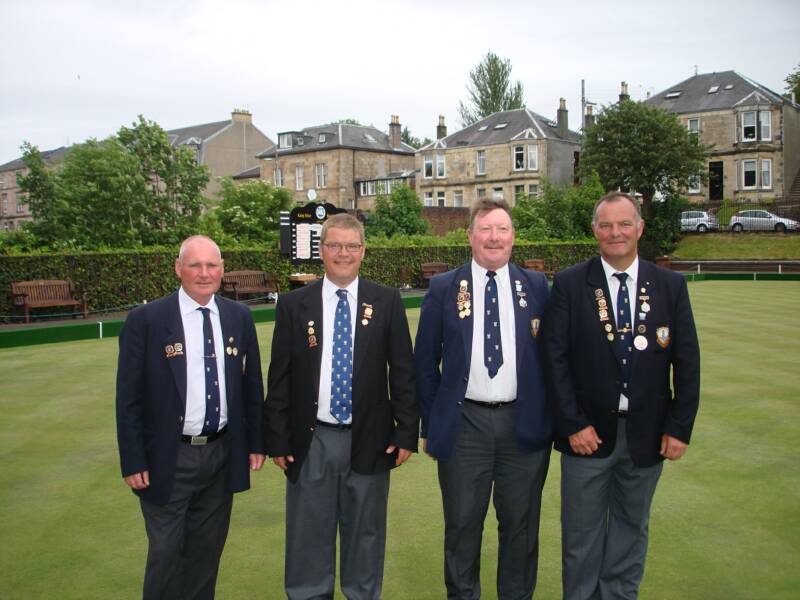 The Fours was won by 'The Gourock Park Four', The infamous term for last year's Scottish Champions team of Joda Reid, Alex McIlravey, Rodger Lynn and Ian Brown, powered to victory by a score of 26 v 7 with two ends un-played.  On the day they were just too good for their opponents, Grosvenor's  Jim Banks, Archie Gray, Jim McKinnon &

Frank Lyne,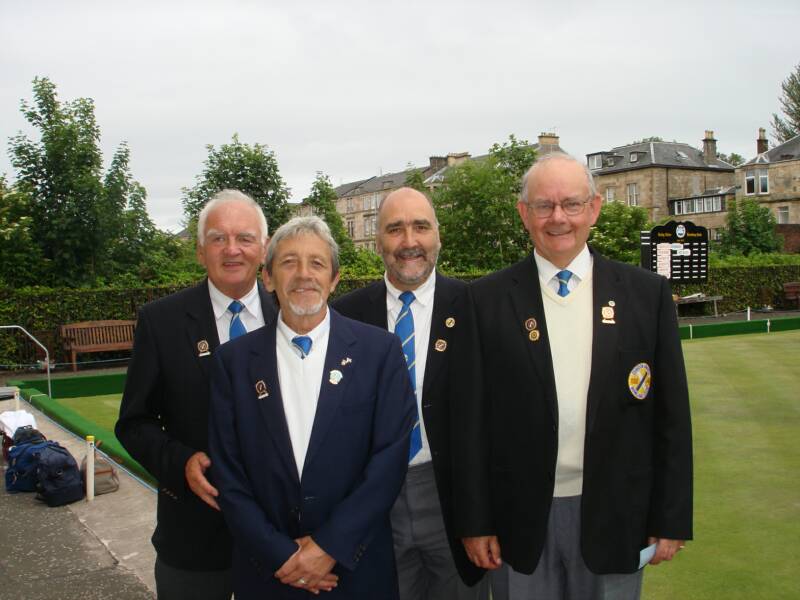 The Senior Fours was a close game with Dunoon Arygll, Paul Doyle, Bill Strathdee, Tony Collins & John Donald, winning by 12 v 9 after the 15 ends. They defeated Ardgowan's Robert Currie, Robert McShane, Charles Prentice & Campbell Barr.

SBA District 23 Fours Champions 2009

Joda Reid, Alex McIlravey, Rodger Lynn & Ian Brown

Gourock Park  BC

SBA District 23 Senior Fours Champions 2009

P Doyle, J Donald, T Collins & Bill Strathdee

Dunoon Arygll BC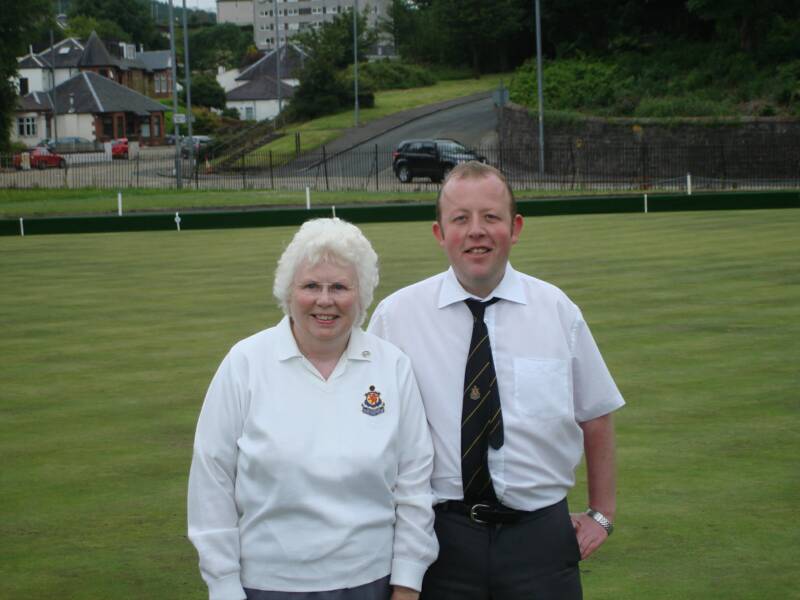 The final of the District mixed pairs was also played on Sunday 21st June on Lady Alice Bowling Club at the same time as the Gents Scottish Finals.

The Gourock Pair of Elizabeth McLellan and Raymond Swankie started well with a 3. The pair from Upper Cowal Sheila Teasdale and Alex Kennedy won the next 3 ends to be 4-3 up, the Gourock pair regained the lead winning 9 of the next 12 ends including a 6 at the tenth end to see them win 23 – 10. The Sandbank team played well but could not match their opponents steady bowling.

The Gourock team are now due to play the winners of District 24 Dumbartonshire and Argyll on Dumbarton BC on Sunday 26th July

The Mixed Pairs report was submitted by Bill Knox