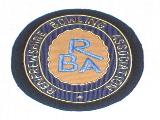 Renfrewshire B.A.Championships 2009

THE RENFREWSHIRE BOWLING ASSOCIATION




























CHAMPIONSHIPS




























FINAL




























MEIKLERIGGS BC




























SUNDAY 28th.JUNE - 2009 - 2.00pm




























SCORE
RED DISC
RINK NR.
BLUE DISC
SCORE




























SINGLES


SHAWLANDS BC
RINK NR.
ARDGOWAN CLUB


21
GEORGE HAY
2
ALAN WALKER
17












JUNIOR SINGLES


NEILSTON BC
RINK NR.
WELLINGTON PARK BC


12
DAVID WALKER
1
STEPHEN McLELLAN
21












PAIRS
CLARKSTON BC
RINK NR.
FAIRFIELD BC
11
R.GRAHAM & I.HUDSON
5
I. PARKER & T. O'DONNELL
16












TRIPLES
LILYBANK BC
RINK NR.
CLARKSTON BC
5
J.HAXTON, A.McGILLIVARY & A.DANKS
6
M.McLAREN, M.BURNS & C.BOLLING
13




























FOURS


POLLOKSHAWS BC
RINK NR.
CHARLESTON BC


16
M.PELLIGRINI, A.CAMPBELL, P.SHIELDS & M.McGOWAN
3
P.KERR, J.BEITH, G.McAUSLAND & D.MOFFAT
17












SENIOR FOURS
KILBARCHAN BC
RINK NR.
LADY ALICE BC
18
A.ORR, J.FLEMING, D.CUTHBERT & I.FLEMING
4
I.WILSON, J.NICHOLS, T.KAY & S.BLACK
7






























BISHOPTON BC
































Saturday 27th.June - 2009 - 10.00am






























SPONSORED FOURS
CALEDONIA BC
RINK NR.
CARDONALD BC
WIN
H.SHIELDS, G.LIDDLE, R.MILLIKON & A.PATTISON
R.CAMERON, B.McDONALD, M.McGEACHY & R.SMITH










UNDER 45's FOURS
GOUROCK BC
RINK NR.
THORNLIEBANK BC
R.SWANKIE, J.MADDEN, K.CARSON & K.HASLAM
J.WALKER, H.ARROL, G.O'DONNELL & C.McLEOD
WIN
Hi Folks,

Sorry to have taken so long in getting this score sheet out. As you are all well aware, it's been a hectic couple of months and the RBA Finals was the icing on the cake as far as I'm concerned (RBA cake - that is).

The weather was brilliant and Meikleriggs were very supportive on the day. There was an excellent turnout from G&D people, and rightly so, considering that we were challenging for three titles. For the last umpteen years (it seems) we have been dominating the RBA scene and this year, although to a lesser degree, was proof that the players from the G&D area are there to be reckoned with.

In the Senior Fours, Lady Alice came up against a very strong Kilbarchan team and didn't do themselves justice on the day. They know, and so do we, that they can play better - just wait till next year.

Stephen McLellan was defending his title and was in no mood to let it go. David Walker of Neilston is a well known Under 25 player and his club had high hopes for him - Stephen wasn't listening. He played his normal very strong game and proved to all who were interested that he will be around for a very long time.

Allan Walker was playing in his first Championship Singles Final and didn't let anyone down. He was up against a very seasoned campaigner in George Hay of Shawlands (who has won the title on two separate occasions) and it was a contest worthy of any Finals Day. Allan, has been very consistent  with his "lemons" all season and merited being in the Final, having beaten Nicol House in the Semi's (no mean feat in itself). It looked like George was going to struggle with the rink, early on, and being a "lefty" didn't appear to be an advantage. However, you don't get to these matches by luck and George's class showed in the end. It was an excellent match between two nice guys, who showed great sportsmanship also.

John Freeburn

RENFREWSHIRE BOWLING ASSOCIATION


COUNTY CUP








PLUS






MINUS




1
MEIKLERIGGS
57
GROSVENOR
1


25
2
BLACKLANDMILL
46
ELDERSLIE WALLACE
3


26
3
RALSTON
44
QUEENS PARK
8


27
4
ANCHOR
42
CLARKSTON
10


28
5
CHARLESTON
41
GOUROCK
11


29
6
CALEDONIA
35
JOHNSTONE
17


30
7
HAWKHEAD
30
LADY ALICE
17


31
8
ARTHURLIE
29
RENFREW
17


32
9
VICTORIA (PAISLEY)
27
LINWOOD
19


33
10
BISHOPTON
25
STAMPERLAND
20


34
11
BARRHEAD
21
CARDONALD
21


35
12
POLLOKSHAWS
21
VICTORIA (GREENOCK)
22


36
13
KILBARCHAN
14
LILYBANK
24


37
14
LOCHWINNOCH
14
CROFTHEAD
25


38
15
WELLMEADOW
8
WEIR RECREATION
25


39
16
JG FLEMING
7
ABERCORN
26


40
17
KILMACOLM
7
INCHINNAN
27


41
18
THORNLIEBANK
7
CROFTFOOT
28


42
19
ARDGOWAN CLUB
6
SHANKS
29


43
20
FERGUSLIE
6
MEARNS
31


44
21
GIFFNOCK
5
NEILSTON
34


45
22
WOODLANDS
3
KINGSWOOD
39


46
23
BUSBY
2
CROOKSTON
52


47
24
GOUROCK PARK
1




















































HIGHEST - UP RINK




KILBARCHAN


+27