British Isles Championships Belfast 2009

Gourock Park Four

Ian Brown, Rodger Lynn, Alex McIlravey & Joda Reid

The Gourock Park Four travelled to Belfast with great hopes of bringing home the

British Isles Fours Title and they were joined by dozens of their supporters from Gourock Park and a few others from kindred clubs.

Joda, Eck, Rodger & Bruno had been in brilliant form before they took the short trip  across the Irish Sea, in fact up to this point had been unbeaten in 13

SBA games so far. Just recently they claimed the District Title for the second year running and so held no fears for their chances at Belmont Bowling Club, where they would represent Scotland.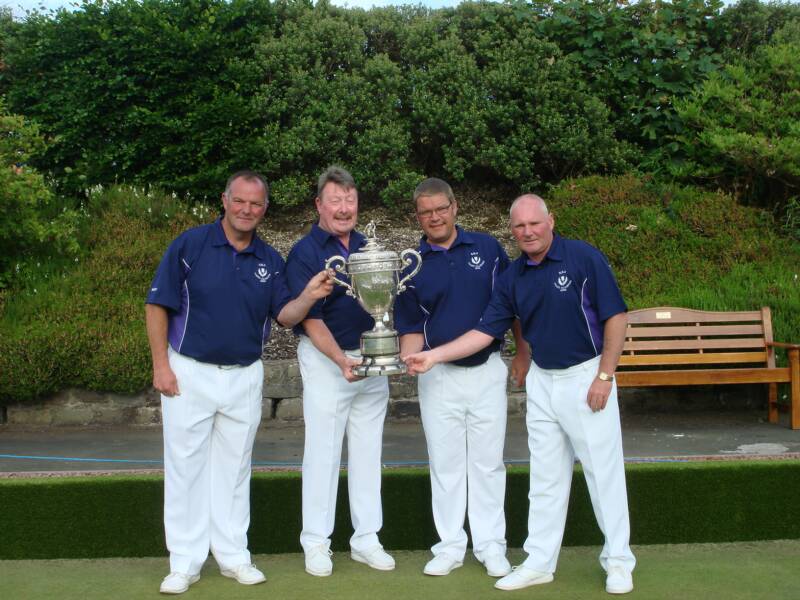 Sadly though, despite a positive start, they were outplayed on the day by a very determined and highly skilled Guernsey Team, who stormed back from being down by 9 shots to 4, to win the match in devastating fashion by 25 v 9. 

The Guernsey rink were Garry Collins, Wes Baker, Len de Ber & Gary Pitschou, who all came from Vale Recreation BC. The latter two also being involved in the Triples event.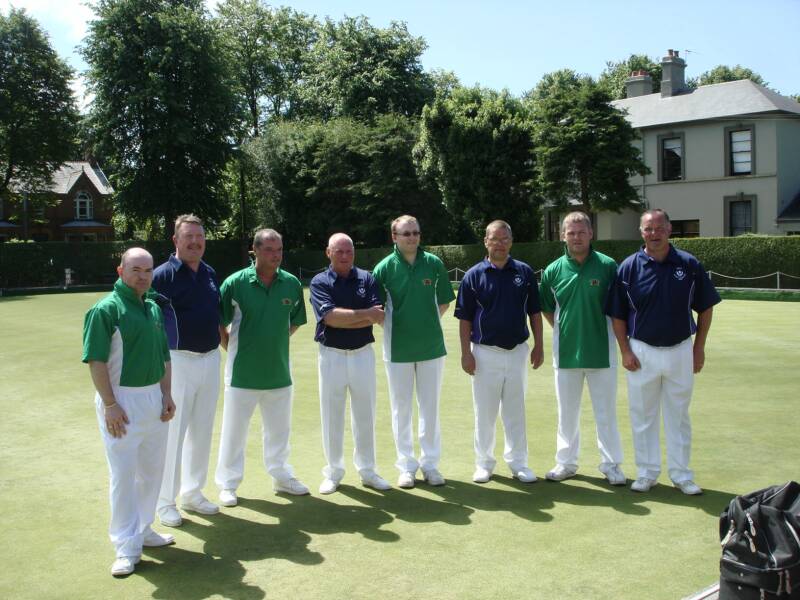 Gourock Park Four mix with their Guernsey opponents at the end of the match.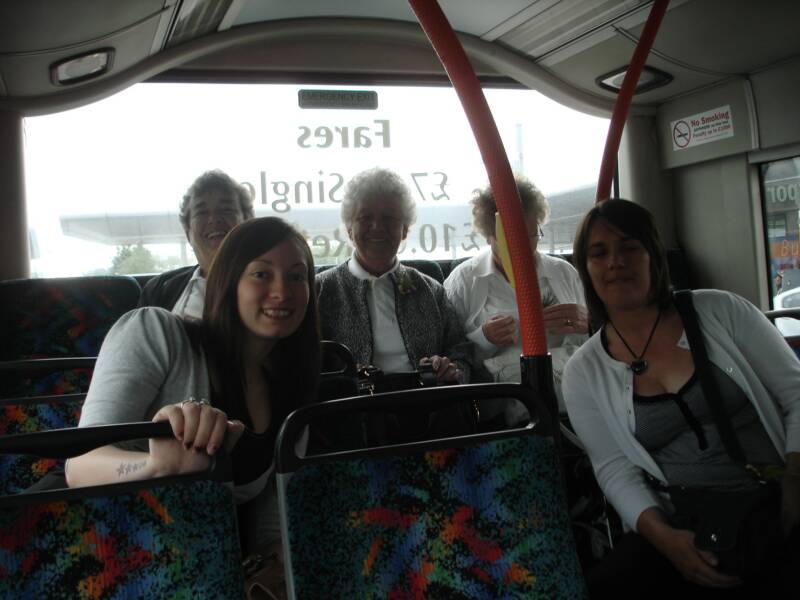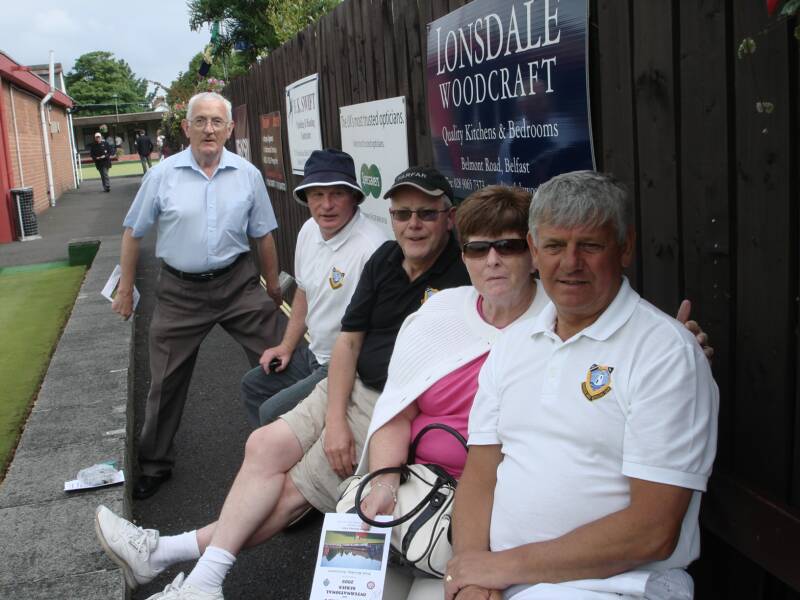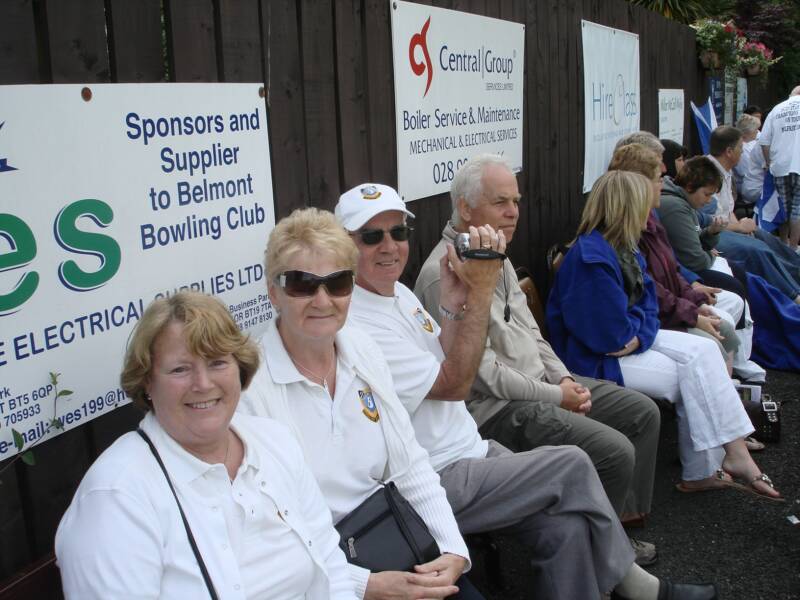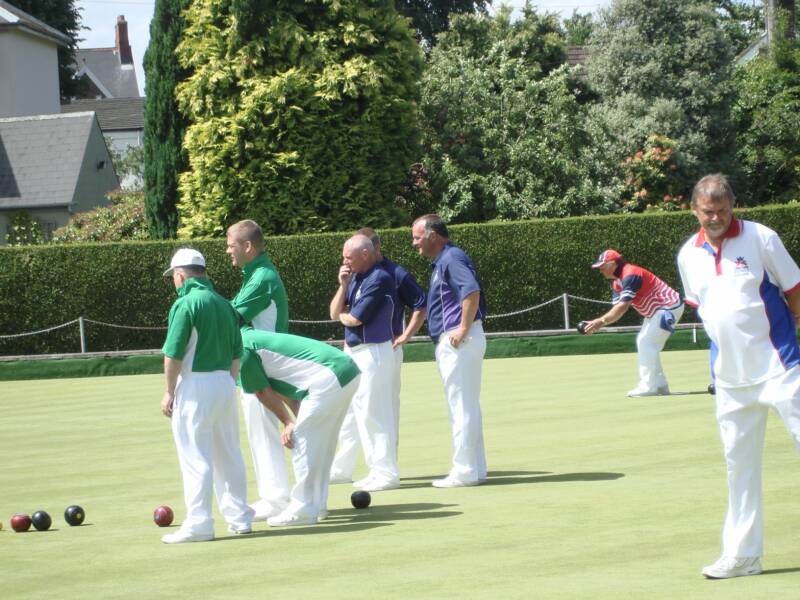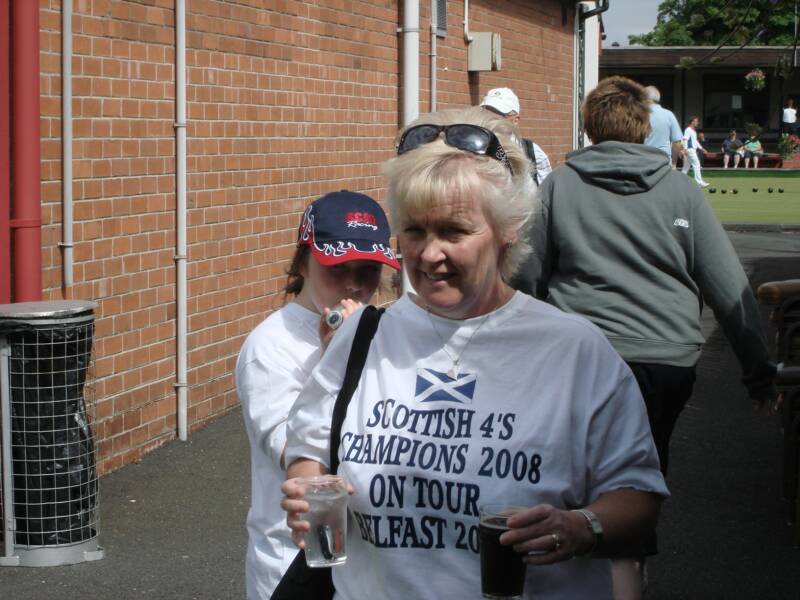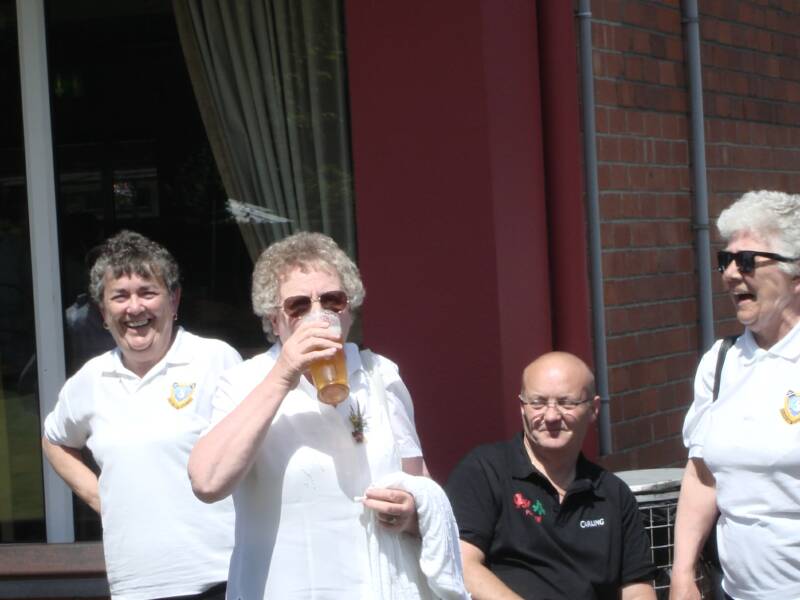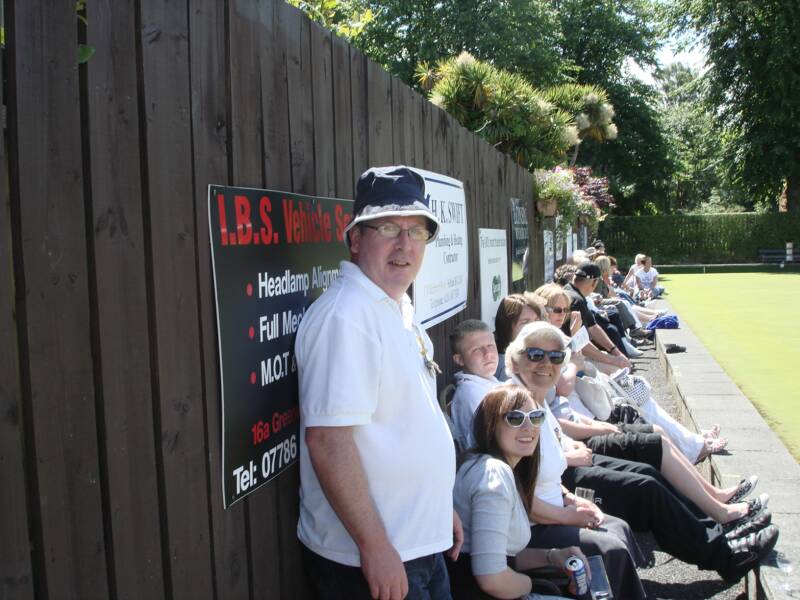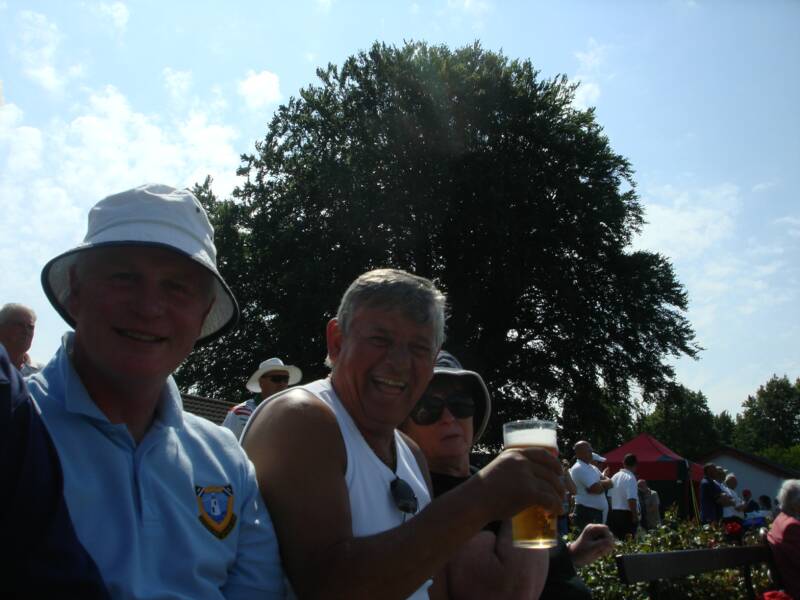 Smile Ladies! Carol, Cathy,Jessie, Debbie & Norma on route to the club from the airport

Mick McAuley, Ramsay Crawford, Robert Grant, Susan & John Kane enjoying the occasion

Alice Gordon, Elizabeth Kearns & Andy Kearns

Winners at a glance

SINGLES - Rodger Jones - Wales

JUNIOR SINGLES - Mark Thomas - Wales

PAIRS - Ian Henderson/Martin Selway - Wales

TRIPLES - David Lucas/Len le Ber/Gary Pitshou - Guernsey

FOURS - David Rowlands/Mark Gassel/Barry Fleming/Andrew Fleming - Wales

'Mo McKinlay' clearly showing her support!

You wont see this often! Non Drinker, Jessie Best takes a sample of cold lager to raise a laugh!

The roasting hot sunshine meant that Ramsay Crawford's hats were in great demand! On the left we see yours trully with it  and on the right Susan Kane has aqquired the very same hat! Also in the picture is Ramsay and John Kane, all smiles and clearly enjoying that occasion.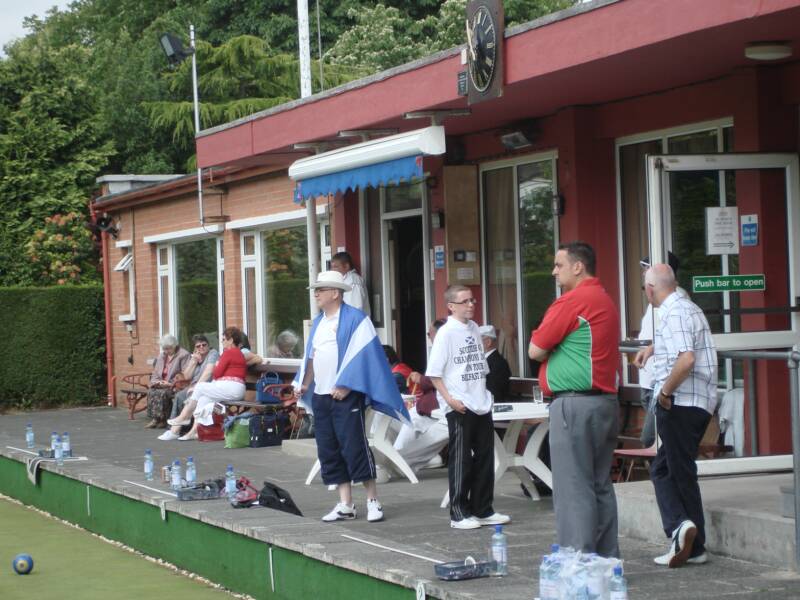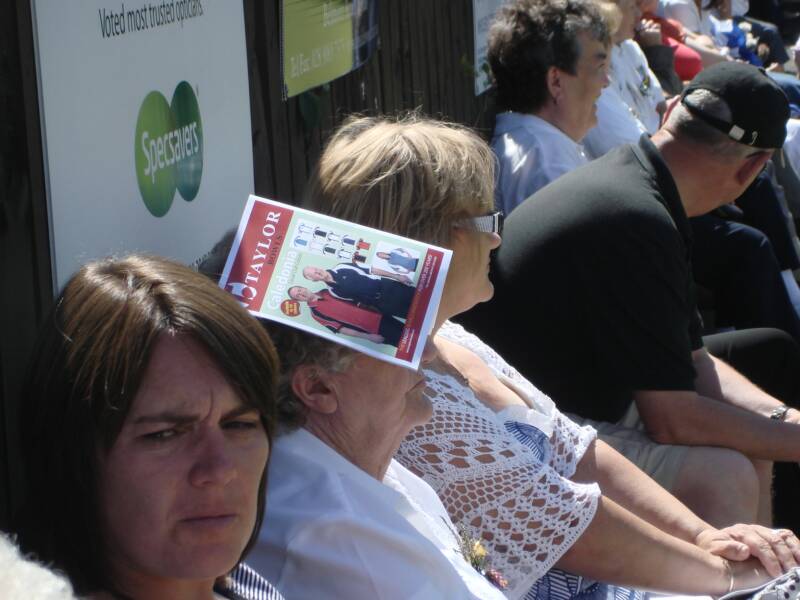 On the left we can see John Lamb with his Scotland Flag, while on the right, Jessie Best covers up using the match program.

Despite the defeat, the Gourock Park Four can be proud of their success in getting to this stage. They are and always will be our Scottish Champions of 2008.  Hopefully this experience will have shown them what is expected at this level and they can learn from it as they once again take the road to Ayr to try and retain their title in 2009.   Well Done Lads!