SBA DISTRICT CHAMPIONSHIPS 2008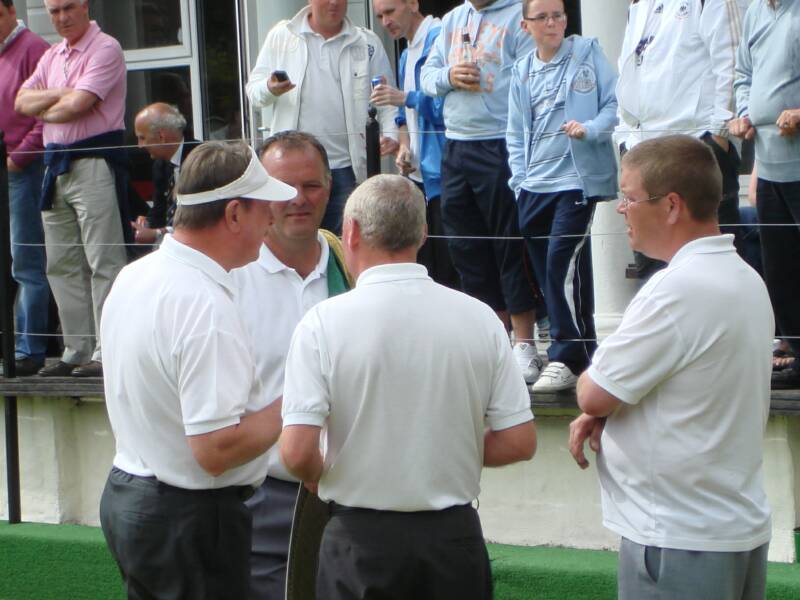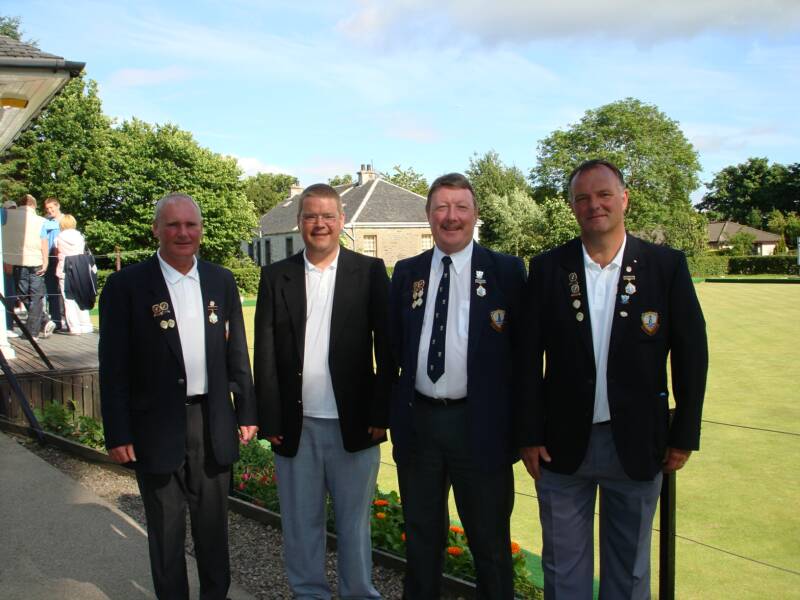 This year's District 23 SBA Finals took place at Kirn and Hunters Quay and weather conditions were perfect for players and spectators. The winners will now represent District 23 at the National Finals at Ayr and I wish them all every success.

This site's online poll hugely favoured Sandy Wotherspoon, the current Scottish champion, to win his second district title in succession, with 'the spoon' taking around 75% of the votes, and he demonstrated this confidence with a polished performance to see off the challenge of Davy Mc Murchie from

Rothesay.

             The game got underway just after 2.30 and Sandy straight away showed he was in no mood to give up his crown as he captured a full house of four shots in the opening end.

                                         The next two ends saw Davy fight back with a double and then a single to close the gap to just one shot at 4 v 3.  Sandy regained a sizeable lead once again with a triple in the 4th end and further increased the gap with a single at the next to make the score 8 v 3.

In the sixth end, Sandy was lying around 2 or possibly three shots as Davy lined up his last bowl of the end. He delivered a heavy 'yard on' shot, which came of a few bowls to dislodge the shot bowl and take 1 shot.

Davy followed this up by gaining three shots at the next end and then made things all square with another single to make the score 8 all after nine ends played.

From this point on it was Sandy who took control and almost sealed victory in the 14th end. Needing three shots he had two and just lost out on the other in a close measure. But victory was just around the corner..............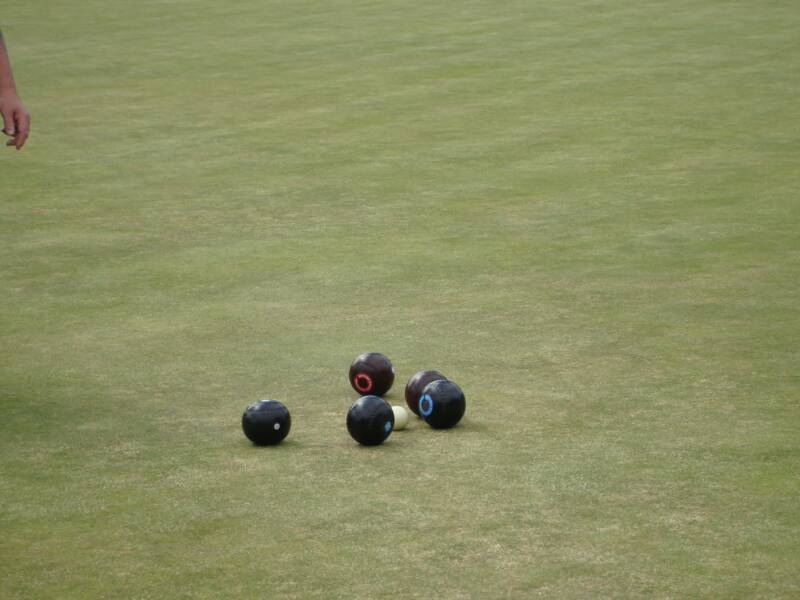 The shot that won the game for Sandy was simply amazing. As you can see in the photo on the left, Sandy has two bowls around the jack, just next to one of Davy's.   From where I was standing I could not see which of the three was lying the shot. But there was no doubt about it after Sandy's next delivery!   He played an inch perfect precision shot that squeezed through the small space between his own two bowls and in doing so secured the victory by 21 v  8, that will allow him to travel down (or in Sandy's case up to Ayr) to defend his Scottish title.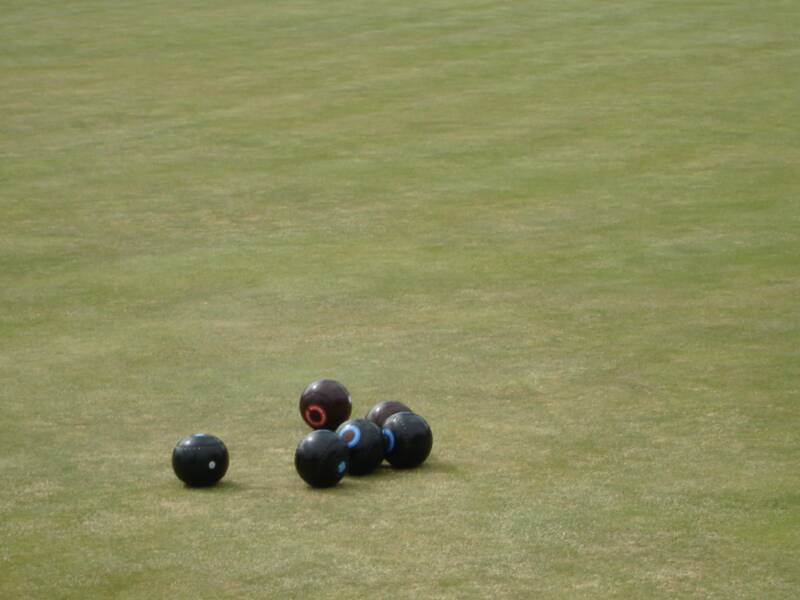 The head just before Sandy's last bowl.

A Championship winning shot!

Sandy Wotherspoon & Davy Mc Murchie

The Junior Singles Final was between Fraser Lauffer from Innellan versus the highly experienced Steven Mc Lellan of Wellington Park.

                                                                      I expected this to be a very close game between these two talented players. Fraser was runner-up at this stage last year and Steven is a previous winner on two occasions. It turned out nothing of the kind however, as young Steven raced into a ten shot to nil lead early on. After this he kept a comfortable lead throughout and ran out the winner by 21 shots to 7.

Stephen Mc Lellan

  Wellington Park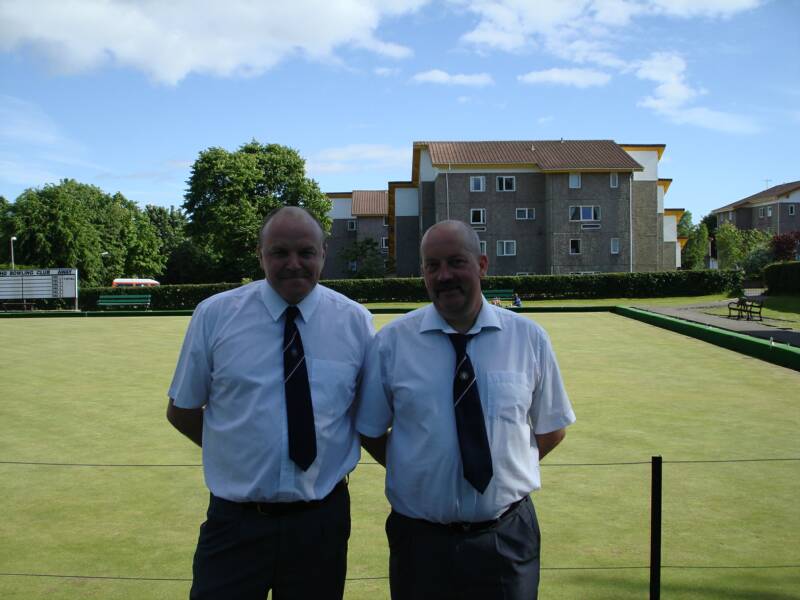 The Pairs was won by Dunoon Argyll with a solid victory over Victoria. William Kelly and Hugh McPherson ( I may have this name wrong!) If so can someone let me know?)

Hugh McPherson & William Kelly

Dunoon Argyll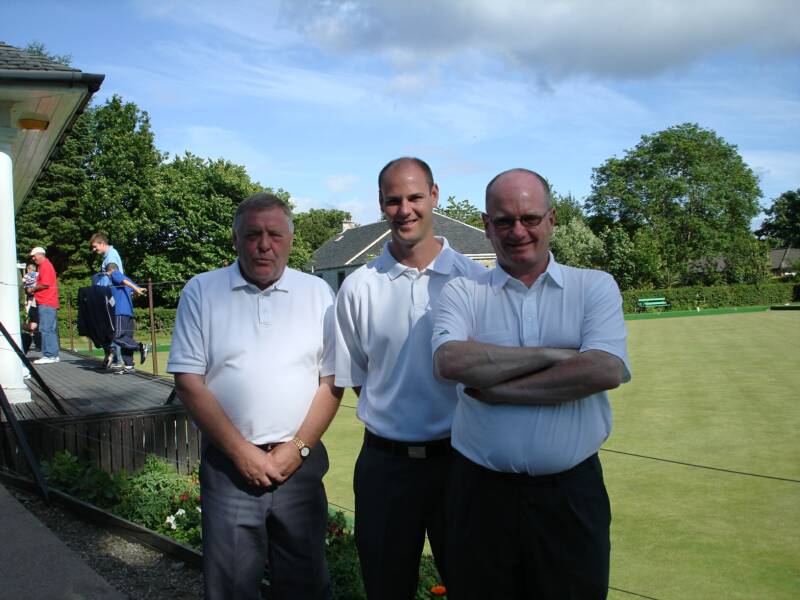 The Triples was claimed by Port Glasgow. David Tolan, Dougie Twaddle and Freddie Kimmins.They defeated Lady Alice.

David Tolan, Dougie Twaddle & Freddie Kimmins

Port Glasgow

The Fours was won by Gourock Park over Fort Matilda. This game was very close early on as both teams struggled to master a difficult 'end rink'. 'The Park' rink of Joda Reid, Alex Mc Ilravey, Rodger Lynn and Ian Brown, spurred on by a small but enthusiastic band of supporters, soon gained the advantage and went on to claim the district fours title.

Joda Reid, Alex McIlravey, Rodger Lynn and Ian Brown

Gourock Park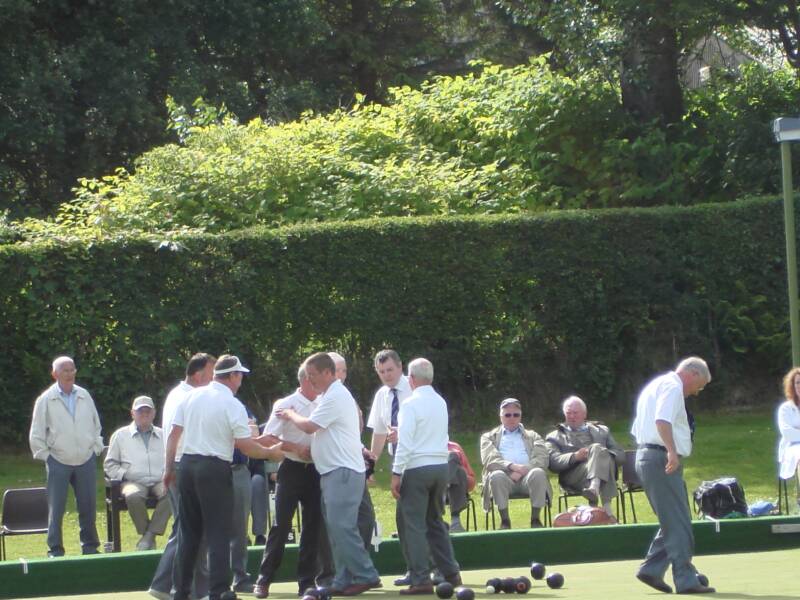 The Senior Fours went to Gourock after an epic encounter with Port Glasgow.

SBA District Senior Fours

Gourock BC