Page Sponsored by

L & A Motors

Haig Street Greenock

Tel 01475 781515



Current Champions

Port Glasgow 1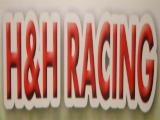 "A" SECTION

SHOTS

Pld.

F

A

+/-

Pts.

PORT GLASGOW # 1

8

920

618

+302

75

1st. Division

GROSVENOR # 1

8

788

685

+103

61

1st. Division

VICTORIA

8

776

734

+42

58

1st. Division

FORT MATILDA

8

785

754

+31

48

2nd. Division

LADY ALICE

8

759

766

-7

40

2nd. Division

KILMACOLM

8

747

798

-51

40

2nd. Division

GOUROCK PARK

8

705

797

-92

40

3rd. Division

RANKIN PARK

8

708

779

-71

31

3rd. Division

PORT GLASGOW # 2

8

654

911

-257

29

3rd. Division

"B" SECTION

SHOTS

Pld.

F

A

+/-

Pts.

ARDGOWAN CLUB # 1

7

760

587

+173

61

1st. Division

WELLINGTON PARK

7

804

580

+224

60

1st. Division

IBM / HILLEND

7

722

612

+110

56

1st. Division

GOUROCK # 1

7

766

566

+200

48

2nd. Division

GROSVENOR # 2

7

557

636

-79

33

2nd. Division

GOUROCK # 2

7

640

736

-96

31

2nd. Division

LADY ALICE/ INVERKIP

7

518

701

-183

31

3rd. Division

ARDGOWAN CLUB # 2

7

522

871

-349

16

3rd. Division


Results for Play-off part of Season 2008


























Division # 1
Game # 1
Game # 2
Game # 3
Game # 4
Game # 5










Grosvenor # 1
Wellington
IBM/Hillend
Ardgowan
Port Glasgow
Victoria


Grosvenor








9
11
4
8
10


42








96
94
93
71
95
91
91
79
98
87


473
422
+51


Wellington
Grosvenor
Ardgowan
Port Glasgow
Victoria
IBM/Hillend


Wellington Park








3
4
8
12
8


35








94
96
86
101
94
94
123
64
93
84


490
439
+51


Ardgowan # 1
Victoria
Wellington
Grosvenor
IBM/Hillend
Port Glasgow


Ardgowan Club








8
8
8
6
4


34








120
75
101
86
91
95
72
30
80
106


464
392
+72


Port Glasgow # 1
IBM/Hillend
Victoria
Wellington
Grosvenor
Ardgowan


Port Glasgow








7
6
4
4
8


29








102
100
104
110
94
94
79
91
106
80


485
475
+10


IBM/Hillend
Port Glasgow
Grosvenor
Victoria
Ardgowan
Wellington


IBM/Hillend








5
1
9
0
4


19








100
102
71
93
112
75
30
72
84
93


397
435
- 38


Victoria
Ardgowan
Port Glasgow
IBM/Hillend
Wellington
Grosvenor


Victoria








4
6
3
0
2


15








75
120
110
102
75
112
64
123
87
98


411
555
- 144


Division # 2






























Gourock # 1
Gourock # 2
Grosvenor
Kilmacolm
Lady Alice
Fort Matilda


Gourock # 1








12
8
7
3
6


36








141
63
106
79
92
80
46
33
93
102


478
357
+121


Fort Matilda


Grosvenor
Kilmacolm
Lady Alice
Gourock # 2
Gourock # 1


Fort Matilda








8
4
6
6
6


30








101
74
82
84
93
96
57
37
102
93


435
384
+51


Lady Alice
Kilmacolm
Gourock # 2
Fort Matilda
Gourock # 1
Grosvenor


Lady Alice








6
6
6
3
6


27








106
106
88
94
96
93
33
46
86
104


409
443
- 34


Kilmacolm
Lady Alice
Fort Matilda
Gourock # 1
Grosvenor
Gourock # 2


Kilmacolm








6
8
5
2
6


27








106
106
84
82
80
92
50
52
86
86


406
418
- 12


Grosvenor # 2
Fort Matilda
Gourock # 1
Gourock # 2
Kilmacolm
Lady Alice


Grosvenor








4
4
6
4
6


24








74
101
79
106
107
97
52
50
104
86


416
440
- 24


Gourock # 2
Gourock # 1
Lady Alice
Grosvenor
Fort Matilda
Kilmacolm


Gourock # 2








0
6
6
0
6


18








63
141
94
88
97
107
37
57
86
86


377
479
-102


Division # 3






























Gourock Park
No Game
Ardgowan
Port Glasgow
Lady Alice
Rankin Park


Gourock Park








0
10
9
10
10


39








0
0
119
69
118
79
87
62
119
73


443
283
+160


Rankin Park
Ardgowan
Port Glasgow
Lady Alice
No Game
Gourock Park


Rankin Park








7
8
6
0
2


23








93
92
107
86
101
100
0
0
73
119


374
397
- 23


Lady Alice / Inverkip
Port Glasgow
No Game
Rankin Park
Gourock Park
Ardgowan


Lady Alice/Inverkip








7
0
6
2
6


21








114
75
0
0
100
101
62
86
80
91


356
353
+3


Ardgowan Club # 2
Rankin Park
Gourock Park
No Game
Port Glasgow
Lady Alice


Ardgowan Club








5
2
0
8
6


21








92
93
69
119
0
0
102
88
91
80


354
380
- 26


Port Glasgow # 2
Lady Alice
Rankin Park
Gourock Park
Ardgowan
No Game


Port Glasgow






5
4
3
4
0


16








75
114
86
107
79
118
88
102
0
0


328
441
-113


Grosvenor  won the G&D League Championship by winning their last game against Victoria by 10 pts to 2pts.  Nearest rivals Ardgowan lost 8pts to 4pts to Port Glasgow meaning that even with half a game still to play against IBM, they can't catch the Grosvenor...  Well done to Grosvenor, your decision to 'load' your number 1 team has well and truly paid off!.  John Freeburn's League report and league summary is listed below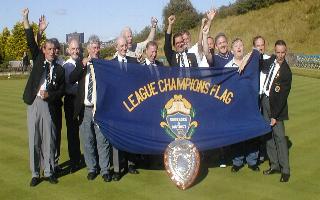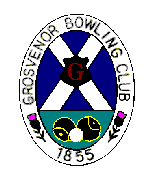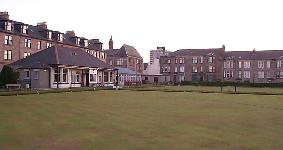 Grosvenor's last League success in 2005

Hi folks,

Once again, the league has gone to the last night. Grosvenor have won the 1st.Division title, and Ardgowan have unfinished business with IBM/Hillend to see who gets the George Melvin shield for 2nd. place in the 1st.Div.

It looks like being Gourock # 1 for the 2nd Division, but two unplayed games (bad weather) might throw up a strange result - we'll just have to wait and see.

Gourock Park have secured the 3rd. Division and I'm sure Robert Grant will be writing one of his infamous speeches - they've certainly had a roller coaster of a season so far, and it's not finished yet.

The G&D Semi's and Finals are on Saturday and hopefully we will get some decent weather.

If you're playing in the Triples, Fours or Senior Fours - go to the ATC clubhouse on Ardgowan St. just along from the Ardgowan Club to get changed. (It will avoid congestion in Ardgowan)

see you there

John