IBM CHAMPIONSHIP SINGLES 2008

Preliminary Round

Ian Boyd

Charlie Docherty

Bob Lynn

Dan Mc Iver

Gordon McFarlane

Alex Mc Ilravey

Peter Glancy

Alex Mc Dougal

Joe O Donnell

Alex Lee

Donald Cameron

John Hampsey

Chris Mc Clenaghen

David Mc Ewan

Kenny Mc Neilly

Jim Robinson

1st Round

Charlie Docherty

Dan Mc Iver

Gordon Mc Farlane

Peter Glancy/

Joe O Donnell

Donald Cameron

David Mc Ewan

J Robinson

Robert Harron

John Mc Cafferty

Alex Gallagher

James Mc Leod

Sam Blaikie

Alan Caldwell

Edward Cannie

Ian Murphy

Quarter Finals

Charlie Docherty

Peter Glancy

Joe O Donnell

21

20

J Robinson

Robert Harron

21

11

Alex Gallagher

Sam Blaikie

17

21

Ian Murphy

Semi-Finals

Peter Glancy

13

21

Joe O Donnell

Robert Harron

21

20

Ian Murphy

Final

Joe O Donnell

21

9

Robert Harron
Progressing Player in Red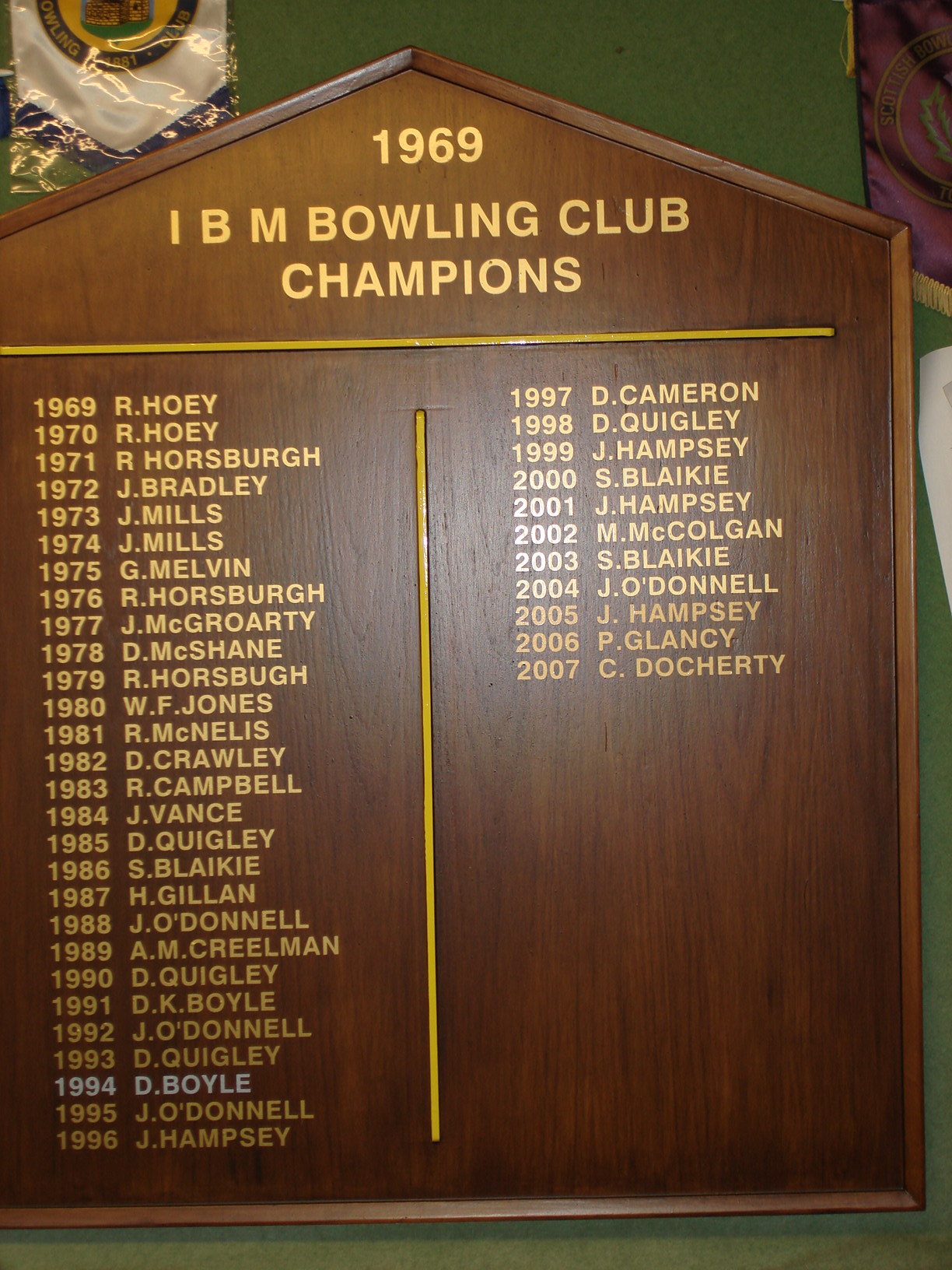 Joe O Donnell won his 5th Championship at IBM with a relatively easy victory over Robert Harron. Joe who had previously won the title in 88, 92, 95 and 2004, won the match by 21 shots to 9.

The bad weather the evening before meant that they had to play the final on rink 5, which for the most part was a rink that was not used much over the season, and it was Joe that quickly managed to judge the speed of the green.He got off to a great start and led by 5 shots to nil after three ends played.

Robert finally got on the card at the next end with an excellent 'heavy draw' to knock the shot bowl onto the jack to catapult it next to one of Robert's back bowls.

Joe was playing steady bowls and recorded another single at the next to lead by 6 shots to 1 only to see this lead reduced to 6 v 3 after Robert scored a good double in the sixth end.

Joe then went on a brilliant run and further increased his lead end after end with a fine display of how to draw to the head and by the eleventh end was winning by 13 shots to Robert's 3.

The next end saw Robert gaining a single in a very close measure that could only be decided with the calipers of the umpire's measure (see photo below)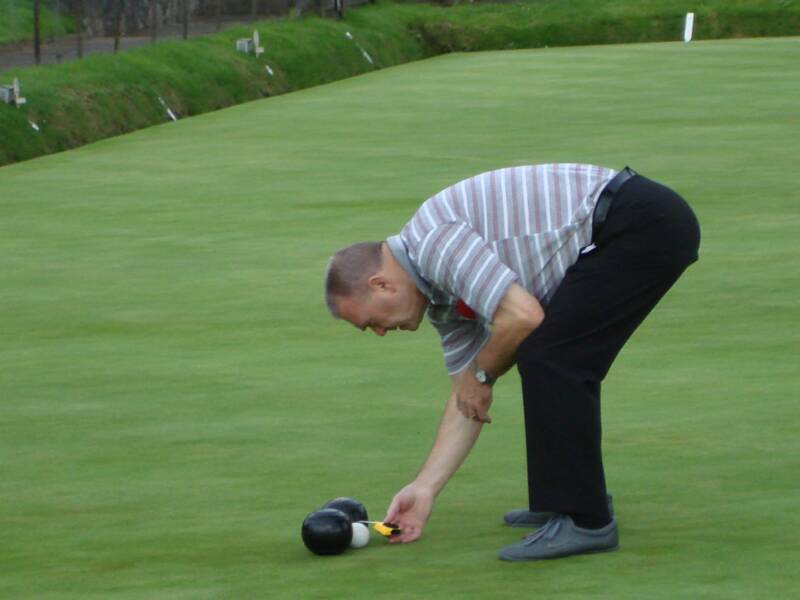 Joe, who was the more consistent player at this stage further increased his lead again  as his unfortunate opponent struggled to master the tricky conditions. At the conclusion of end number sixteen, Joe's lead was an impressive 19 shots to 4 to bring him within two shots of glory.

A small cheer went up from the clubhouse at the next end as Robert took full advantage of a slack end from Joe to grab an excellent set of four shots to make the score look a little more respectable. In fact the game could have had a dramatic turnaround over the following two ends as Robert just missed out on scoring another two full houses in a row!

Firstly he was lying four crackers in end seventeen before his hopes were shattered as Joe's last bowl nicked in too take the shot in a measure and secondly at the next end with Robert already lying three shots, tried to make it a fourth but instead delivered a bowl which knocked a 'yard short bowl' of Joe's into the head,meaning that Robert only recorded a single shot!

So with the score now at 20 shots to 9 it was only a matter of time before Joe claimed the remaining shot needed and he did this in the next end to win the IBM Singles Championship for 2008.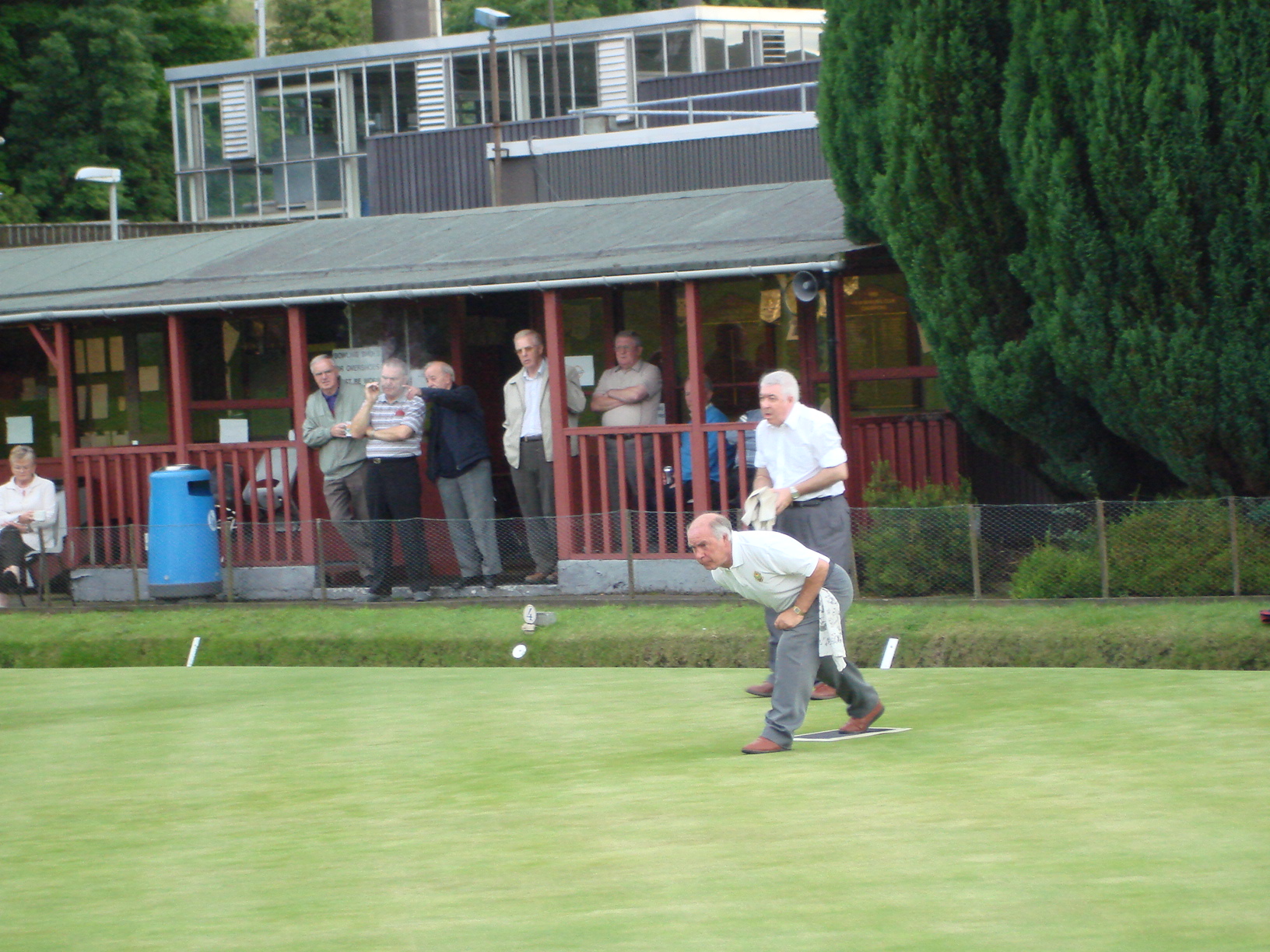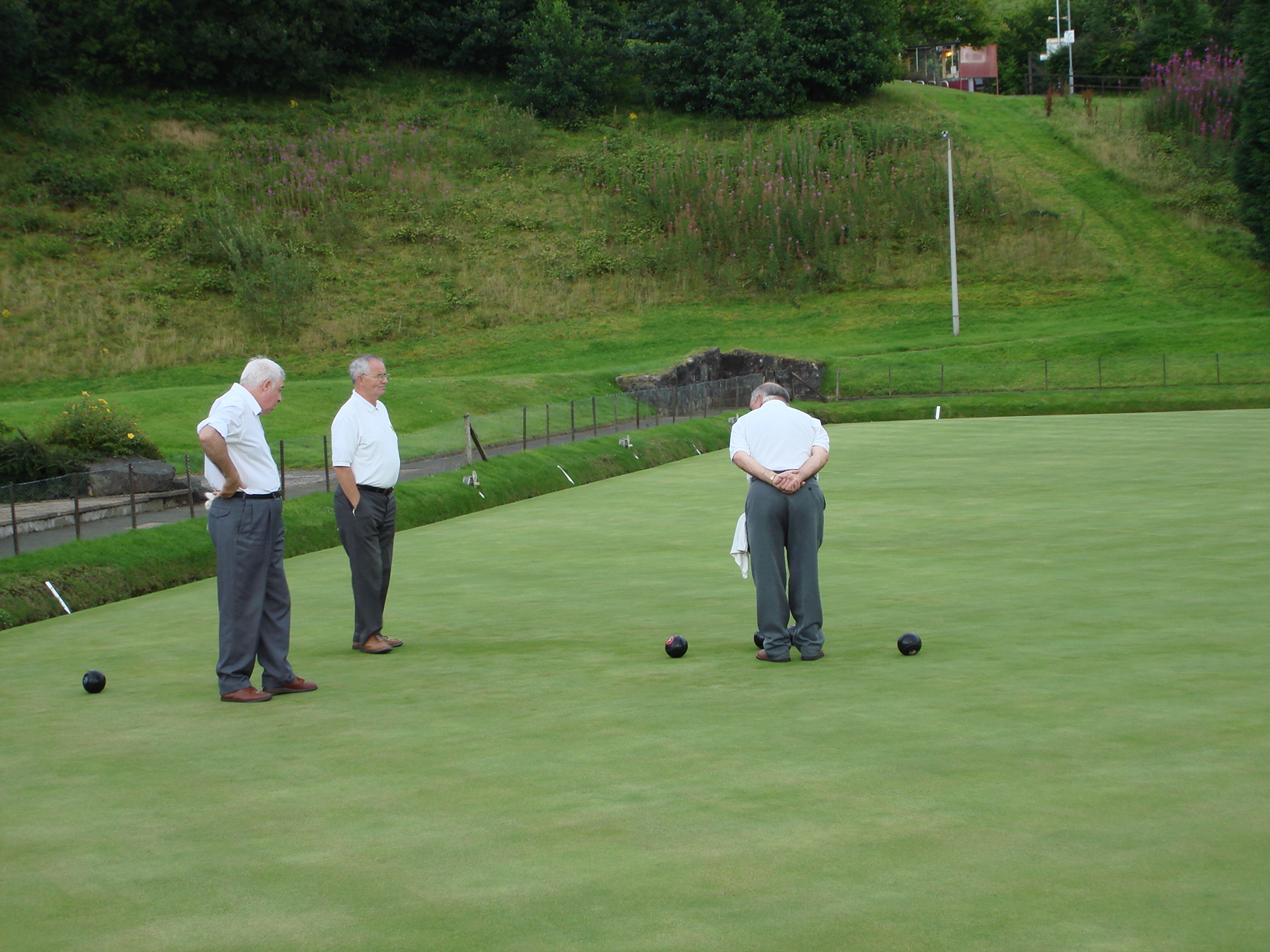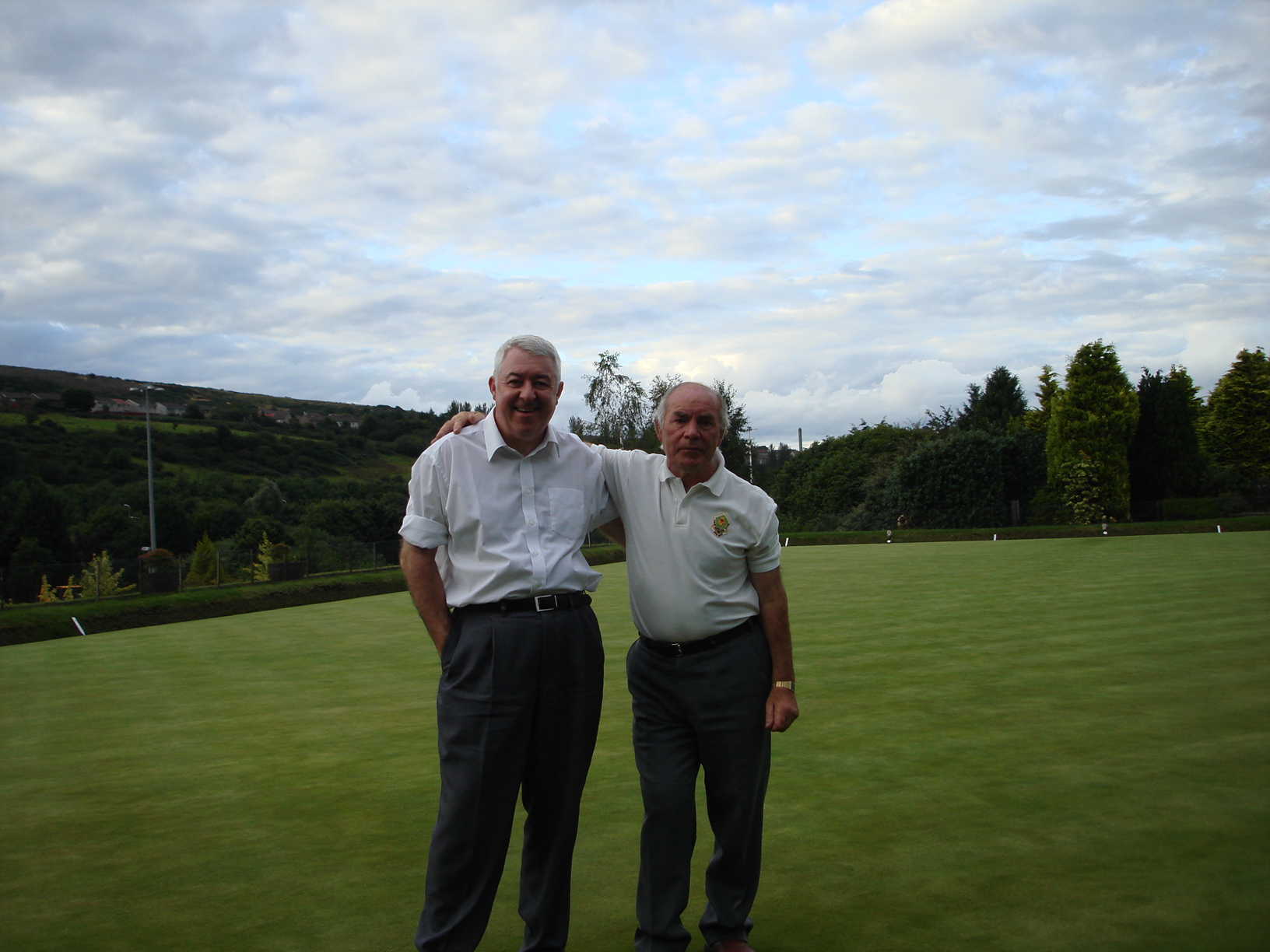 Robert Harron (left) and Joe O Donnell