Page Sponsored by

L & A Motors

Haig Street Greenock

Tel 01475 781515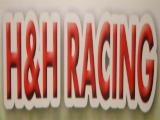 Unlike last year, when it poured from the heavens, The Ardgowan Club played host to the Greenock & District Championship Finals in almost perfect conditions for the players,officials and spectators.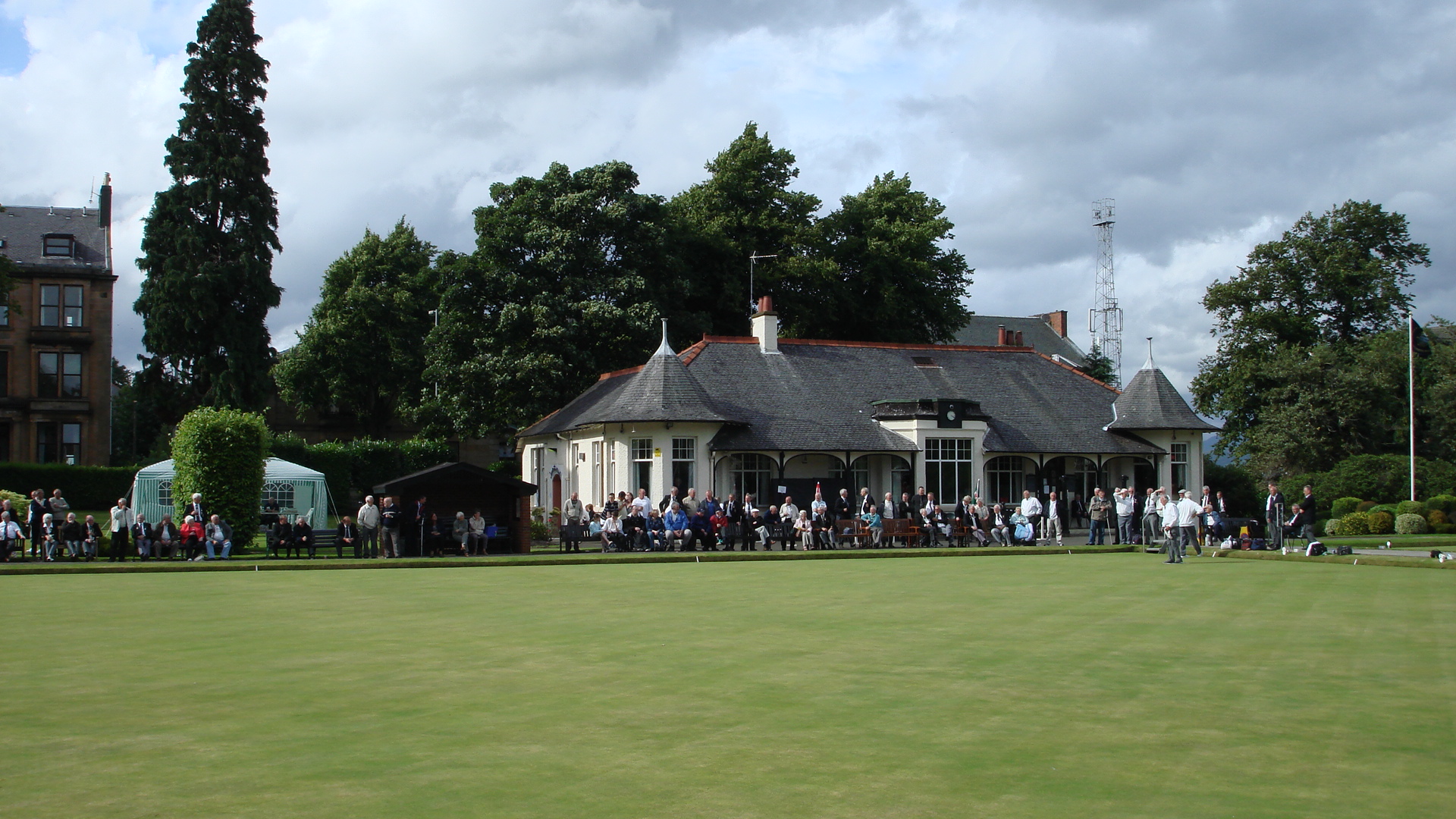 Grosvenor's Alan Bradley, stormed to victory in the Singles and saw off a strong challenge from Robert Davidson of Victoria by 21 shots to 8 in just over one hour and fifteen minutes. However, Alan did not have things all his own way, in the early stages of the game he was made to fight for every shot by a determined Robert Davidson. After scoring a double in the first end, Alan found himself down by 5 shots to 2 as Robert delivered some excellent shots to gain the early lead.

Alan then made up some ground by taking full advantage of a slack end by both players, to take the shot with his last bowl with the nearest other bowl being around two feet away.  He followed this up with another single to make the score 4 shots to 5 to Robert after seven ends played

The next end saw Robert increase his lead again to 2 shots, but once again Alan fought back and by the tenth end at was all square at six all.

Just as it was looking like we were in for a long close game, Alan Bradley decided otherwise and began to take full control of the game and over the next four ends had built up a sizeable lead over his opponent by 14 shots to 6, which included a full house of four shots at the twelfth end, followed by a treble in the next.

Over the next few ends both players took shots but Alan once again delivered a devastating blow to the hopes of Robert,  recording his second full house of the final, to lead 19 shots to 8 shots, which took him to within touching distance of the trophy.

The victory was sealed at the next end when Alan recorded the remaining two shots required to become Greenock & District Champion for 2008

This was a good game to watch, both players produced some excellent bowling. The turning point in the game seemed to be after Alan captured that first full house, which he then followed up with a trio, to build up the first large lead in the game, which is always quite difficult to recover from. This dent to Robert's confidence was also a boost to Alan's and he of course took full advantage of the situation.

Congratulations to Alan and well done to Robert on reaching this stage, a stage that I am sure he will grace again in years to come.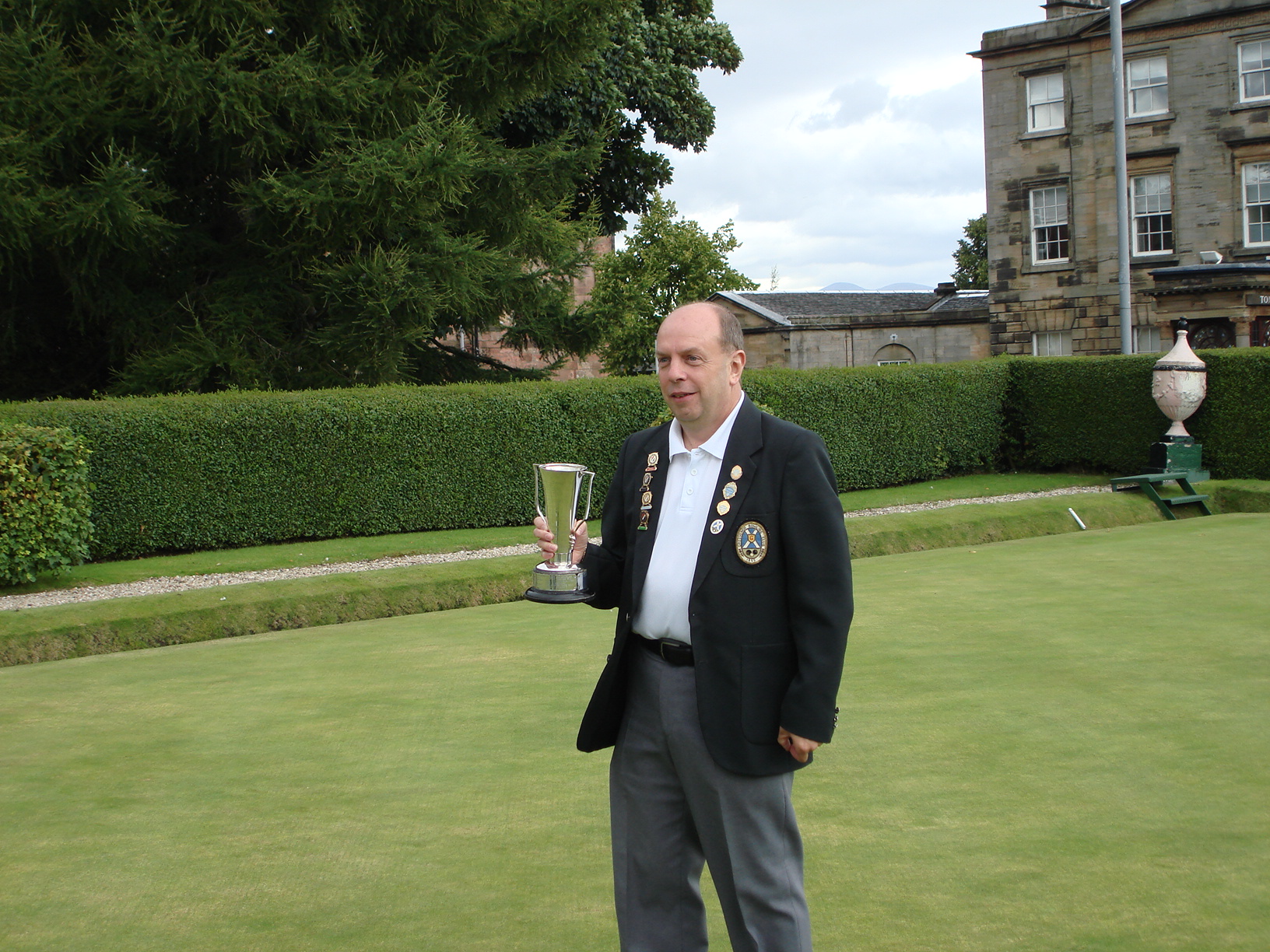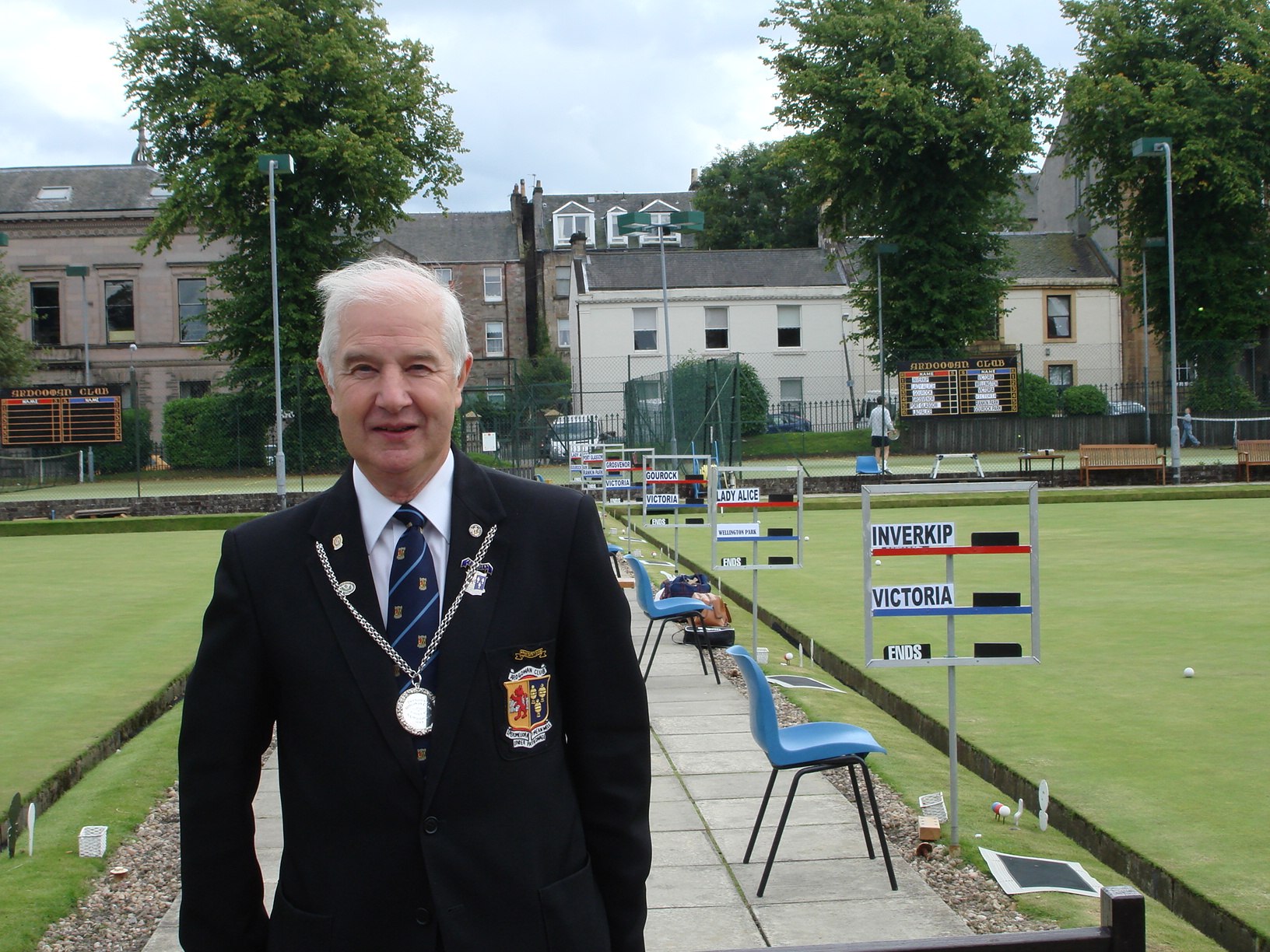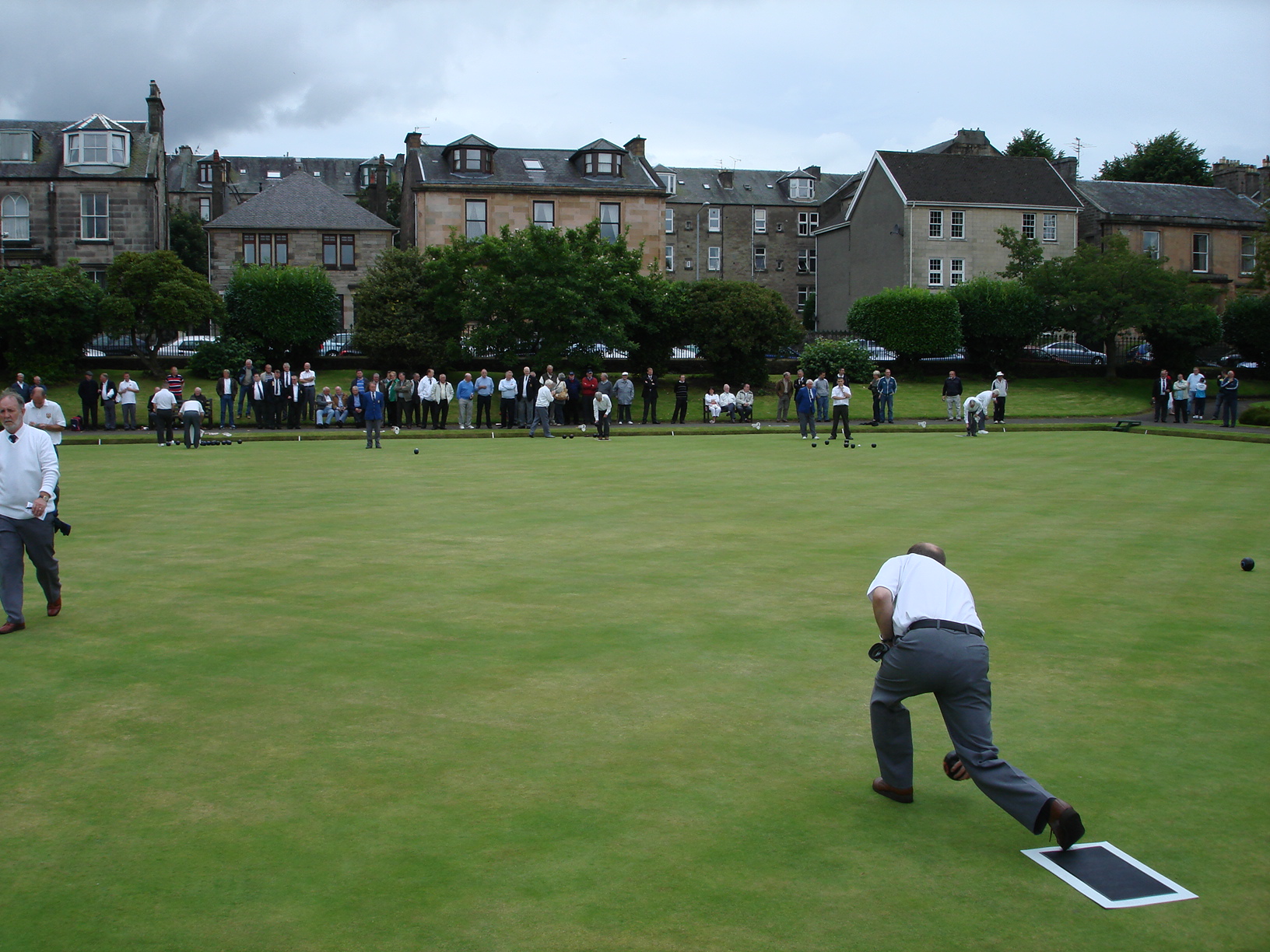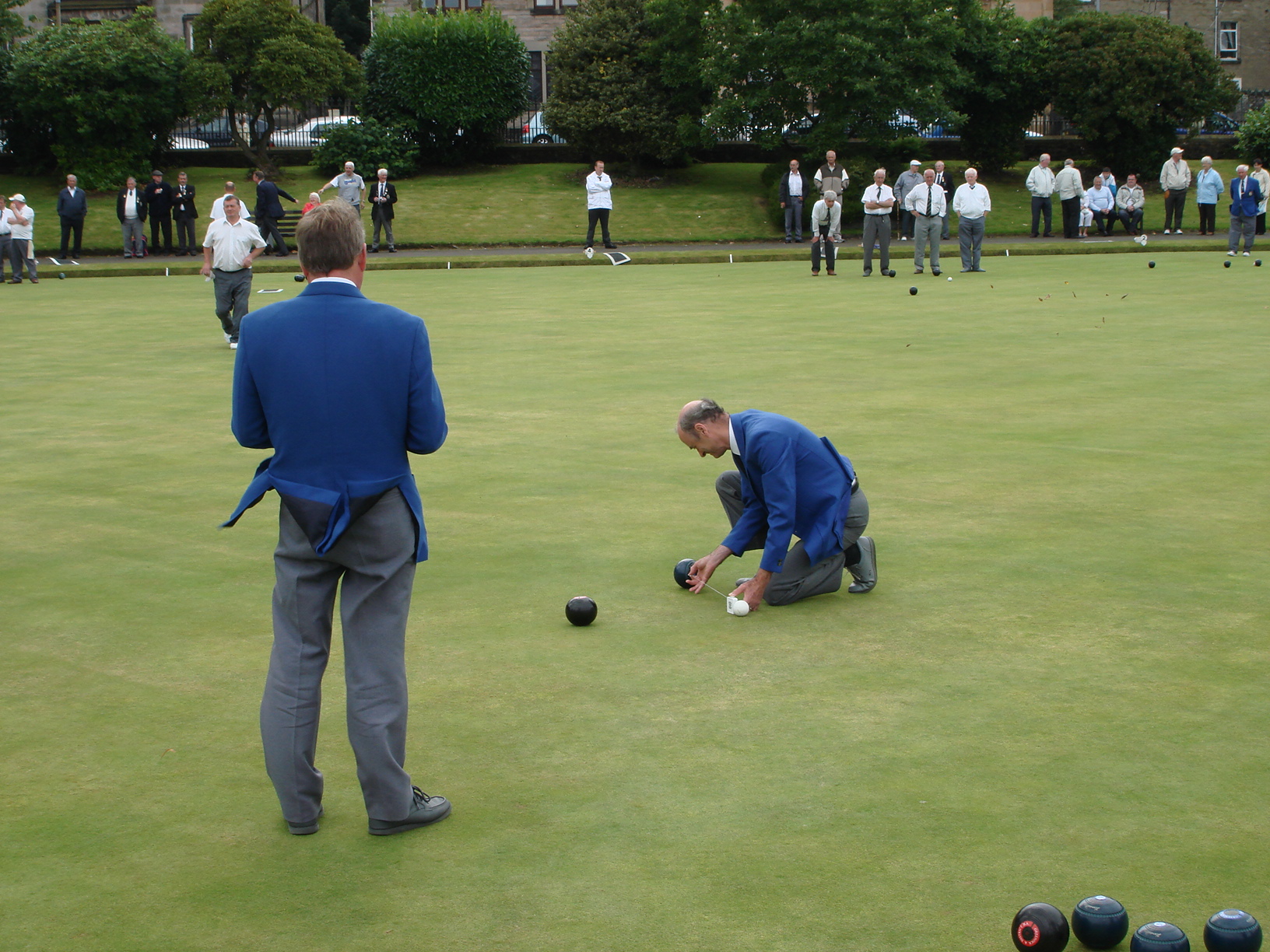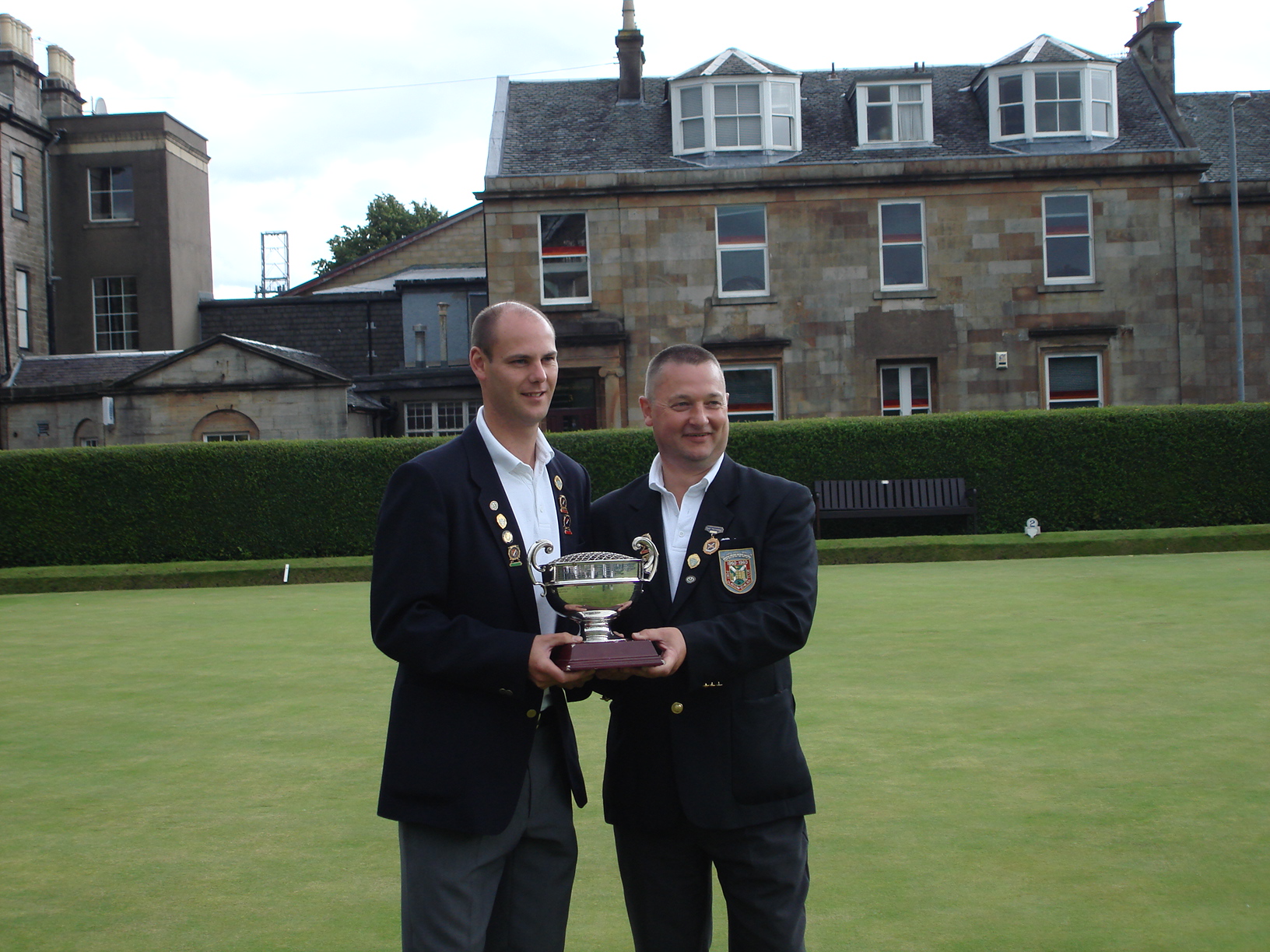 The Pairs was won in devastating fashion by  Port Glasgow's Peter Johnstone and Dougie Twaddle over David Quigley and Billy Hamill of Rankin Park. They finished the game after just 15 of the scheduled 17 ends with a winning score of  31 shots to 9.

Gourock Park's Michael Stevenson, Ramsay Crawford and Terry Duffy claimed the Triples with a fantastic team display over D Hourston, A Rennie and Jim Metcaffe of Lady Alice.

When I first started to take notes on this one, 'The Park' were well in command and leading by 12 shots to 4 shots with ten ends completed and looking good for success.

Lady Alice however were not done yet, they fought back to reduce the deficit to just three shots after 12 ends to give them a real chance of coming back.

Michael, Ramsay and Terry were in no mood to let their opponents hit back any further however and proved this by taking three shots in the next end and then a single to go into the final end seven shots up!

Facing an uphill battle, Lady Alice played on and took the final end by 2 shots to make the overall score 16 shots to 11 shots to Gourock Park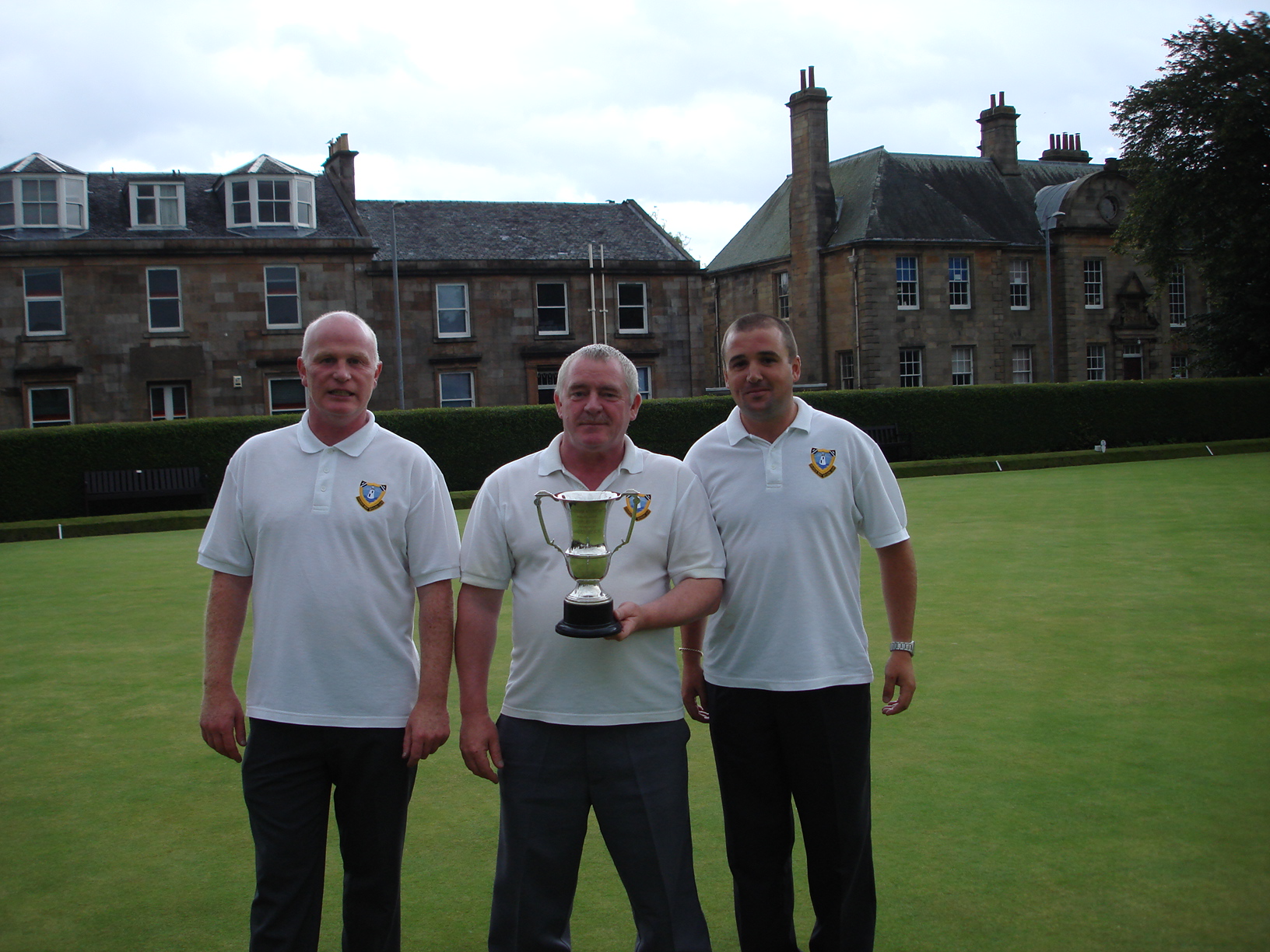 An extra end was required to decide the winner of the Fours and it was Inverkip who came out on top to win the game by 18 shots to 16 shots over Victoria.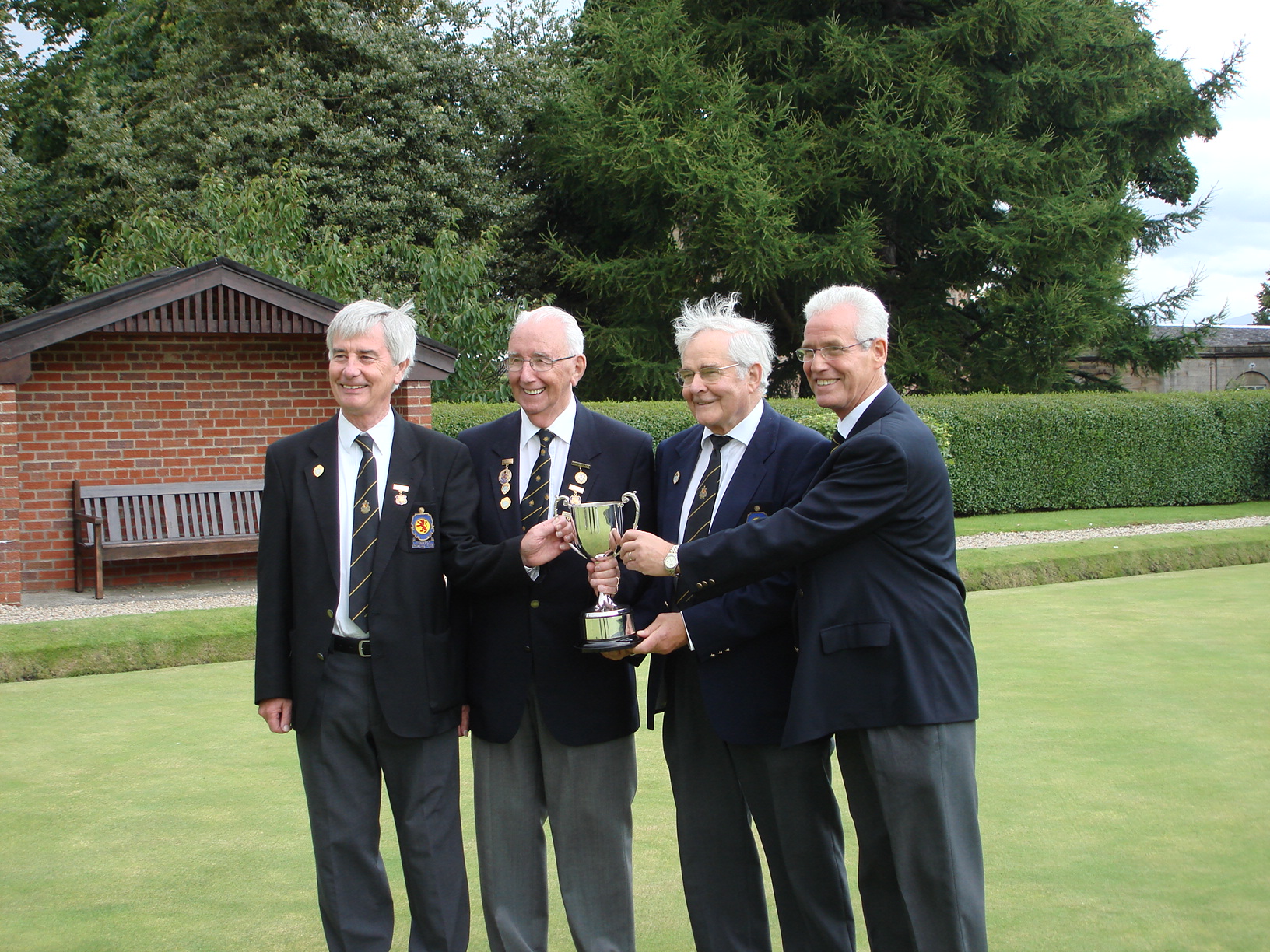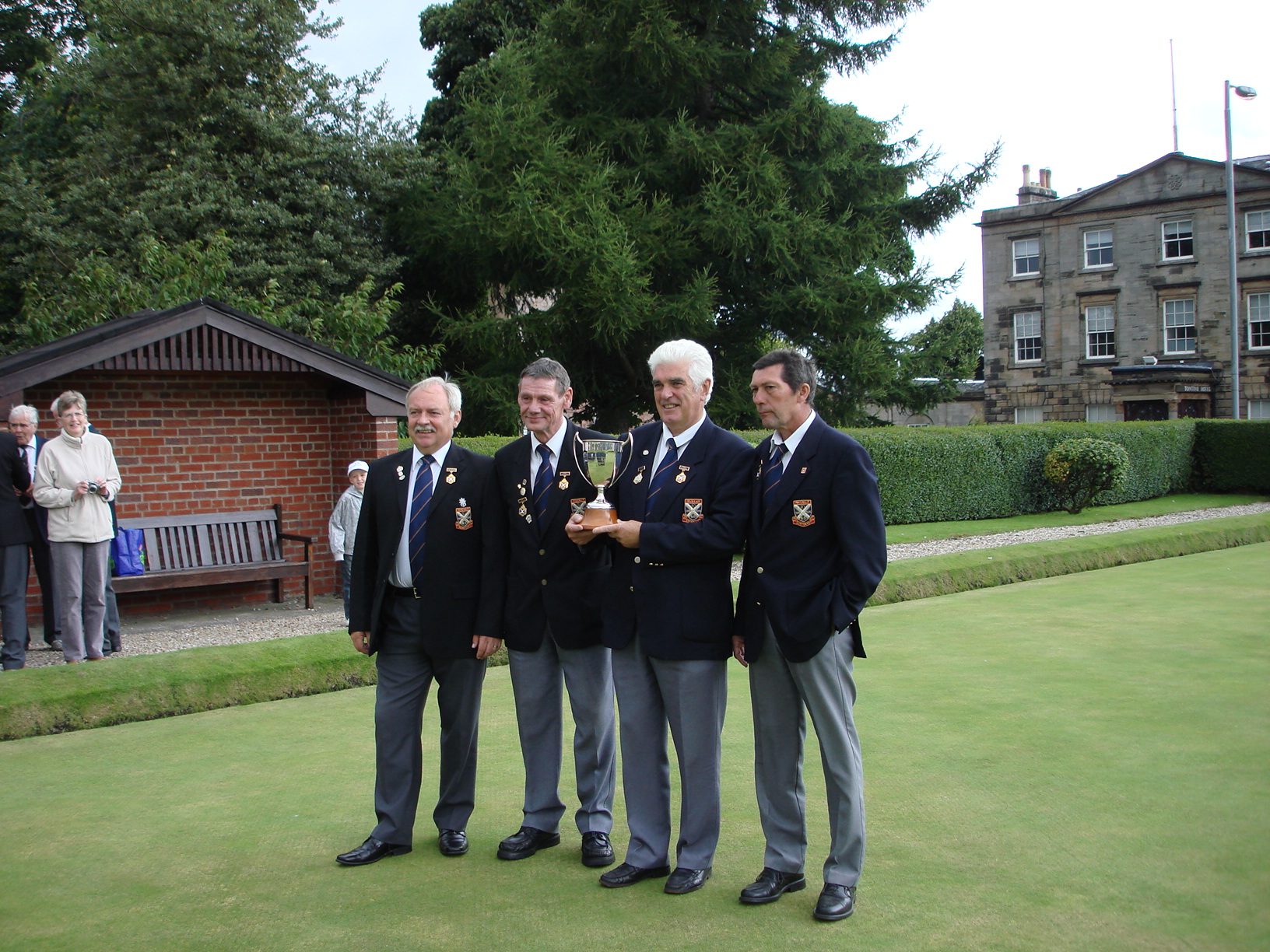 The Seniors Title was won by Gourock with a convincing victory over Victoria by 20 shots to 5 shots.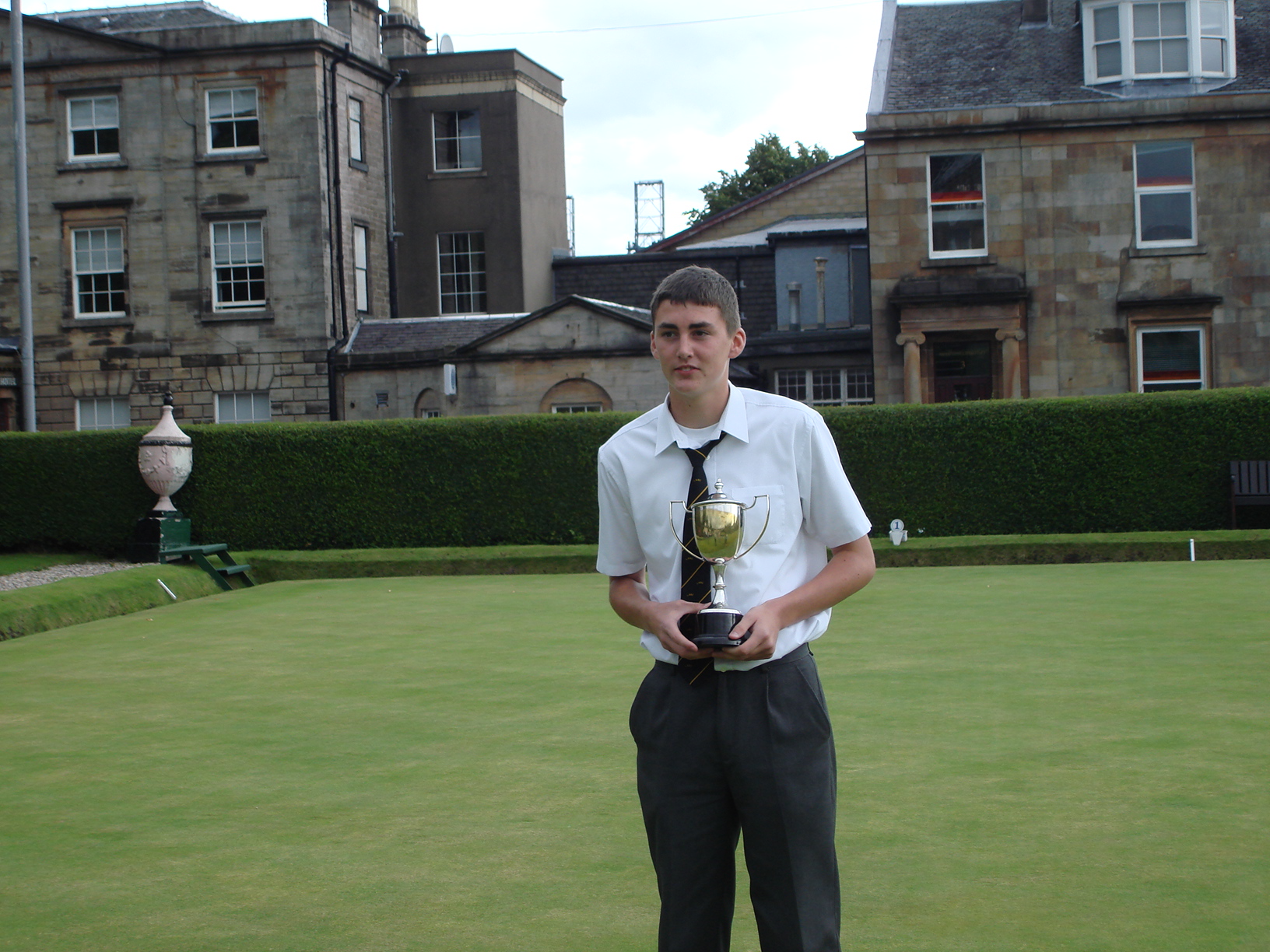 The Junior Singles title went to Rikki Mc Neill from Lady Alice who saw off the challenge of Stephen Henry of Wellington Park with a winning score of 21 shots to 13. Rikki was also presented with the Young Bowlers trophy, which he won earlier in the season.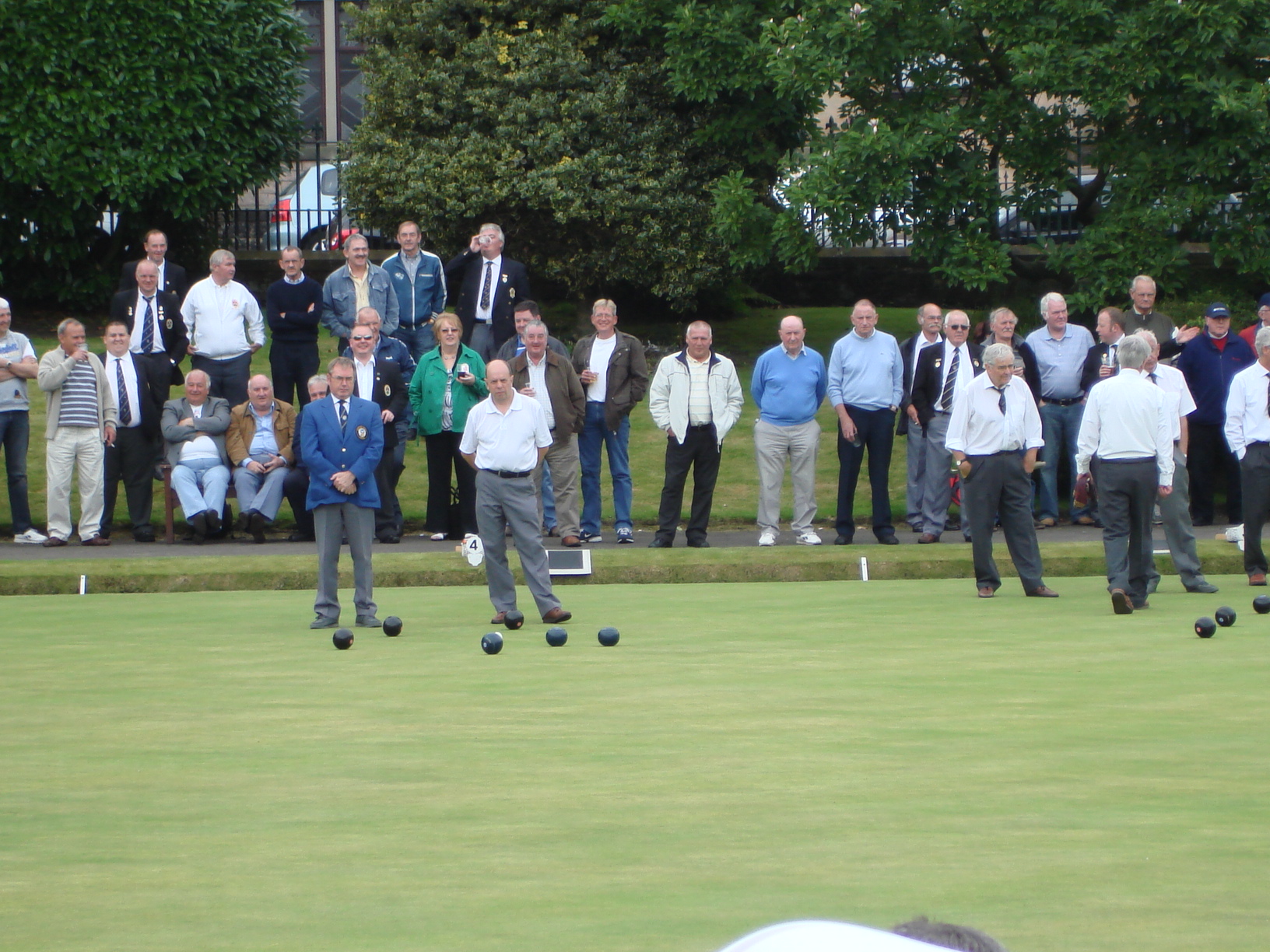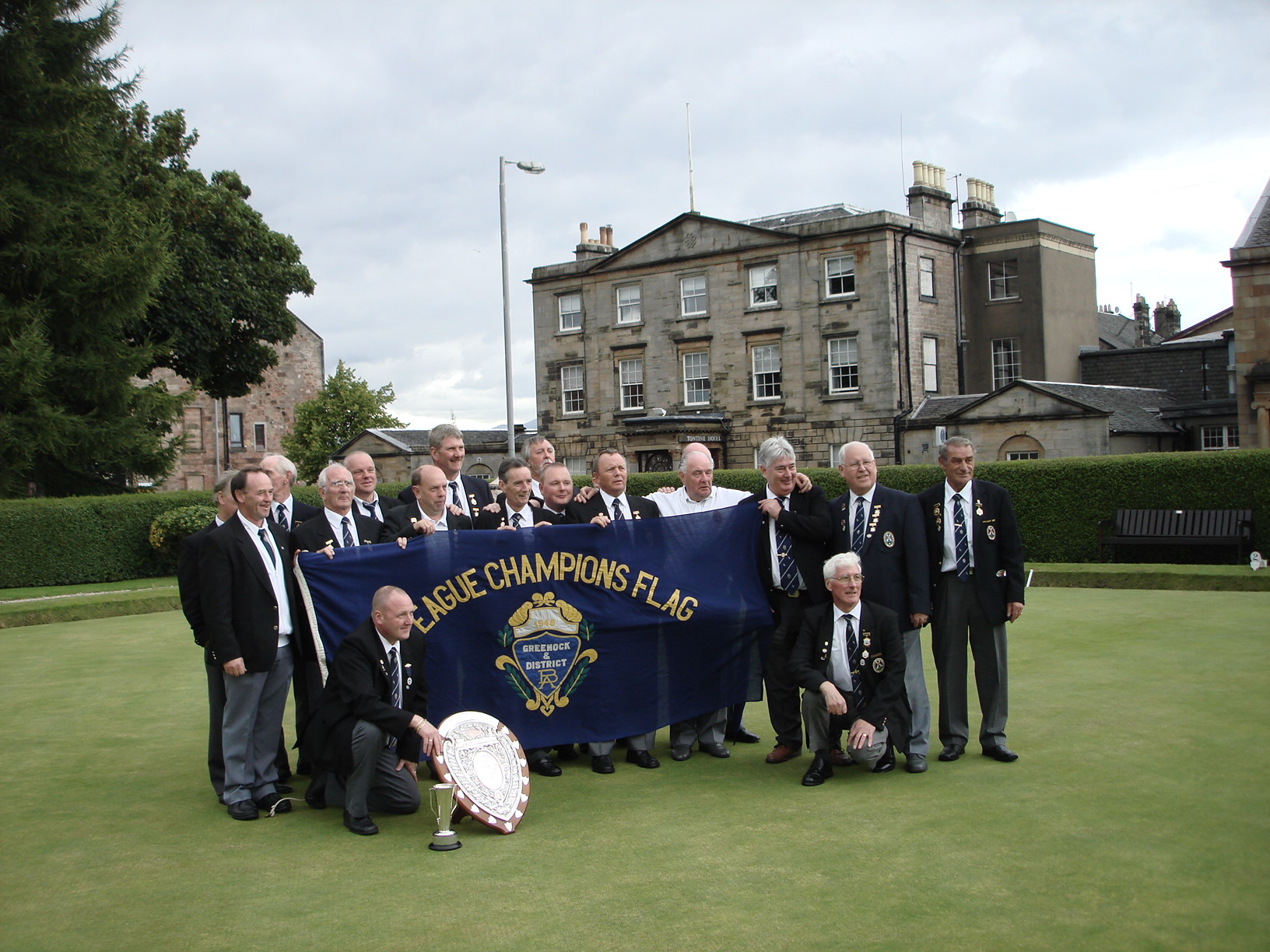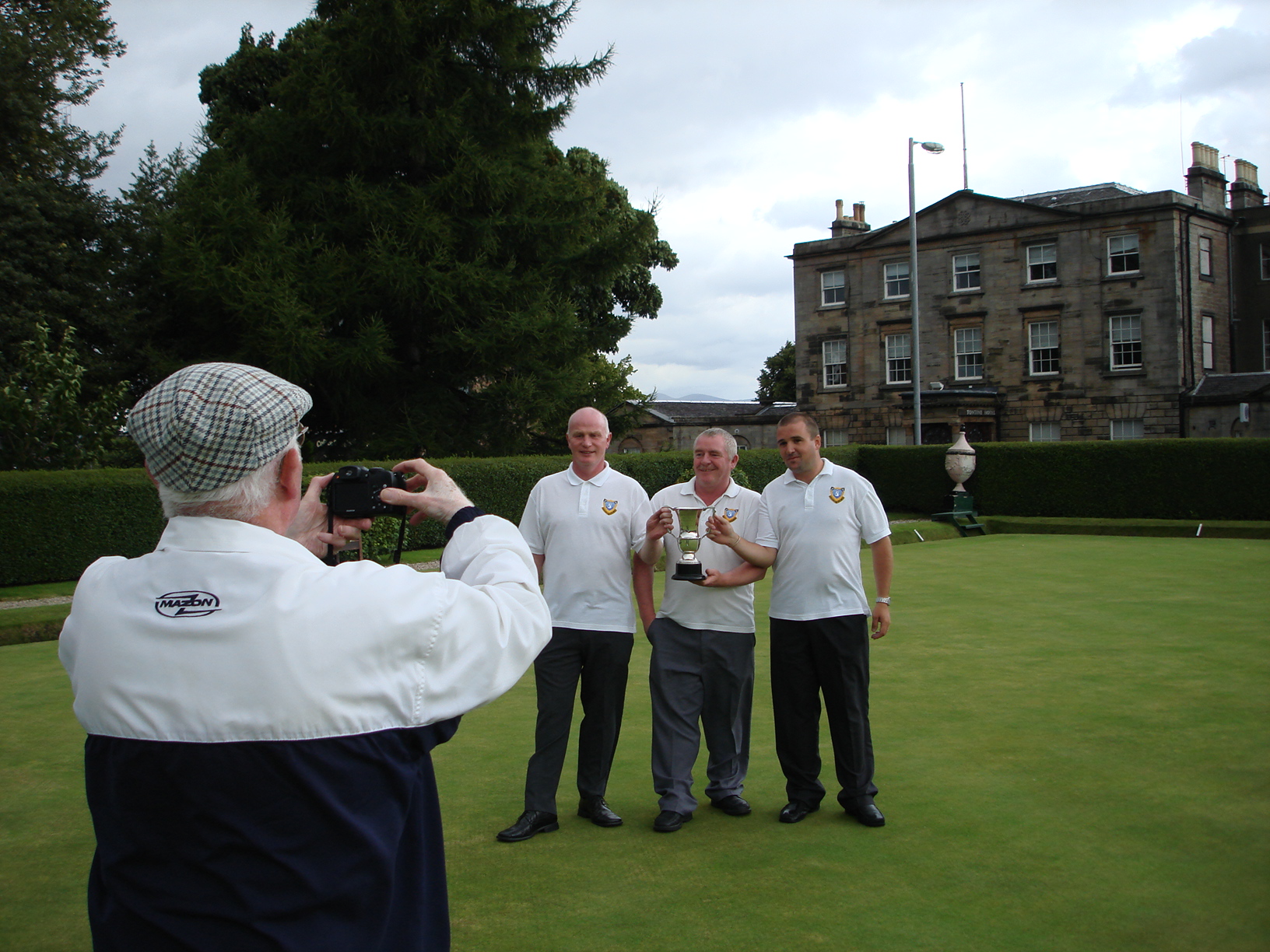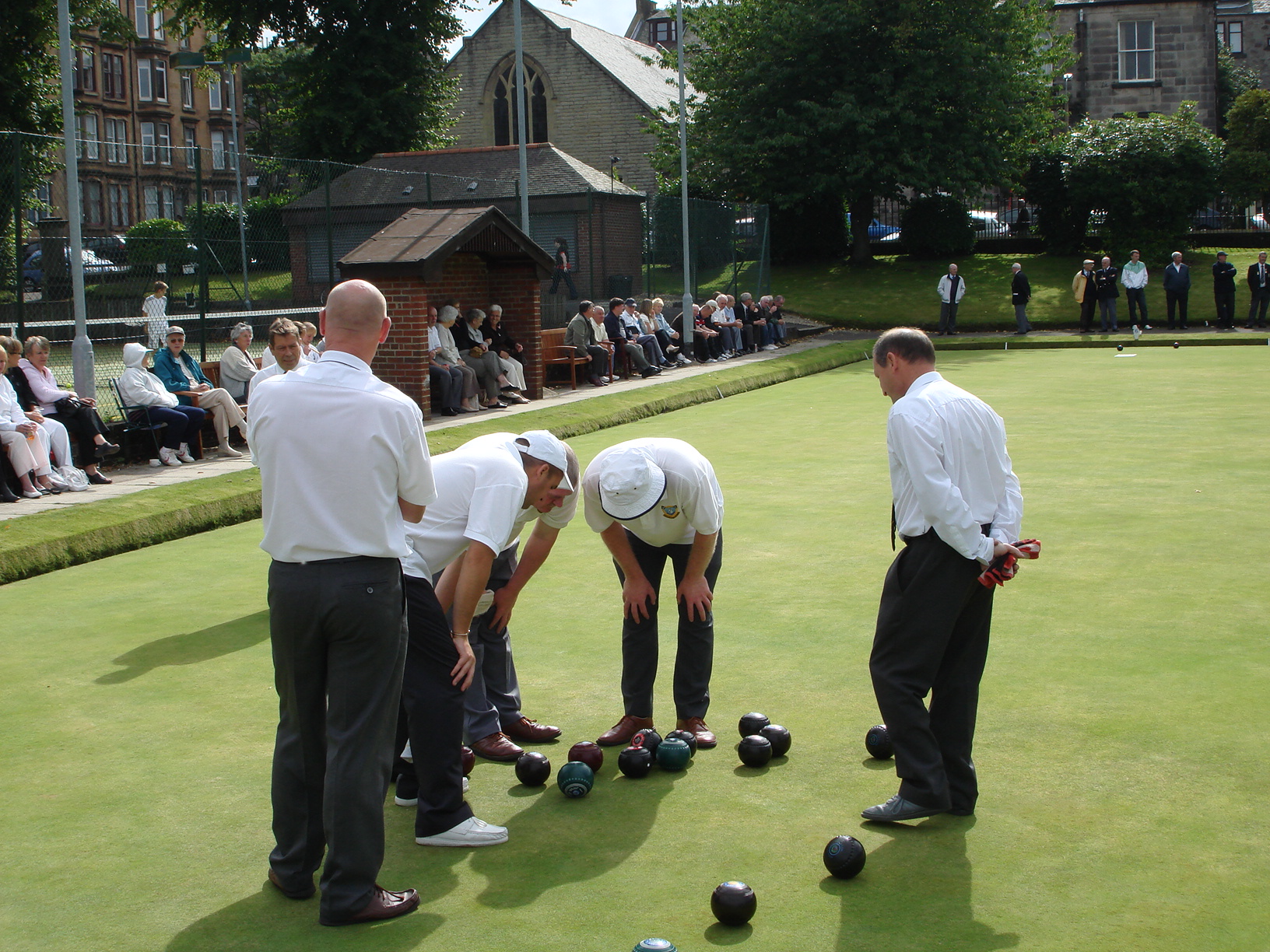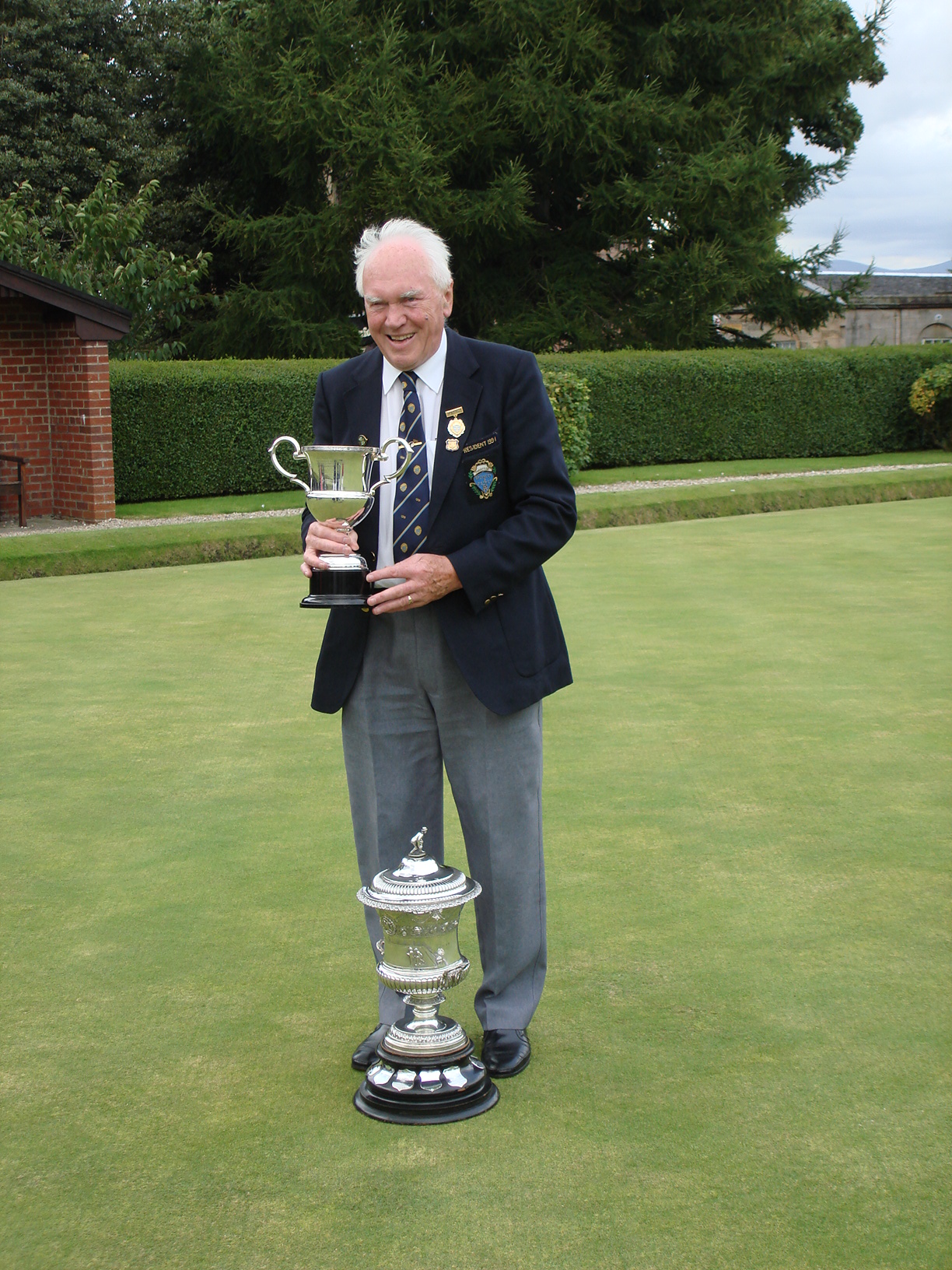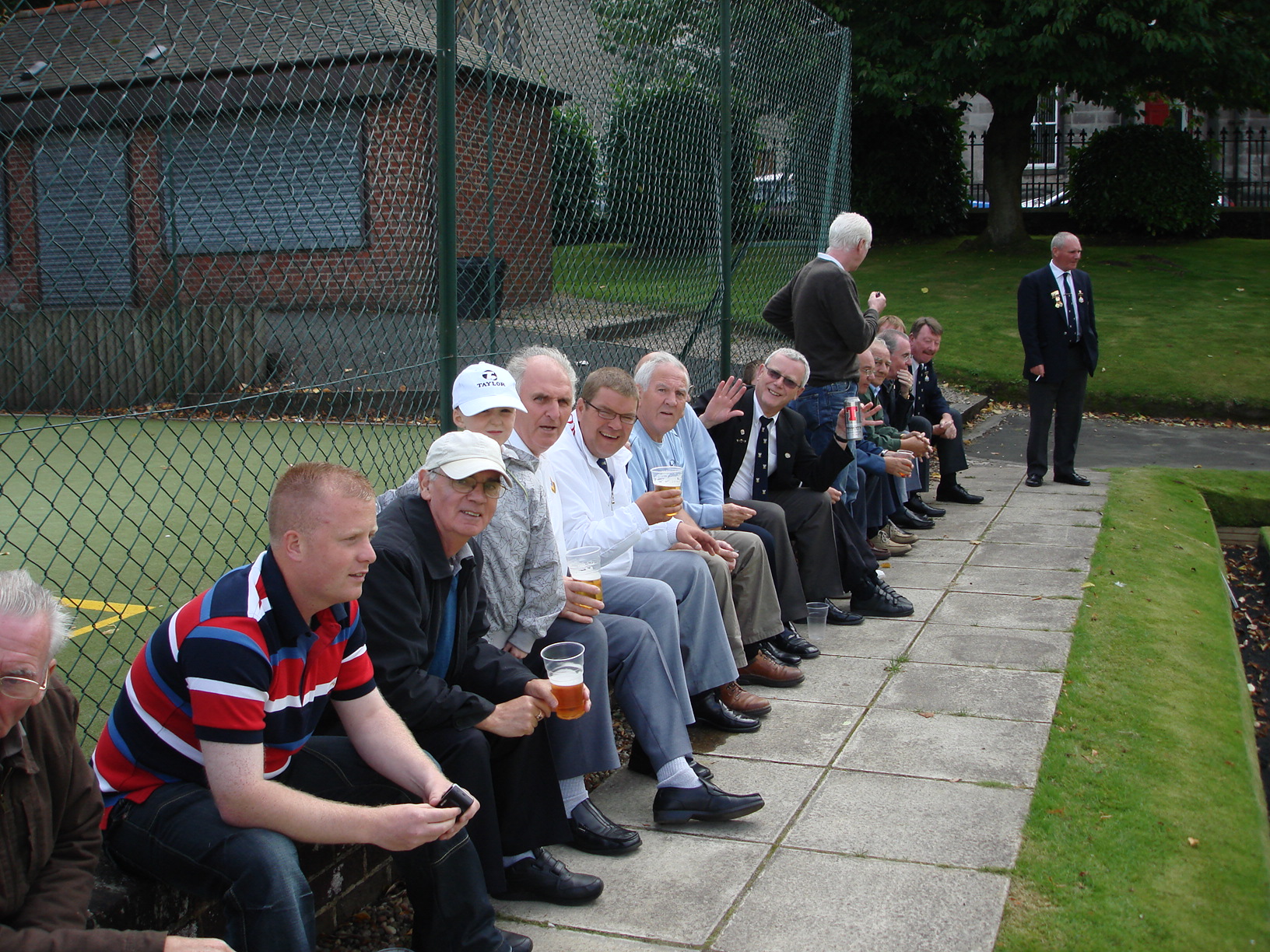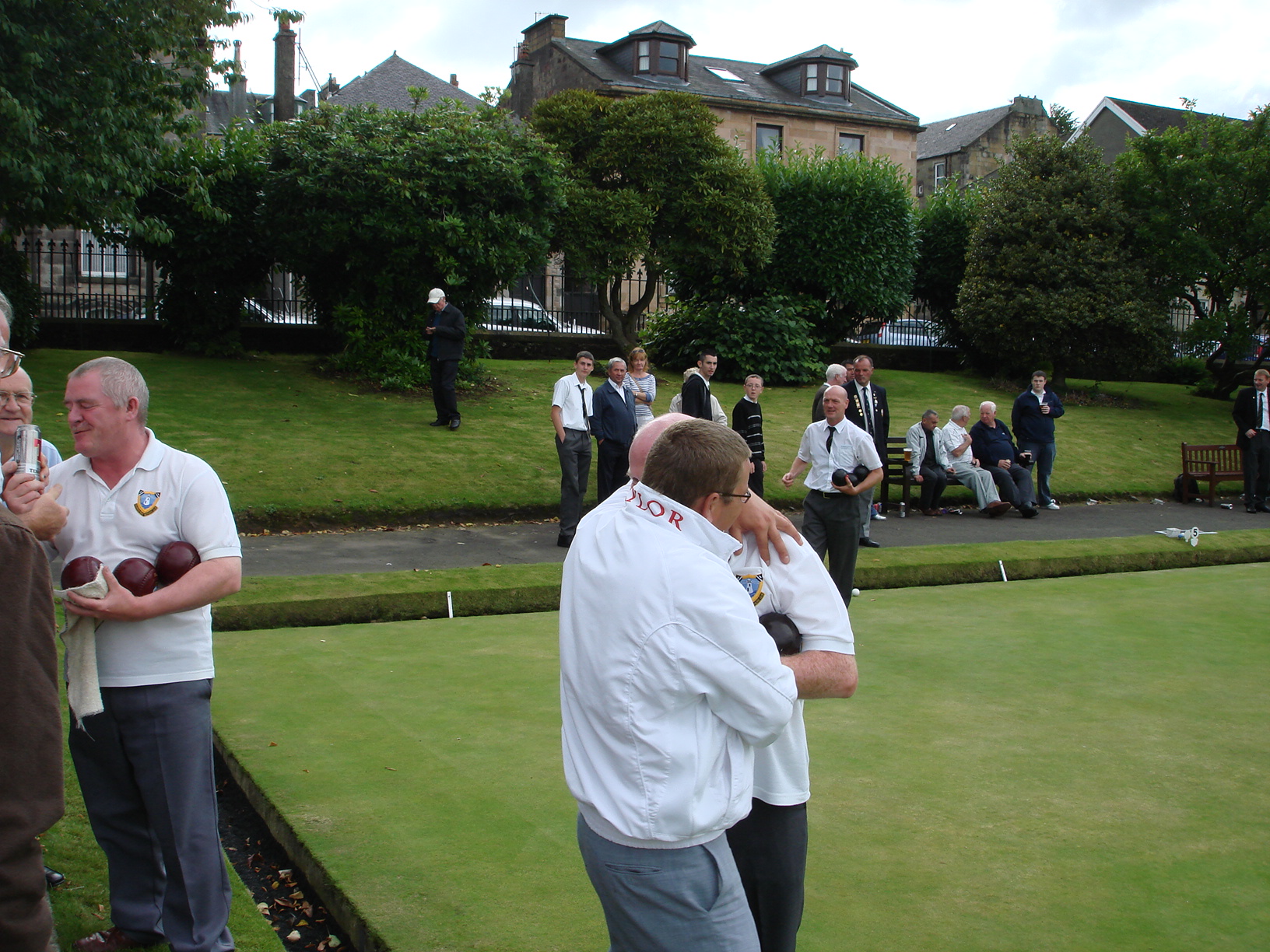 Ardgowan Club President Peter Walker

Greenock & District Singles Champion 2008

Alan Bradley

Grosvenor BC

Greenock & District Pairs Champions 2008

Dougie Twaddle & Peter Johnstone

Port Glasgow BC

Greenock & District Triples Champions 2008

Ramsay Crawford Terry Duffy & Michael Stevenson

Gourock Park BC

Greenock & District Fours Champions 2008

W MacGregor, J Balsillie, B Small & W Gibson

Inverkip BC

Greenock & District Seniors Champions 2008

J Dillon, W Telfer, A Ritchie & J Robinson

Gourock  BC

Greenock & District Junior Singles Champion 2008

Rikki Mc Neill

Lady Alice  BC

The Singles Final underway

The Gourock Park Triples are captured on camera by George Brydon

The Grosvenor Celebrate winning the League Flag

The Jack is in there somewhere!

A very close head in the triples match

Fort Matilda's Tom Dunn collects the Reid Cup and Fletcher Trophy

"C'mon the Park"

Gourock Park members enjoy their day

Hugs and handshakes for Ramsay and Terry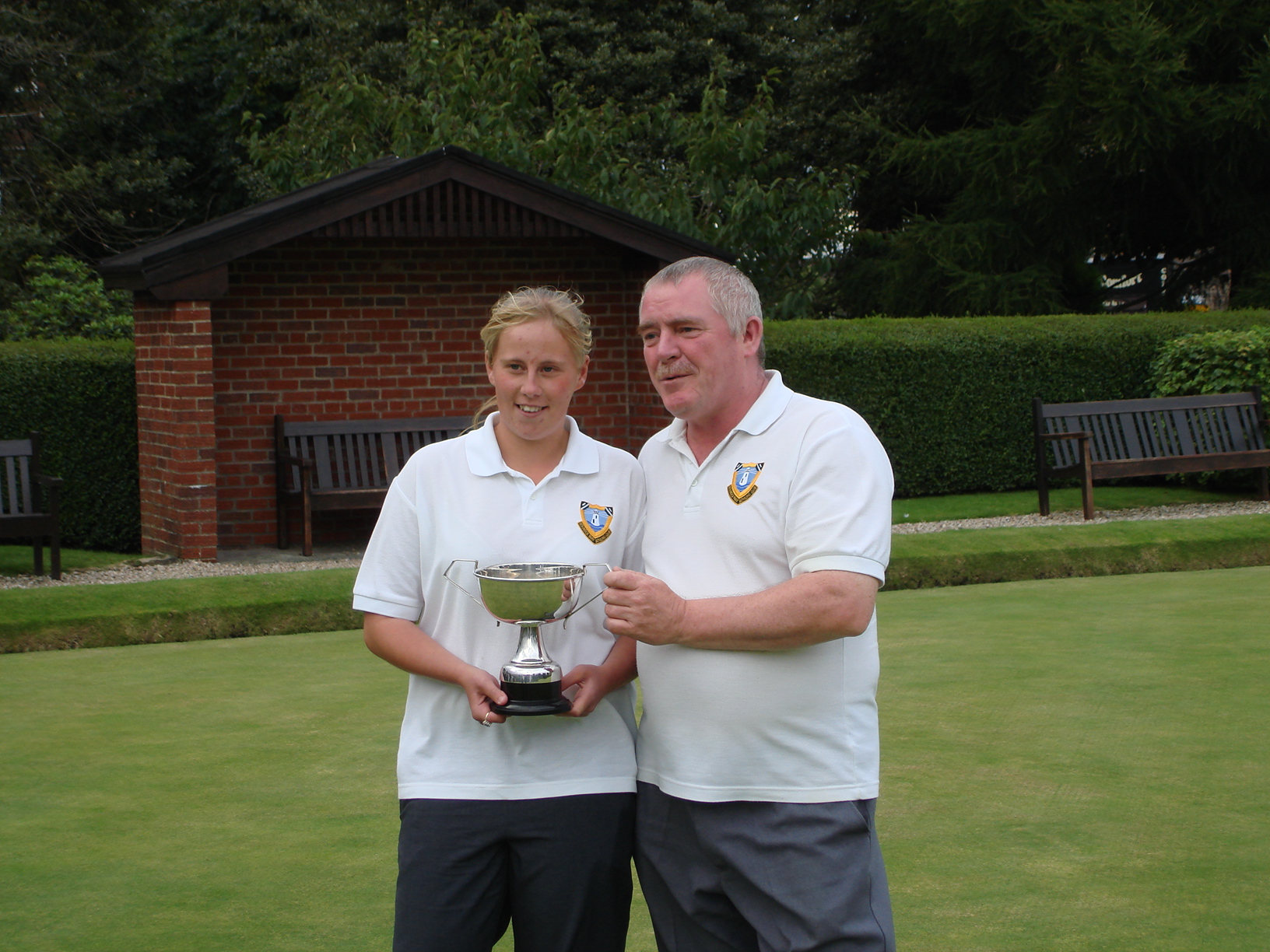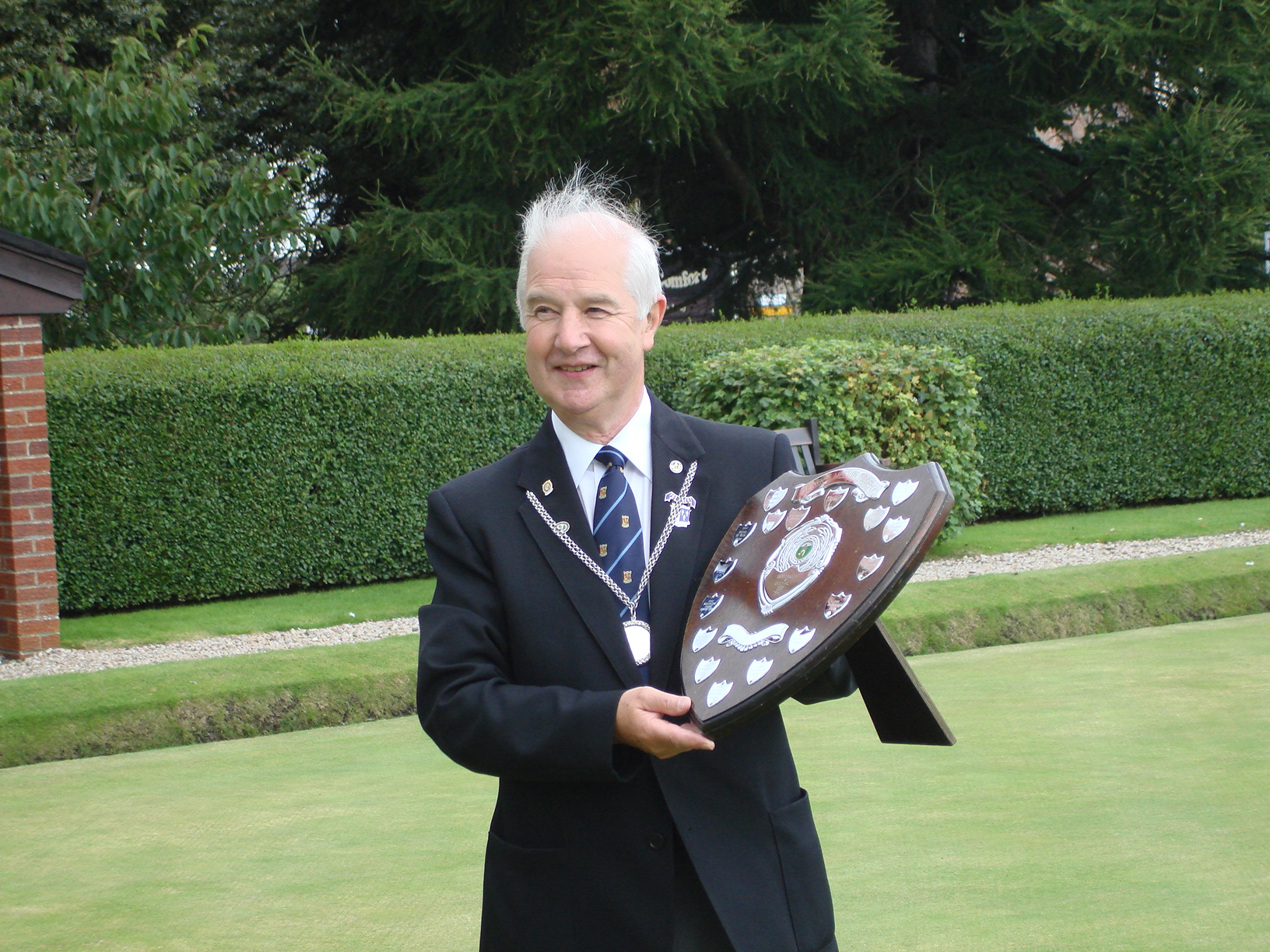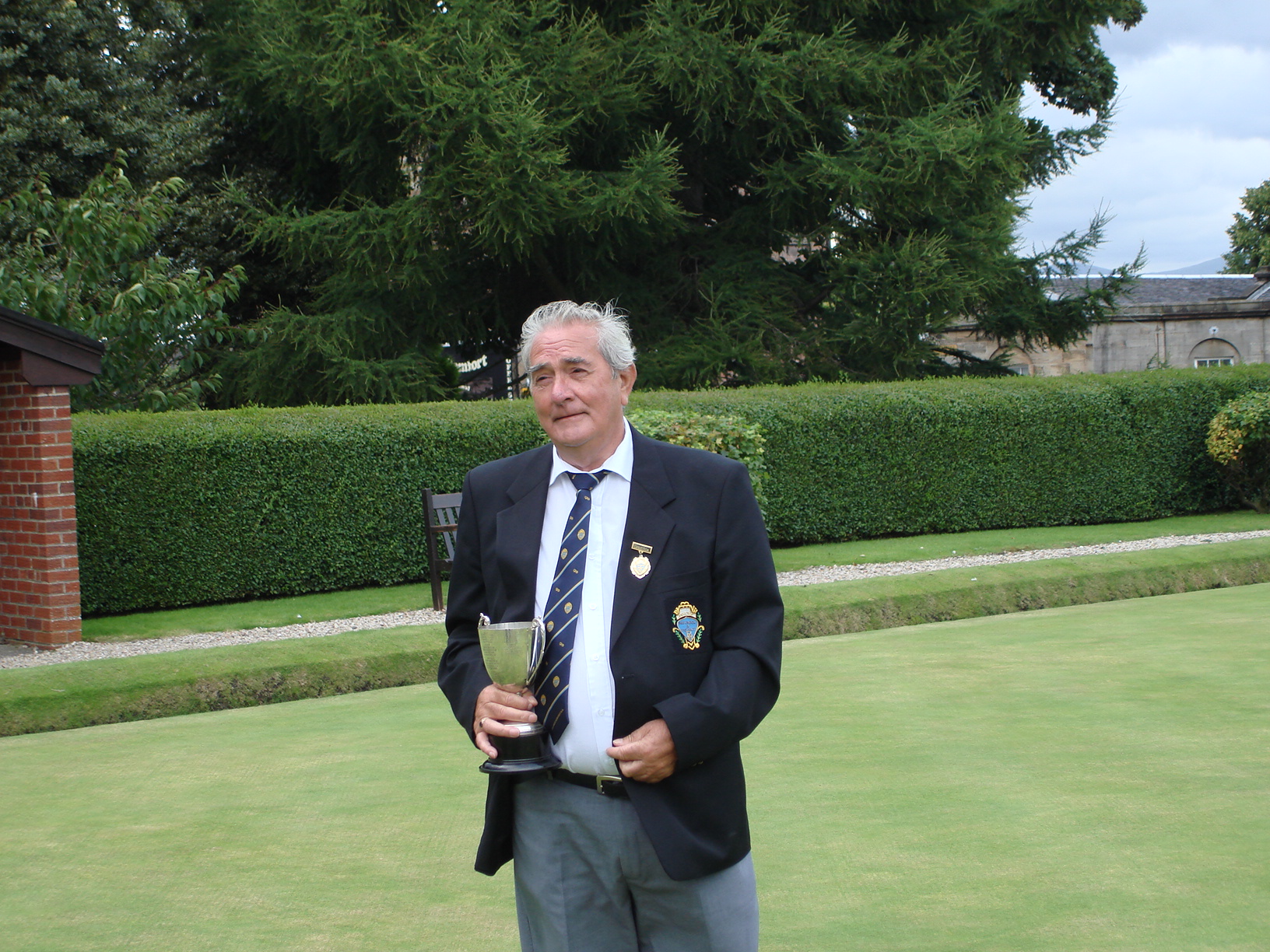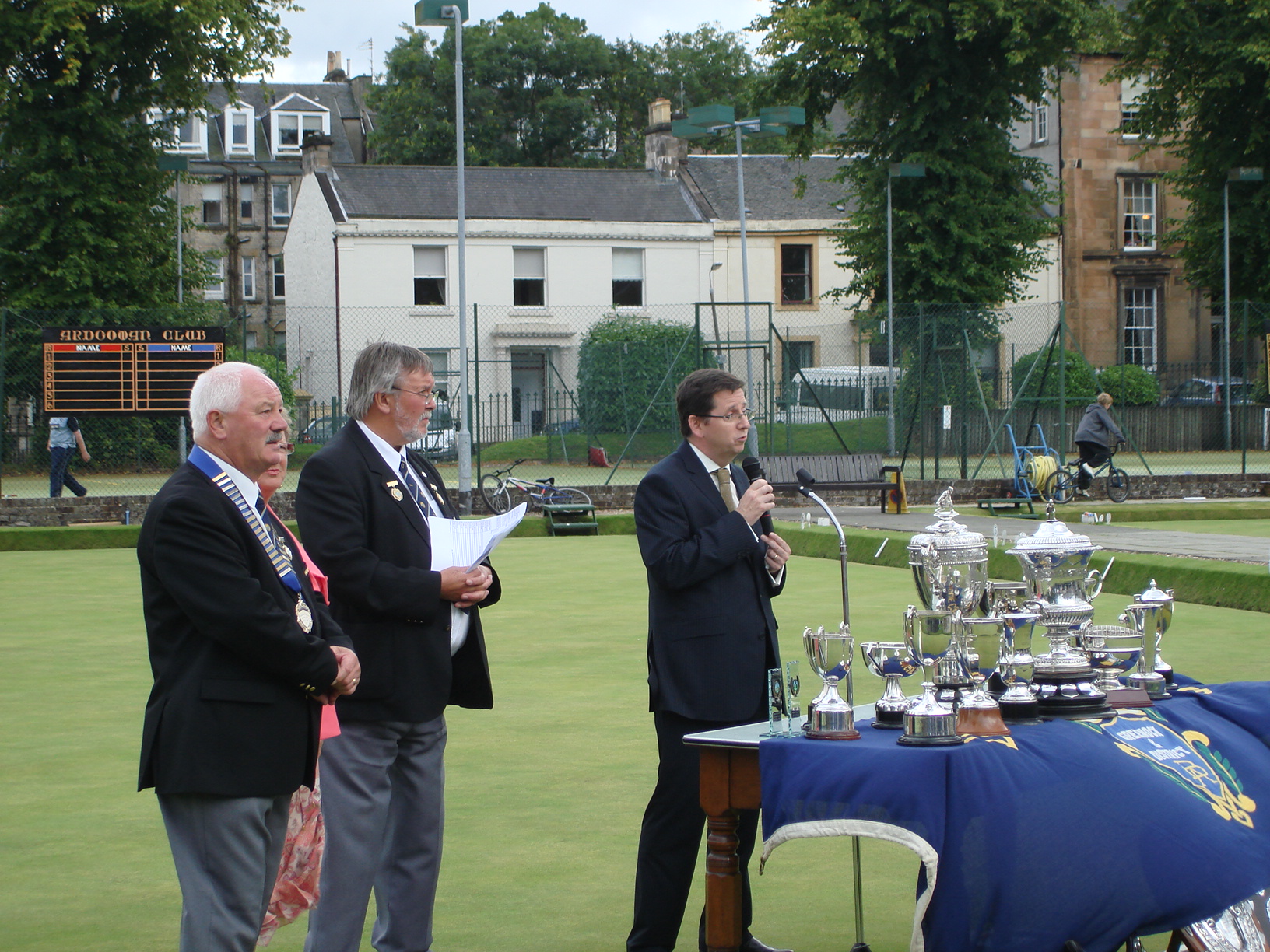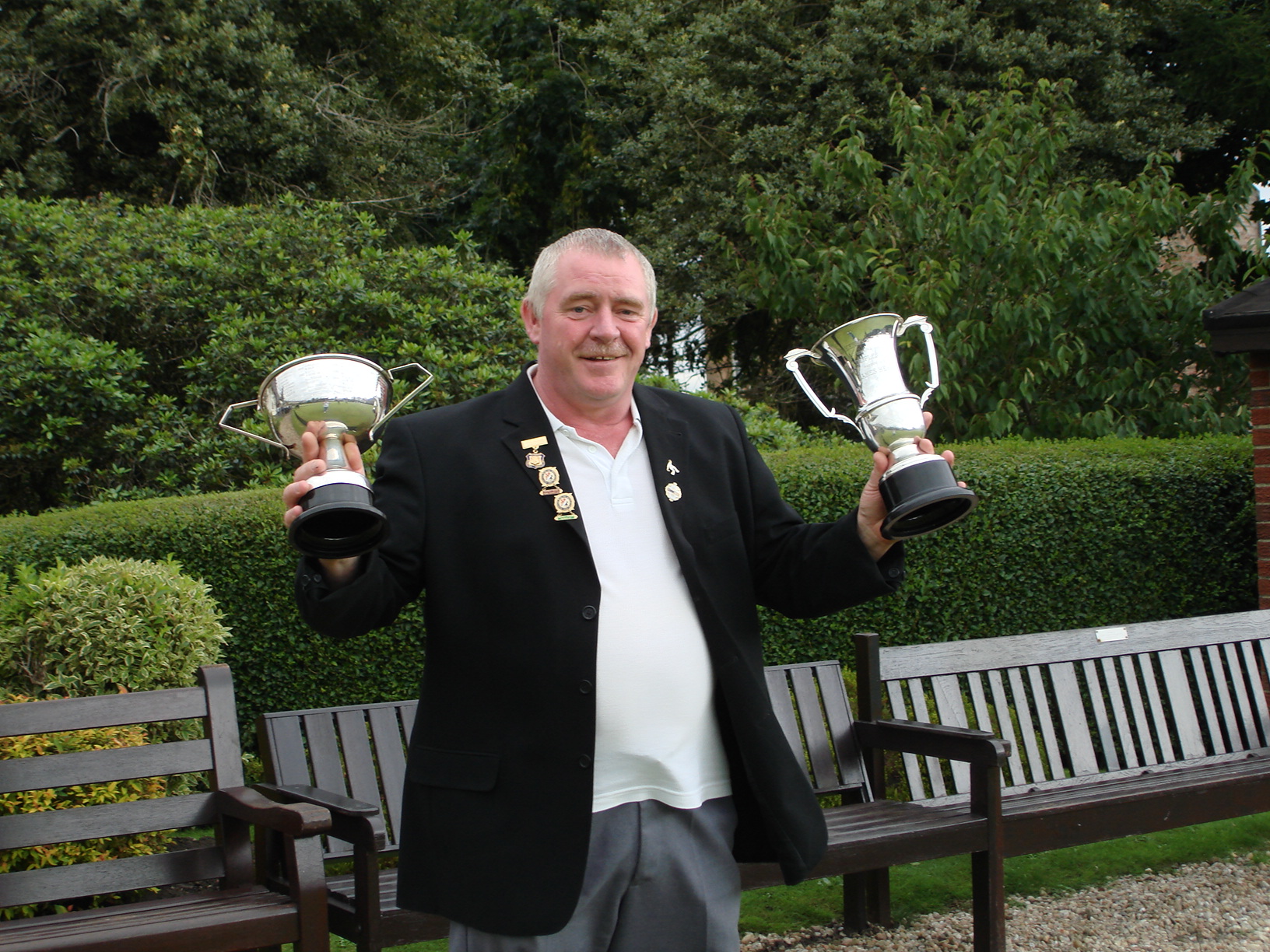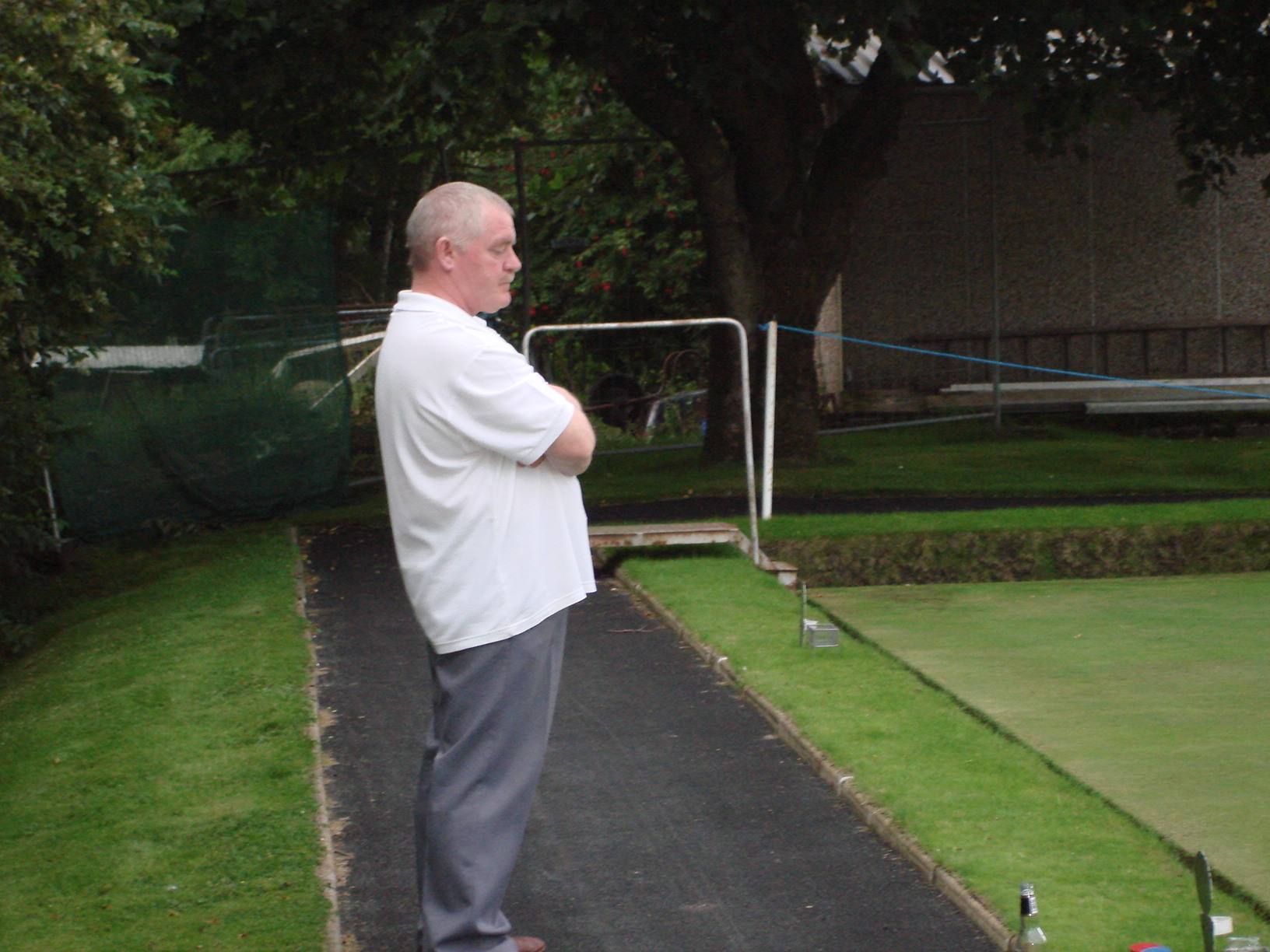 Greenock & District Mixed Pairs Winners

Stacy Lungley & Terry Duffy

Gourock Park

Ardgowan's President, Peter Walker collects the League Runner up shield

Councilor Jim Clougherty makes short speech before the presentation of prizes

President Robert Cummings collects the G&D Top Ten for Wellington Park

What a difference a week in bowling can be!

Terry asked me to include these two pictures to illustrate the highs and lows of bowling! On the left we see him watching on in apparent agony as he is losing 12 nil in the Gourock Park Presidents final and on the right a picture of happiness with not one G&D title but two!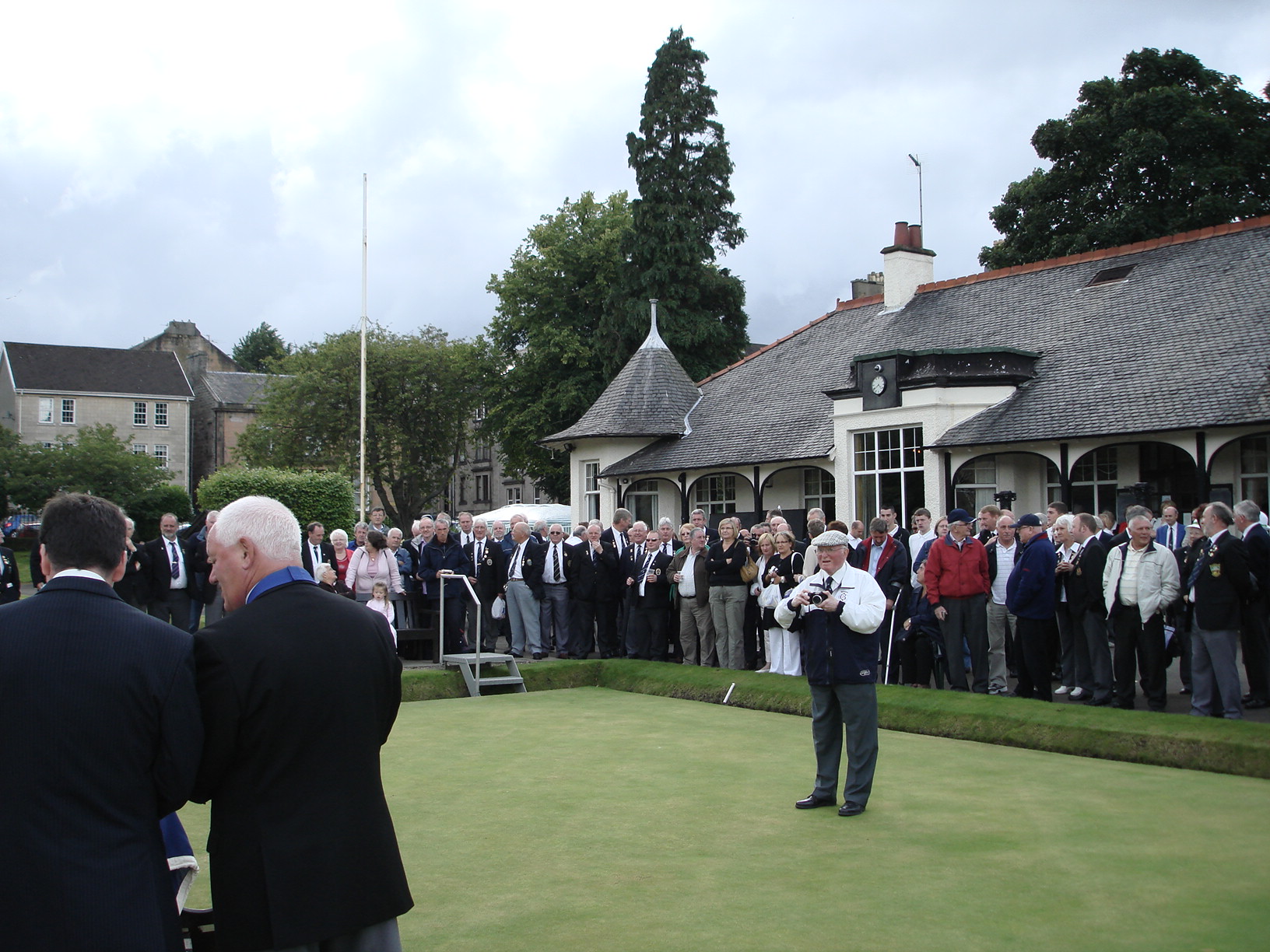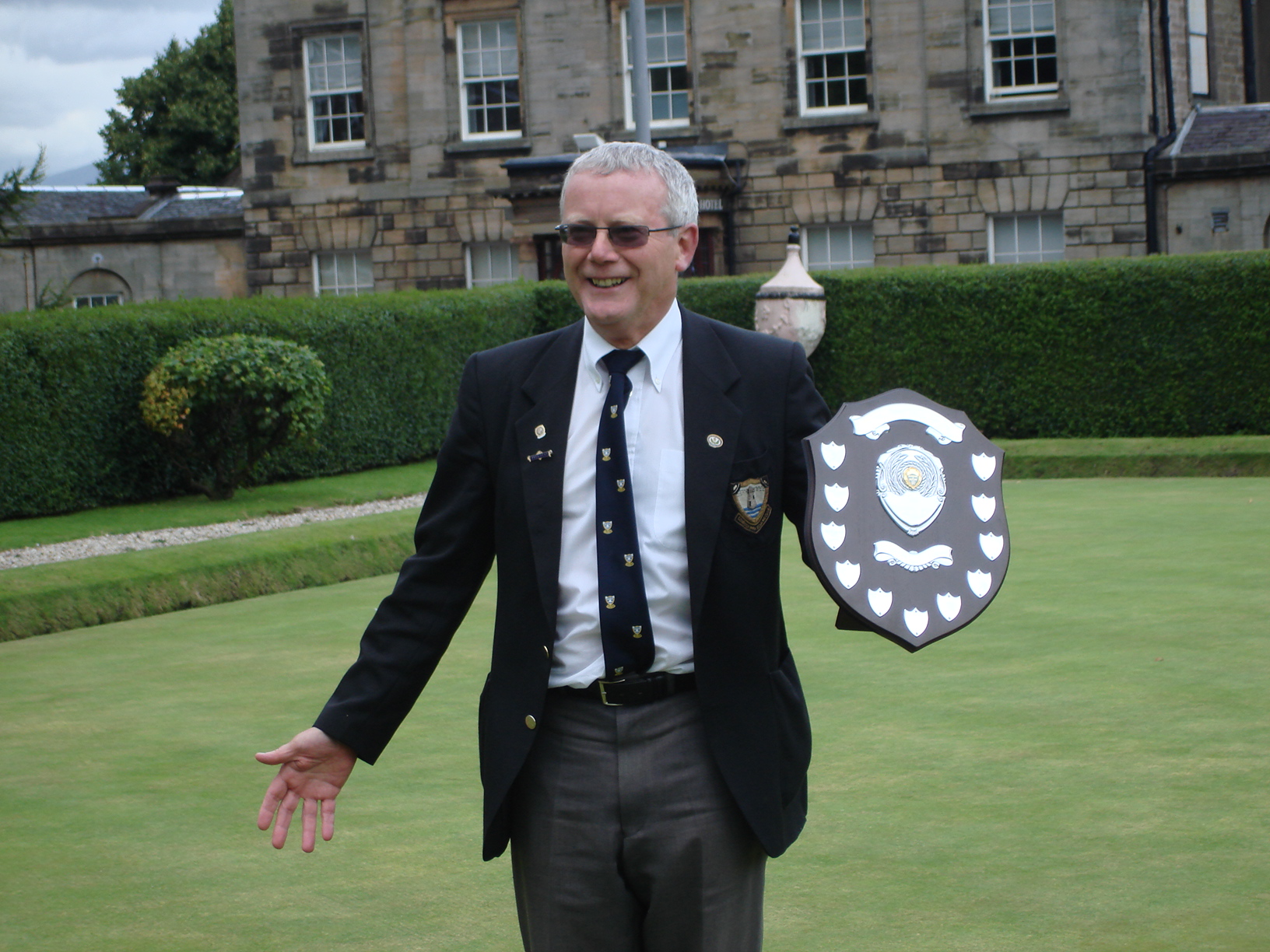 President Robert Grant collects the 3rd Division Trophy for Gourock Park

Semi-Finals

The Semi-Finals of the G&D took place at Ardgowan on Saturday 23rd.and the weather looked as if it was going to stay dry, completely unlike last year.

All of the ties were played in good spirit and completed in time for a lunch break of nearly two hours.

The Senior Singles match between Mick McAulay and Alan Bradley went the distance and ended in a victory for Alan, but it was a great tussle and good for the spectators.

The other game was between Robert Davidson of Victoria and Nichol House, who is no stranger to these type of games. Robert dominated this game right from the off and was a deserved winner.

In the Junior Singles, Stephen Hendry was determined to reach the Final and won his game against H.Casement of Lady Alice with time to spare. In the other game it was a different story, Ricky McNeill was not having it all his own way and had to use all of his skills to eliminate fellow Lady Alice player J.McCue.

In the Pairs, Port Glasgow were just a bit too strong for Gourock Park and moved into the Final where their opponents were Rankin Park, who had just seen off Lady Alice in another close game.

Gourock Park and Lady Alice were too strong for Port Glasgow and IBM respectively and moved into the Triples Final without a lot of bother.

The Inverkip fours were having a great tournament and a lot of people were delighted to see "Big Willie" Gibson playing in the championships instead of Umpiring and they were going well too, as Fort Matilda found to their cost. Fort Matilda have won this championship for the last two years – but not this year. Their opponents were to be Victoria who were having a good tournament also. Grosvenor came up against the Victoria team and just ran out of ideas.

The Senior Fours had two Gourock teams in a situation that could see them playing against each other in the Final – but not this year. Gourock # 1 lost to yet another Victoria team, but their counterparts were having a ding-dong battle with Port Glasgows # 2 team. It went to an extra end and was well worth the money for the spectators.

Final stages

The Finals started bang on time and served up some cracking ties. Ardgowan Club was ready for it's finest day and all of the T's had been crossed and the I's dotted.

The Singles Final started off well for Victoria, but didn't last and a victory for Alan Bradley was on the cards. Alan won his 2nd.G&D Singles title in fine form which pleased the large support that was there from Grosvenor.

Rikki McNeill had already won the Young Bowlers tournament this year and was playing well. His opponent was Stephen Hendry of Wellington, who has been a part of the Wellington team for a few years and is more than capable of winning titles, he has already won it in 2005 at IBM. The game was played in somewhat windy conditions at the earlier part, but was always in Rikki's control and he ran out a worthy winner.

Port Glasgow dominated the Pairs Final and Rankin Park must have wondered what hit them – maybe next year!!

Gourock Park won a close game with Lady Alice and finished off a good year for the Darroch Park club.

The Fours final was won by Inverkip and "there wasn't a dry eye in the house" Inverkip won a close game with Victoria and went home happy.

Gourock's 2nd string ended any hope of Victoria winning and took the Senior 4's title with a convincing display.

The presentation of prizes took place on the North Green and the following trophies were presented:-

League Division One  Flag & Shield                              Grosvenor BC

League Division One Runner – up                                Ardgowan Club (Melvin Shield)

League Division Two                                                     Not decided yet (Peter Clark Shield)

League Division Three                                                  Gourock Park BC(Trophy Box Shield)

County Flag                                                                   Kilmacolm BC

Reid Cup                                                                       Fort Matilda BC

Fletcher Cup                                                                 Fort Matilda BC

Top Ten                                                                        Wellington Park BC

Hospice Wapinshaw                                                     Wellington Park BC

Mixed Pairs                                                                  Gourock Park BC (S.Lungley & T.Duffy)

Young Bowler                                                              Lady Alice BC (R.McNeill)

Senior Fours                                                                Gourock BC

Runner-up                                                                   Victoria BC

Fours                                                                           Inverkip BC

Runner-up                                                                   Victoria BC

Triples                                                                         Gourock Park BC

Runner-up                                                                   Lady Alice BC

Pairs                                                                            Port Glasgow BC

Runner-up                                                                   Rankin  Park BC

Junior Singles                                                             Lady Alice BC (R.McNeill)

Runner-up                                                                  Wellington Park BC (S.Hendry)

Singles                                                                       Grosvenor BC (A.Bradley)

Runner-up                                                                  Victoria BC (R.Davidson)

After the presentation of prizes, the players, invited guests and officials retired to the Ardgowan Club for a lovely meal which had been prepared by the Ardgowan Ladies. The customary speeches were made by :- Councillor Jim Clocherty, who was representing Provost McCormick, SBA Councillor Bill Knox & RBA President Robin Kyle. Crystal glasses were distributed to the players and presentations were made to Sandy Wotherspoon for his tremendous achievement in winning the British Isles trophy along with the Gourock Park rink of Joda Reid, Alex McIlravey, Roger Lynn & Ian Brown. The British Isles trophy and the National Fours trophies were both on show, thanks to the winners bringing them along. Unfortunately, at. the presentation of trophies, I forgot to mention Sandy's win in the British Isles and it didn't go down well in certain quarters. I suffered a severe attack of memory loss and cannot apologise enough. Sandy being the gentleman that he is accepted my apology immediately and I'll need to make sure that this doesn't happen again.

All in, the Championship Finals were a tremendous success and credit must be given to Ardgowan Club for the way in which they worked as a team to ensure that all areas were covered.

I'm looking forward to next year already,

Cheers

John Freeburn

Greenock & District Secretary



Greenock & District Secretary, John Freeburn's Report